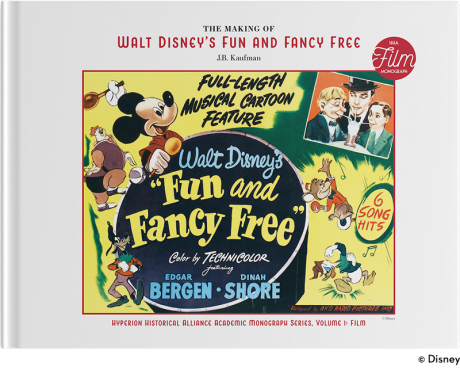 The inaugural entry in a series of Monographs published by the Hyperion Historical Alliance, this volume relates the story behind Fun and Fancy Free (1947), one of Walt Disney's most delightful and underappreciated postwar features. This was a different kind of "package feature," combining two featurette-length stories in a single film. Here for the first time is the full, absorbing story of its production, profusely illustrated with over 125 sketches, paintings, animation drawings, and photos, many never previously published.
Purchase direct from the publisher today!
 
Chapters
 
Bongo
In the early 1940s the Disney story department starts development of a new animated feature. The proposed film is the tale of a trained circus bear accidentally turned loose in the wild, based on a story by the distinguished American author Sinclair Lewis. Bongo is shelved during World War II, then revived after the war. Along the way, many different writers and artists add their contributions to it, and new characters and plot ideas are added, then dropped. The finished film retains the bare bones of Lewis' story, but frames it within an unmistakably Disney mid-1940s production.
 
Mickey and the Beanstalk
At the same time Bongo is first being developed, a separate unit within the studio is starting production of another feature starring the familiar Disney favorites Mickey Mouse, Donald Duck, and Goofy. This "Mickey feature" is to be based on the traditional story of "Jack and the Beanstalk" but, again, adds some distinctive new twists to the story. Animators begin work in 1941, but then this production, like Bongo, is temporarily suspended during the war. The final 1947 version blends prewar and postwar scenes in a patchwork of classic animation, drawn by some of the top all-time Disney artists.
 
Fun and Fancy Free
In the constantly evolving creative environment of the Disney studio, ideas are always subject to change. Long before Bongo and Mickey and the Beanstalk are finished, Walt has decided not to release either of them as a separate feature, but to combine both in a single picture. The writers and artists mount the two stories within a third framing story featuring Jiminy Cricket, in his first screen appearance since Pinocchio. This results in a colorfully varied cinematic package, and for good measure Walt adds the talents of two popular live-action performers: Dinah Shore and Edgar Bergen. Backed by an extensive promotional campaign, Fun and Fancy Free is released to theaters in the autumn of 1947.
 
Appendix A: Production Credits
An exhaustively detailed list of animation, story, and other production credits for the complete film, sequence by sequence, based on the studio's original production records.
 
Appendix B: Reviews
A cross-section of reviews, from both the trade press and the popular press, gives a sense of how Fun and Fancy Free was received by critics upon its release in 1947.