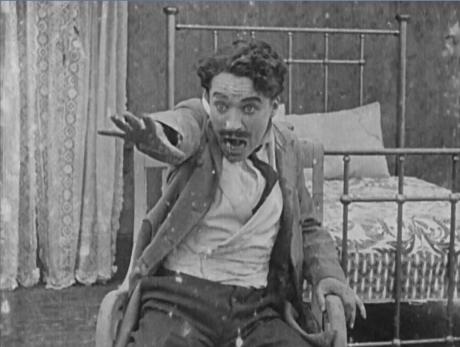 Keystone, 1914. Director: George Nichols. Scenario: Craig Hutchinson. Cast: Charlie Chaplin, Chester Conklin, Minta Durfee, Alice Davenport.
 
            If there's one filmmaker who doesn't belong in a monthly post devoted to obscurities, it's Charlie Chaplin. Not only is Chaplin one of our greatest, most loved, and most universally recognized screen artists; he was also a notoriously painstaking and slow-working filmmaker, and consequently turned out a relatively small quantity of films during his career. There's hardly a moment in Chaplin's concise body of work that hasn't been thoroughly documented, digested, dissected, and analyzed by cinema devotees around the world.
            But the first year of Chaplin's film career—1914, the year he spent at the Keystone studio, appearing in three dozen short films (and one feature), developing his craft, and scoring his first sensational success with movie audiences—is a different matter. Chaplin's Keystone films have tended to be skimmed over and disregarded, even by his most fervent admirers. That's partly because Chaplin, as a filmmaking novice in 1914, was under the control of the studio's veteran directors. Even when he began to direct his own films, the subtlety and wit he would display in later years were often lost in Keystone's knockabout, slapstick house style. For some admirers, that alone is enough to place the Chaplin Keystones outside the canon.
            Too, the obscurity of Chaplin's Keystone output has, quite frankly, been compounded by the difficulty of even seeing the films. Endlessly duped, reedited, and sloppily handled over the decades, most of the films had survived, if at all, in battered and scarcely viewable condition. We all owe a debt to Flicker Alley for their Chaplin at Keystone DVD set, released in 2010 and featuring sparkling restorations of almost every one of the great comedian's Keystone pictures.
            We feel that debt most keenly in 2014, as the eyes of the film world turn to the centenary of Chaplin's film career—one of the most important centenaries we can celebrate. Viewing the Keystones with a fresh eye, we can appreciate Chaplin's formative year as an extraordinarily rich, fascinating chapter in his career. March 2014, the month when this post will appear, marks the 100th anniversary of four of these pictures—including Cruel, Cruel Love, which I think is one of the most strikingly unusual films of the lot.
            To begin with, there's the story. Chaplin, following a lovers' quarrel with Minta Durfee, becomes despondent and drinks what he thinks is poison. But then the lovers' misunderstanding is straightened out, and the film cuts between Minta's frantic race through traffic to Chaplin's side; the doctors, in a separate vehicle, frantically racing to reach him before it's too late; and Chaplin's equally frantic death throes. (In the end he learns that his beverage was only a harmless glass of water.) This isn't the kind of story we expect from a Keystone comedy. David Robinson, in his essential Chaplin biography, calls it a "parody melodrama"—and, to be sure, the film offers a smattering of obligatory kicks and pratfalls, as if to remind us that we're watching a Keystone film. And there is the comic relief of that ending. But apart from these minor concessions, Cruel, Cruel Love is a straight race-to-the-rescue melodrama that suggests D.W. Griffith far more than Mack Sennett. Indeed, it's difficult to watch it without thinking of the Griffith one-reeler Death's Marathon, produced at Biograph only the year before, and featuring a race through traffic to prevent a suicide.
            There are other associations too. When Chaplin contemplates what he thinks is his impending death, we see an extraordinary vision: Chaplin amid the flames of hell, manhandled by two costumed devils.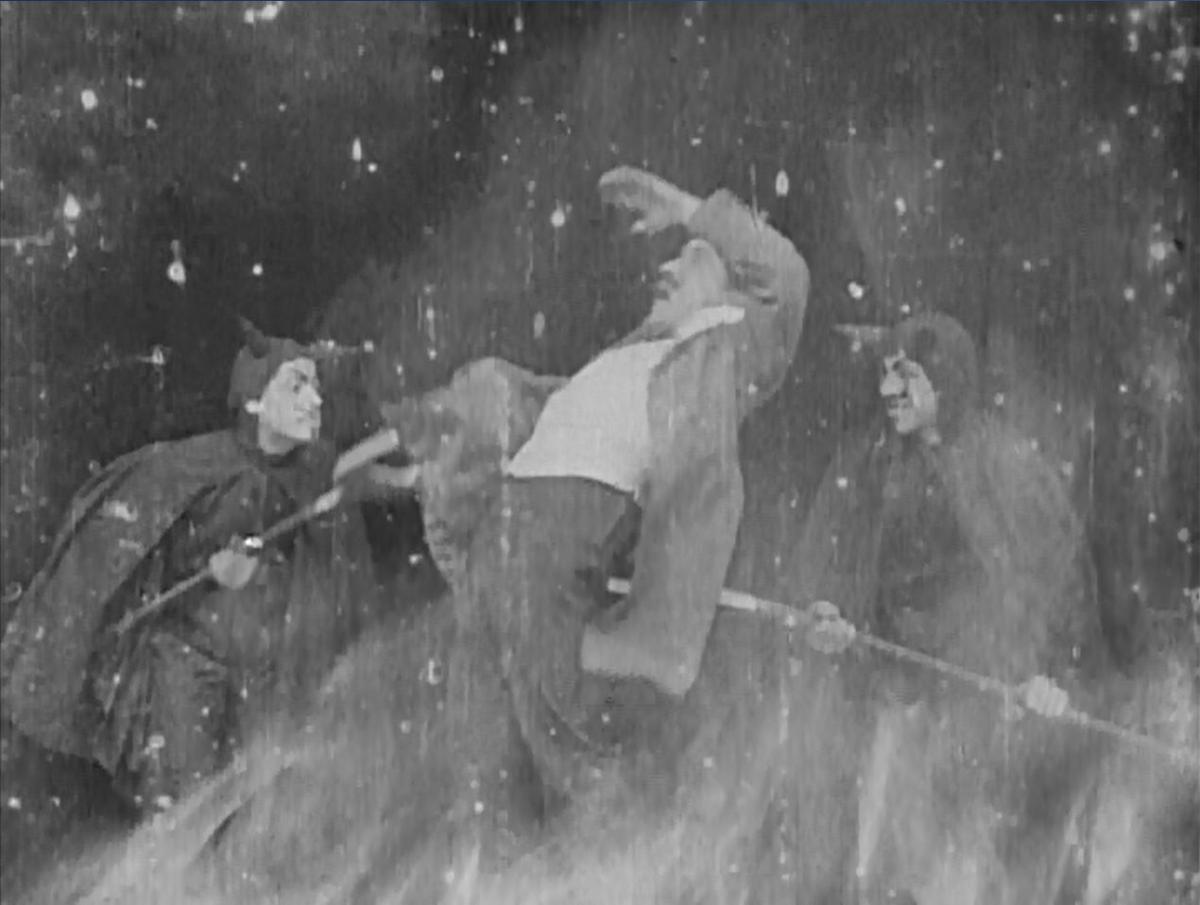 This, too, is unlikely territory for Keystone. It may be influenced by the Universal feature Absinthe, released only a few months earlier in 1914, in which King Baggott had suffered fantastic, lurid onscreen hallucinations while under the influence of absinthe.
            Then there's Chaplin's performance itself. Today Chaplin's reputation rests largely on the subtle brilliance of his pantomime, his ability to convey eloquent shades of meaning by the slightest gesture or flicker of an eyelid. That Chaplin is practically nowhere to be seen in Cruel, Cruel Love. Here, when he realizes he may have mistakenly poisoned himself, he reacts with an outburst of outrageous mugging. In some of the early Keystones he seems to be imitating Ford Sterling, but here he goes much farther, indulging in what is surely the most wildly exaggerated display of hysterical facial contortions in his career—the more striking because some of it appears in screen-filling closeups.
            Even our best-known and best-loved screen icons can reveal unsuspected facets of their careers, when we explore them in greater depth. Cruel, Cruel Love is a case in point. It demonstrates that both Keystone and Chaplin still have surprises up their sleeves, even after 100 years—and, incidentally, it's also a highly enjoyable film!