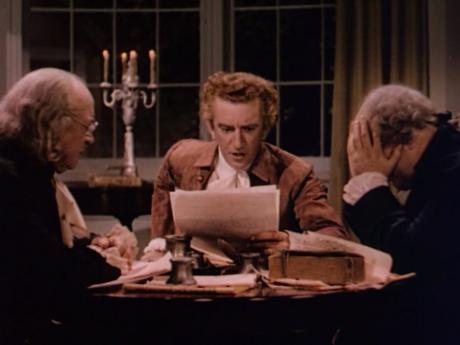 Warner Bros./Vitaphone, 1938. Director: Crane Wilbur. Scenario: Charles L. Tedford. Camera: W. Howard Greene. Film editor: Everett Dodd. Cast: John Litel, Ted Osborne, Rosella Towne, Richard Bond, Owen King, Walter Walker, Ferris Taylor, Lionel Belmore.
 
            Independence Day, the Fourth of July, is an appropriate time to revisit classic Hollywood films celebrating the United States' patriotic heritage—and there have been many of those over the years. One particularly interesting example is a series of short subjects produced by Warner Bros./Vitaphone during the late 1930s. These miniature dramas, filmed in Technicolor and featuring minor Warners contract players, presented fictionalized slices of early American history, perhaps on the theory that movie audiences would sit still for history lessons if they were short and entertaining. And entertaining these films surely were. Leonard Maltin has written of them, noting that they "usually favored fiction over fact … these films were audience-minded hokum at its best."
            The Declaration of Independence is a particularly enjoyable example. Like most of the films in this series, it was directed by Crane Wilbur, a name my fellow silent-film enthusiasts will instantly recognize. Wilbur is probably best remembered today as Pearl White's leading man in the landmark 1914 serial The Perils of Pauline, but after that role he continued to enjoy a busy career as an actor, writer, and director, and by 1938 was still going strong. In this short, he and scenarist Charles L. Tedford depict the events surrounding the Declaration of Independence.
            To be fair, much of their depiction is grounded in historical fact, allowing for a bit of dramatic license. As they suggest, in 1776 the colonists were sharply divided over independence, some still holding out for reconciliation with England. The film depicts the hotly contested meeting of the delegates in early June and the agreement to postpone a final vote until a month later. In the meantime Thomas Jefferson, played with quiet intensity by John Litel, goes to work to draft the fateful declaration. The writer's craft has never been an exciting subject for the movies, but this film does its best to convey the inherent drama of this occasion, Jefferson conferring with Benjamin Franklin and John Adams over the document as it takes shape. As in real life, he writes an anti-slavery passage and is later persuaded to take it out.
            But Wilbur and Tedford don't stop there. In their hands, the drafting and signing of the Declaration of Independence becomes an action adventure. Building on authentic history—the deadlocked vote over the Declaration, broken by the belated arrival of one of the Delaware delegates—the film presents an exciting climactic episode as the delegate, Caesar Rodney, rides to Philadelphia to cast his vote.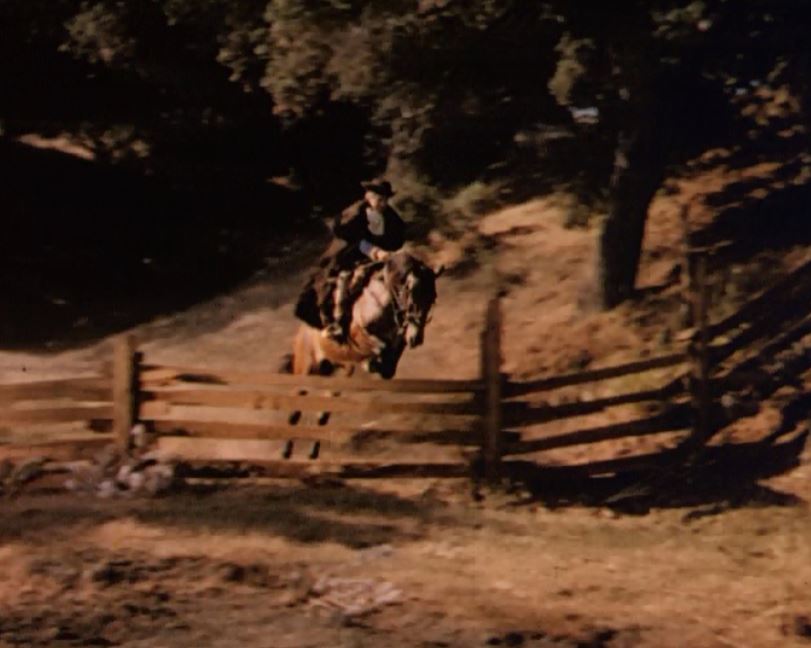 Here Rodney is portrayed by Ted Osborne as a swashbuckling hero, handy with guns and a good horseman. Fending off attacks by Tory assassins, he rides to the rescue (through the Warner Ranch, standing in for the New England countryside) in time-honored movie fashion. Arriving at the last moment, he casts his vote and secures passage of the resolution, bringing about a happy ending.
            Crane Wilbur is not the only silent-film veteran behind The Declaration of Independence. Appearing in a quick cameo as John Dickinson, who was in fact the leading opponent of the independence movement, is none other than Wilfred Lucas—a mainstay of D.W. Griffith's stock company at Biograph in the early 1910s, still a busy Hollywood character actor twenty-five years later. And several other well-known character players are on hand as well, most of them uncredited. Walter Walker makes a measured, thoughtful Benjamin Franklin. Sidney Bracey can be quickly glimpsed as a clerk in the Continental Congress; Lionel Belmore is far more prominent as a treacherous innkeeper who attempts to waylay Osborne on his journey.
            All in all, taken as entertainment, this film is an enjoyable account of a significant moment in American history. And it includes, in an opening scene, a dialogue exchange that was still relevant in 1938, and resonates just as strongly today. Speculating on the impending conflict over the Declaration, Litel as Jefferson remarks: "In years to come our countrymen will be grateful for the priceless heritage of liberty." Replies Tom Chatterton as Richard Henry Lee: "Heaven grant that they will know how to keep it."