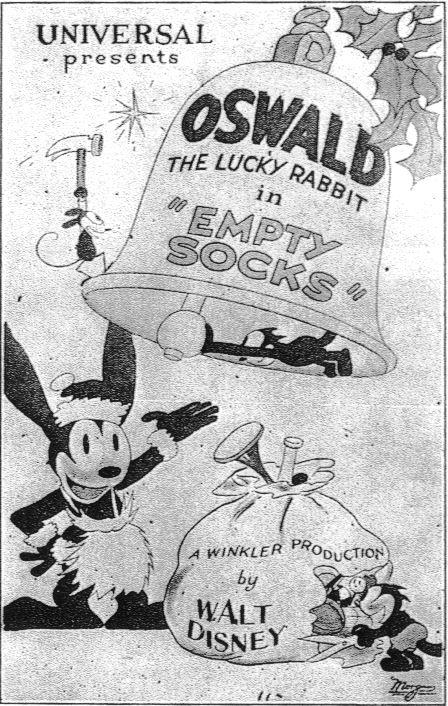 Walt Disney/Universal, 1927. Director: Walt Disney. Animation: Ub Iwerks, Hugh Harman, Rollin "Ham" Hamilton. Camera: Mike Marcus.
 
            As December 2016 rolls around, I'm amazed to realize that this installment is already my fiftieth "Movie of the Month." Readers familiar with this column will recognize that I like to mark the month of December by focusing on Christmas movies, one of the most cherished holiday traditions for the film enthusiast. This time, in honor of the occasion, I'm visiting the more specialized subset of Christmas cartoons—an ample and varied category in its own right, beloved by animation enthusiasts and general audiences alike. Of the countless Christmas-themed cartoons produced over the years, it's hardly surprising that Walt Disney has produced some of the best. In my opinion, the three best Christmas cartoons of all time are a Mickey Mouse (Mickey's Good Deed) and two Silly Symphonies (Santa's Workshop and The Night Before Christmas) produced by the Disney studio in the early 1930s.
            But that wasn't the beginning of the story. Years earlier, in December 1927, Walt saluted the holiday season with his first animated Christmas offering, Empty Socks. The hero of Empty Socks was Walt's peppy, cheerful cartoon star, Oswald the Lucky Rabbit, introduced earlier in 1927. In this short, Oswald set out to bring some Christmas cheer to a group of orphans by playing Santa Claus at an orphanage. His good intentions soon backfired when the orphans, a rowdy, mischievous gang of kids, ran wild with their new toys, causing slapstick chaos. One child, anxious to play with his new toy fire engine, started a real fire and ultimately burned down the orphanage! Not so much heartwarming as downright incendiary, Empty Socks opened as part of a special holiday program on Christmas Eve, 1927, at New York's prestigious Roxy Theater.
            If none of this sounds familiar, there's a reason: Empty Socks has been lost for more than eight decades. Two months after that Yuletide opening, Walt's distributor eased him out and appropriated the Oswald contract for himself—an act that led directly to Walt's creation of Mickey Mouse—and, while Oswald went his way in the hands of other animation studios, his original starring cartoons for Disney were scattered to a haphazard fate. At the time Russell Merritt and I cowrote our book Walt in Wonderland in the early 1990s, more than half of the Disney Oswalds were considered lost films. Among the missing was Empty Socks.
            Happily, that's not the end of the story. The Disney studio recovered the rights to Oswald in a well-publicized transaction in 2006. Since then the Rabbit has become something of a cult figure, and the company has shouldered the responsibility of resurrecting his Disney past. The most important part of this campaign has been an intensive effort, spearheaded by producer and author David Bossert, to scour the archives of the world for those "lost" Disney Oswalds. Once recovered, the films are restored with an eye toward returning them to public view. Not all the missing titles have been located at this writing, but the team's success rate has been extraordinary. Surviving in fragmentary form, squirreled away in forgotten locations, disguised behind alternate titles, one by one the missing pictures have been brought to light, thanks largely to the dogged detective work of David Gerstein. And just within the last few years, Gerstein has located disparate elements comprising roughly two-thirds of Empty Socks.

            Even in such a fragmentary state, this film is an exciting find. A glance at the credit list above will reveal the caliber of animation talent behind Oswald at this stage in his life. Hugh Harman and Rollin "Ham" Hamilton would exit the Disney studio the following spring, along with Oswald, and shortly afterward both artists would play key roles in launching the new Warner Bros. cartoon studio. As for Ub Iwerks, he has long been recognized as an animation legend in his own right. During the 1920s he was unquestionably the leading Disney animator, and as the decade drew to a close he was at the height of his powers—as evidenced by the surviving Oswald titles, as well as the first two years of Mickey Mouse's life. Iwerks's talents are prominently on display in Empty Socks; the opening scenes, in particular, appear to be his work.
            And, given the near-miraculous discoveries of recent years, who's to say that a complete print is not far behind? In any case, film enthusiasts, animation buffs, and Disney fans have much to look forward to as the Oswald project continues. Dave Bossert's richly illustrated book on the search for the missing films, due for publication next summer on the occasion of Oswald's ninetieth birthday, promises to be a delectable treat in its own right. And then there are the films themselves, some already available, others eagerly awaited—never more than during this festive season. After all, much of the joy of Christmas is in the anticipation. Like happy children, we can savor the 2016 holiday season with visions of Empty Socks, and other recovered cinematic treasures, dancing in our heads.