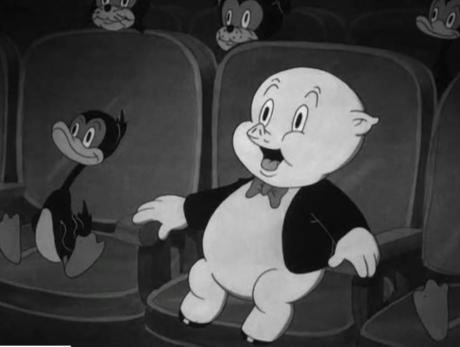 Leon Schlesinger/Warner Bros., 1939. Director: Bob Clampett. Animation: Norman McCabe, Vive Risto. Music: Carl Stalling.
 
            Animation history has no better friend than Jerry Beck. With his books, live theatrical shows, and various online resources, he has done as much as anyone I know to preserve, document, and celebrate the history of animated cartoons. Not the least of Jerry's accomplishments, thanks to his role as producer and consultant to the major studios, has been retrieving classic animation—the likes of Betty Boop, Woody Woodpecker, George Pal's Puppetoons, the works of UPA, and others—out of the vaults and making it available in beautifully curated video box sets. Notable among these have been Jerry's collaborations with George Feltenstein, of Warner Home Video, placing comprehensive collections of Popeye the Sailor, Tom and Jerry, and the Looney Tunes library at the fingertips of the home collector.
            Now Beck and Feltenstein have done it again. In September 2017, the month this post appears, Warner Archive will issue an exciting new DVD set: Porky Pig 101. This set offers exactly what its title promises: the first 101 Porky Pig cartoons! For the animation enthusiast, this is tremendous news. The sheer scope of the collection is impressive: from Porky's 1935 debut (as one-half of a duo, "Porky and Beans") in I Haven't Got a Hat, through his evolution, by the time of Porky Pig's Feat in 1943, into the character we remember today. This was a key period for the Schlesinger/Warner Bros. animation studio—the years in which the studio found its "voice" and began to produce the inimitable street-smart, slangy cartoons that would remain its trademark; years in which America moved from the depths of the Depression into the turmoil of a World War, all of it reflected in the fast-paced topical humor of the Warner cartoons. Equally important in this DVD set is the all-inclusive nature of the content: established classics like Porky in Wackyland and The Case of the Stuttering Pig appearing side by side with rarities that have never been offered on home video before. For many of us, those long-forgotten titles will be the single most exciting aspect of this release. Arranged in chronological order, they offer a privileged look at the evolution of a studio style.
            It's not easy to pick out one cartoon to represent this landmark set, but no one who has read this column more than once will be surprised that I'm instantly attracted to a title like The Film Fan. To be sure, many of the early Porky Pigs included references to contemporary films: Porky's Movie Mystery spoofs the current series of "Mr. Moto" mystery films, while Porky's Double Trouble is a surprisingly faithful burlesque of John Ford's The Whole Town's Talking. For that matter, the studio produced numerous cartoons that cast a wider net, celebrating not only the movies themselves but also the exhilarating experience of attending a movie theater during those golden years. The Film Fan is part of that tradition. Its premise is simple: Porky—pictured here, and in some other films, as a small boy—has been sent to the grocery store by his mother, but passes a theater that advertises free admission for kids and is irresistibly drawn inside.
            The rest of the film takes off from there. The director is Bob Clampett, who had been promoted to the director's post only a couple of years earlier; and as Warner cartoon fans know, by 1939 Bob Clampett is already Bob Clampett. The Film Fan doesn't have quite the manic hysteria of some of Clampett's later pictures, but it does feature his characteristic surplus of gags, bursting from the seams as if one cartoon is not enough to hold them all. The viewer is treated to a nonstop barrage of puns, as well as the odd throwaway sight gag, such as the trolley cars (delivering patrons to the theater) that operate like giant sardine cans. In this cartoon, of course, Clampett is primarily taking on the world of contemporary movies, largely by way of trailers and newsreels. (One trailer announces a forthcoming double feature: "Honeymoon in Bali with The Old Maid.")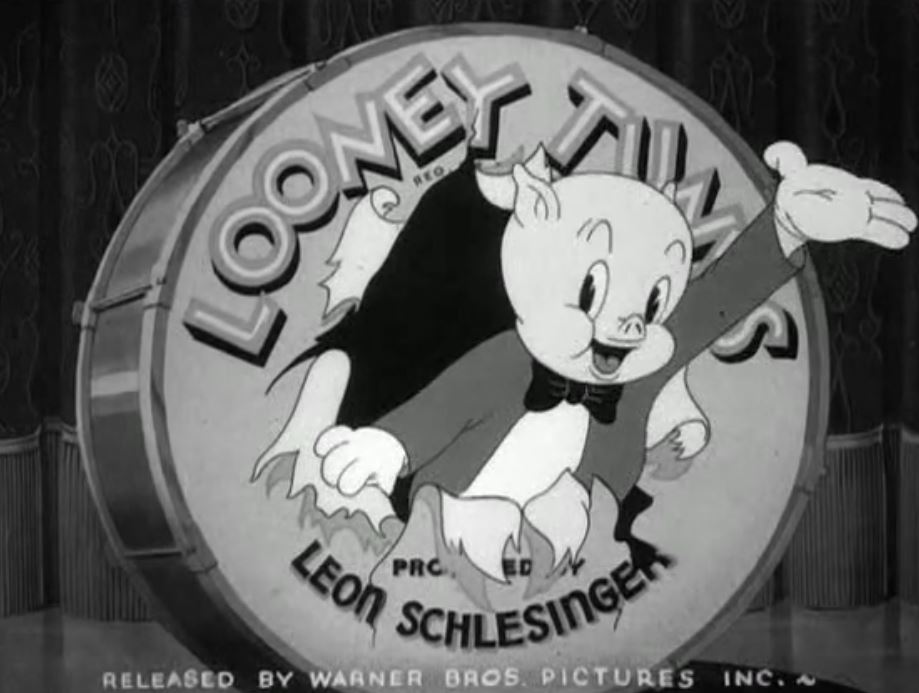 The theater is, naturally, plastered with ads for Looney Tunes, and we get reminders of Warner Bros. live-action features as well. One newsreel story about a rich eccentric pictures him operating an arcade claw machine; the machine is labeled "Gold-Digger," and the scene is musically underscored with the Dubin-Warren standard "We're in the Money."
            On the technical side, Warner cartoon aficionados will enjoy spotting such details as the opening scene, with a modest "multiplane" effect achieved on an ordinary camera crane, and the snippets of animation borrowed from earlier cartoons. All in all, this is a doubly enjoyable short for those of us who are Porky's fellow film fans and can't get enough of Hollywood's Golden Age. Thanks to Beck, Feltenstein, and the Warner Archive, we're about to get a generous new helping of it.