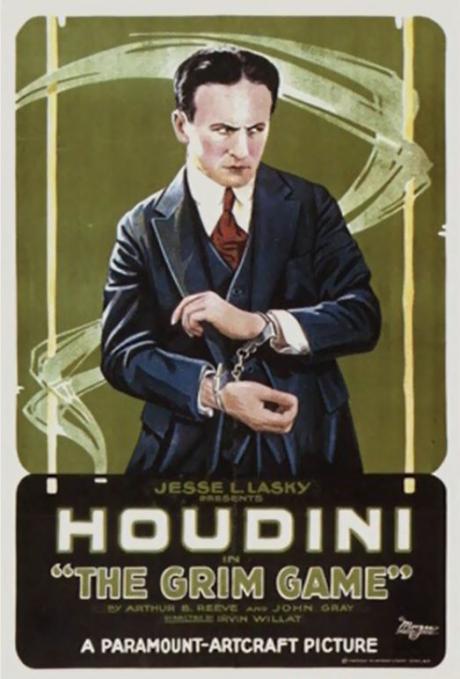 Paramount-Artcraft, 1919. Director: Irvin Willat. Scenario: Walter Woods, based on a story by Arthur B. Reeve and John W. Grey. Camera: J.O. Taylor and Frank M. Blount. Cast: Harry Houdini, Thomas Jefferson, Ann Forrest, Augustus Phillips, Tully Marshall, Arthur Hoyt, Mae Busch.
 
            One of the highlights of this year's TCM Classic Film Festival will be a premiere: a new reconstruction of a previously "lost" film, The Grim Game, starring the famous escape artist Houdini. This is an exciting event for more reasons than one. The rescue and retrieval of any "lost" silent film is cause for celebration, and, thanks to the efforts of the National Film Preservation Foundation and other organizations, we've seen a number of such miracles in recent years. TCM is to be applauded (even more than usual) for putting its resources behind this one.
            For a performer best known for a talent other than acting, Houdini had a surprisingly prolific career as a movie star. His commanding stage presence translated reasonably well to the screen, and the inherent drama of his escape stunts suggested a direction for his film career: action-filled melodramas. In constructing film vehicles for him, perhaps the greatest challenge fell to the writers. Movie audiences going to see the great Houdini on screen would of course want to see his escape skills in action; accordingly, the writers were obliged to have him blunder into one trap after another where gangs of villains could bind, handcuff, chain, imprison, and submerge him—without suggesting that he was mentally deficient! (Another specialty apart from Houdini's escape skills, his interest in the occult, was reflected in The Man from Beyond, produced by Houdini himself in 1922.) Apart from newsreels, his film career effectively began with a starring role in the serial The Master Mystery, its episodes released over a two-month period in 1918-19. This led to The Grim Game, his first feature-length picture for a major studio.
            Until recently, the home viewer could survey virtually all of Houdini's film career with ease, thanks to the Kino DVD set Houdini the Movie Star. I was surprised, while preparing this post, to discover that the set is already out of print (perhaps in order to reconfigure it, in light of this new discovery?). At any rate, any viewer lucky enough to obtain a copy will find this an absorbing collection, containing all of the Houdini screen appearances that were known in 2008 to survive: extant episodes of The Master Mystery, three feature films, and assorted bonus extras. As if to tantalize us for the TCM event, one of the extras is a five-minute excerpt from The Grim Game!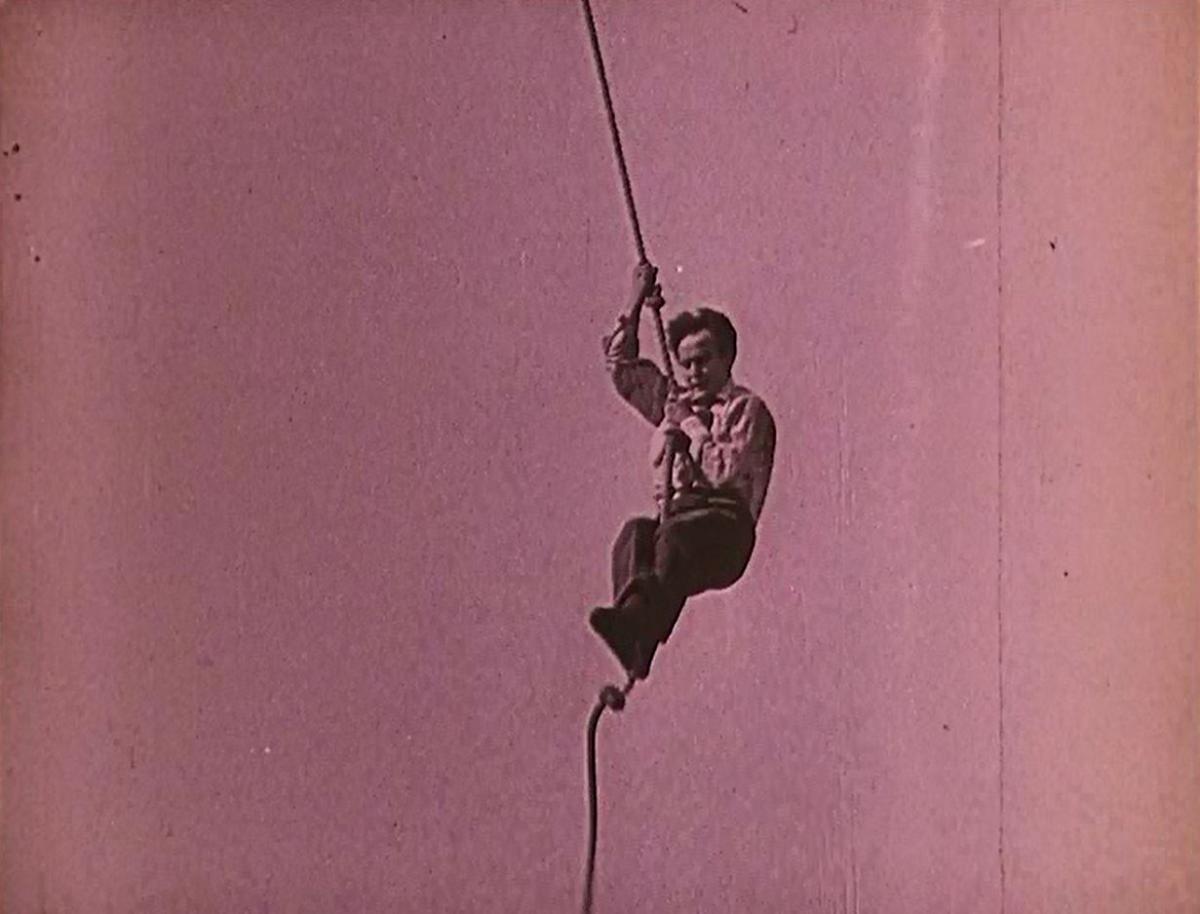 The excerpt in question is a special short, issued after Houdini's death in 1926, reprising a scene that had supplied the feature's most sensational moment in 1919. The scene itself is spectacular enough: a romantic rival kidnaps the girl in an airplane, and Houdini, commandeering another plane, flies to the rescue, transferring from one plane to the other in midair. In 1919 the scene gained an added measure of notoriety when, during filming, the two planes actually collided. The moment of collision was caught on film, the unexpected accident was written into the story, and reportedly the film's ending was reworked to accommodate it. The short in the Kino collection reproduces this entire sequence, punctuated with intertitles offering protestations of death-defying authenticity.
            Even discounting some of those claims—The Grim Game was, after all, produced not by reckless amateurs but by seasoned professionals with a thorough grasp of film craft—it's an undeniably exciting scene. In 1919 there was no faking the aerial scenes with process shots or other such trickery, and as the two biplanes swoop and dive after each other, Houdini or his double dangling by a rope from the pursuing plane, it's clear we're watching a genuinely breathtaking feat. (At one point the two planes fly into a cloud, momentarily and accidentally obscuring them from the view of the camera plane!) The collision, when it comes, is so abrupt that it's clearly a surprise to all concerned, not a deliberately staged stunt. And these moments, intercut with closeups as Houdini works his way down the rope and clambers into the other plane, add up to a rousing action scene.
            How this and other highlights will play out in the context of the restored film remains to be seen. And there are additional reasons to look forward to The Grim Game. The director was Irvin Willat, a top director of action pictures for Ince and other producers. The cast was noteworthy, too, offering supporting performances by Tully Marshall and, in a rare early appearance, Mae Busch. There's every reason to expect that TCM's audiences are in for a treat when this film is unveiled—especially on the big screen, where it was meant to be seen. In recent years, other "lost" or overlooked silent films (Bardelys the Magnificent, Lonesome) have not only been restored to view but have gone on to become cult favorites. Time will tell whether The Grim Game proves to be another such cherished recovery.