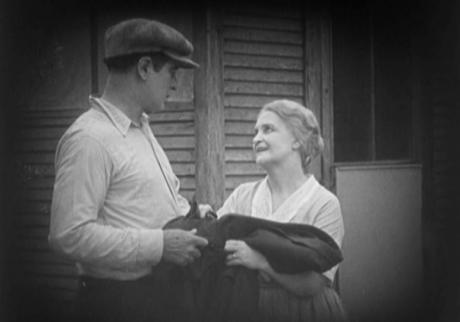 Joseph De Grasse/Associated Exhibitors, 1926. Director: Joseph De Grasse. Scenario: Ida May Park. Camera: Joseph Dubray. Cast: Mary Carr, Gloria Grey, Tom Santschi, Arthur Rankin, Ned Sparks, Jane Thomas, Billie Jeane Phelps, Wilbur Mack, William Ryno.
 
            I've said it before in this column (and elsewhere on this site), but it bears repeating: today's film enthusiast has more than one reason to be grateful to the National Film Preservation Foundation. Not only has that body effected the preservation of countless films that might otherwise have been lost, they've also made it possible for us to see an extraordinary number of those films. One noteworthy example among many is the cache of forgotten films discovered in New Zealand (a full decade ago now!), which proved to contain a large proportion of American silents long since given up for lost. The NFPF shepherded these discoveries through the preservation process with some of the country's top archives, then offered some of the more spectacular finds on one of their DVD collections—needless to say, essential viewing for anyone who cares for cinema.
            But apart from those high-profile titles, the New Zealand collection included many other films—films with a more modest claim on history, but exciting in their own way. A generous selection of these "other" films is now available in the form of streaming video in the "Screening Room" section of the Foundation's website. Some of them turn out to be wonderful little filmic gems, forgotten riches hiding in plain sight and simply awaiting rediscovery. One of these, appropriately, is The Hidden Way, an independent feature directed in 1926 by Joseph De Grasse. Today De Grasse is one of the many essentially forgotten directors of the silent era. The NFPF program note points out that he was married to scenarist Ida May Park, herself an erstwhile director.
            Together they concocted a story of three ex-cons, two of them just released from prison, who happen upon a kindly older lady and her daughter on their family farm. The innocent, trusting mother and daughter would seem to be easy prey for the three lawbreakers, especially when they find a fresh-water spring on the old lady's property and hatch a fraudulent scheme to "doctor" the water and market it as a restorative tonic. But, their criminal past notwithstanding, the three antiheroes are not beyond redemption. The basic plot situation of a trio of crooks confronted by unshakeable faith may seem familiar, and the NFPF program note points out one especially striking coincidence: the same premise appears in John Ford's classic Western Three Bad Men, which was released within a few weeks of The Hidden Way. To compound the resemblance, actor Tom Santschi is prominently featured as a member of the criminal trio in both films!
            I'm not claiming that De Grasse is another John Ford, nor that this film is another Three Bad Men. On the contrary, the parallels help to highlight the differences between the two films. Viewed on its own terms, The Hidden Way is an engaging little drama, one that could have been embarrassingly sentimental but instead is presented with refined understatement that makes it far more effective. Scenarist Park and director De Grasse avoid preaching, and in fact open their story with a noticeable absence of wordy expository titles. The viewer gets to know the characters gradually, and the story unfolds with disarming sincerity. Unknown though he may be, De Grasse displays a quiet assurance in his directorial style, conveying much plot information with an economy of expression and subtle editing. Fast action scenes are at a minimum but, when they do occur, are expertly staged and edited. The contrast between the innate decency of the "bad" men and the venal dishonesty of supposedly upstanding citizens (another familiar Ford theme) is suggested but never blatantly emphasized.
            This understatement of cinematic style is matched by effective underplaying on the part of the actors. The cast of The Hidden Way is one of its greatest assets, starting with top-billed Mary Carr, the quintessential white-haired mother of the movies, appearing in a variation on the role she played in well over a hundred other films during Hollywood's golden age (including Lights of New York, recently featured in this column). The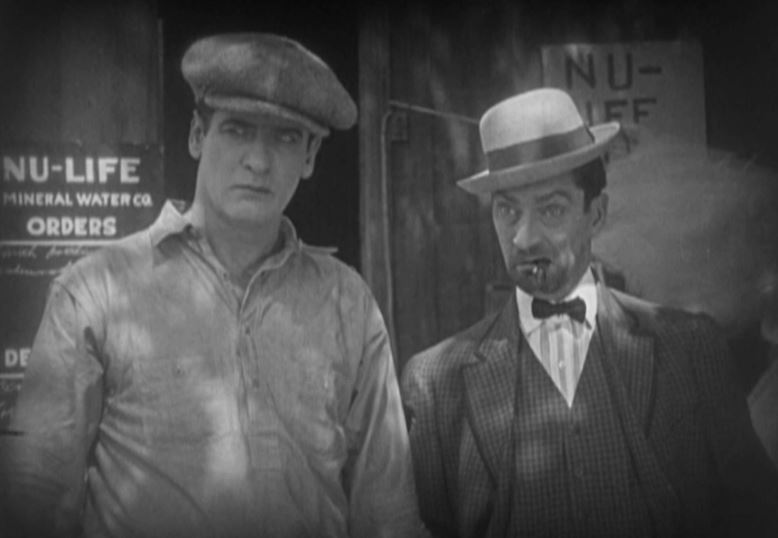 aforementioned Tom Santschi—the same Tom Santschi who had appeared in the famous fight scene in The Spoilers, as well as many other films—has the pivotal role here, and plays it masterfully. Tough, taciturn, and more than slightly bitter, he makes the ex-con a compelling protagonist (and distinctly unlike his character in Three Bad Men). Another remarkable cast member is Ned Sparks, that comic-relief fixture of the 1930s, who actually also enjoyed a substantial presence in silents of the 1920s. Here he's a "retired" pickpocket who eyes the ladies' meager savings with his signature quizzical, pop-eyed stare and, later, conceives the "mineral-water" scam.
            It's also a pleasure to report that the film has been preserved from a tinted 35mm nitrate release print which apparently had survived in beautiful condition. Presented on a big screen with a suitable music score, The Hidden Way would be a pleasant rediscovery for any silent-film audience. As it is, we can be thankful to the NFPF and its partner institutions for giving us this privileged glimpse.