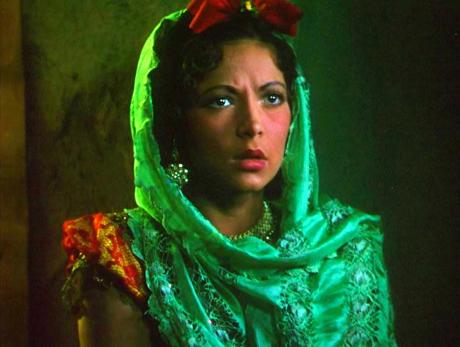 Pioneer/RKO Radio, 1934. Director: Lloyd Corrigan. Art direction: Robert Edmond Jones. Scenario: John Twist and Jack Wagner, based on a story by Lloyd Corrigan and Carly Wharton. Camera: Ray Rennahan. Film editor: Archie Marshek. Cast: Steffi Duna, Don Alvarado, Paul Porcasi.
 
            There's a good deal of Academy Awards buzz in the air this month, what with the annual Oscar show on the 22nd. Among those who really love movies, there's also a good deal of Technicolor buzz: February marks the publication of James Layton's and David Pierce's long-awaited book The Dawn of Technicolor, 1915-1935. In honor of both occasions, here's a movie that combines both of those topical interests. La Cucaracha was a landmark film in the history of Technicolor, and won an Academy Award as the best short subject of 1934.
            For those unfamiliar with the story: in the early 1930s Technicolor was unveiling its new three-strip color process—an improved system capable of producing a full spectrum of lovely, vivid colors. The company was justly proud of "new Technicolor"; it offered a mouth-watering palette of colors that has not been equaled, before or since. Walt Disney had already seized upon it and had been producing his Silly Symphonies in Technicolor since mid-1932. But producing live-action films with the huge, awkward three-strip camera was a difficult undertaking, and Technicolor proceeded with great caution, anxious to unveil its new phenomenon in the best possible light. Their cause was helped by the launching of a new independent studio, Pioneer Pictures, formed for the specific purpose of producing Technicolor films. And the first release of the fledgling company was La Cucaracha. Thanks to that historical significance, this short is one of those films that are more written about than seen—and yet it's easily available to today's viewer, thanks to Flicker Alley's wonderful Discovering Cinema DVD collection.
            In 1934 La Cucaracha had an element of timeliness that is lost on us today: the title song, a traditional folk tune, had just been "rediscovered" and had become an international hit song. (Along with "The Peanut Vendor," it helped to usher in the U.S. vogue for Latin American popular music that coincided so well with the Good Neighbor program a few years later.) Steffi Duna, the film's leading lady, is largely forgotten today but actually had a fairly prolific film career during the 1930s. Although Hungarian-born, she was frequently cast as a fiery Latin American señorita in her Hollywood pictures, including this one. Happily for the musical sequences, she was possessed of a very pleasant singing voice. Her leading man, Don Alvarado, came to this project with solid film credentials, having already worked with directors including D.W. Griffith and Raoul Walsh. Paul Porcasi had a far more prominent role in La Cucaracha than in most of his other films; he was one of the legion of unsung character players whose brief screen appearances so enriched the films of the 1930s. Something about his manner and speech suggested a variety of nationalities, and Hollywood used him in an indiscriminate assortment of Hispanic, Greek, Italian, and Brazilian roles. Here he's Martínez, a Mexico City impresario visiting a small village to recruit talent.
            The plot, if that's the word, is no more substantial than those of the many other one- and two-reel musical shorts produced by Vitaphone and other studios during these years. Essentially, Steffi tries to sabotage Alvarado's dancing career to prevent his being taken to the big city—away from her side. As in most of these films, this slender plot thread exists only to provide a framework for the musical numbers (and, in this case, a showcase for the Technicolor photography). But one shouldn't too hastily dismiss the entertainment aspect of this film. It is quite engaging, and Steffi does have a very funny scene in which she impersonates a waitress in a cafe. Through a series of seemingly innocent questions and comments, she manipulates Porcasi into a state of apoplectic rage.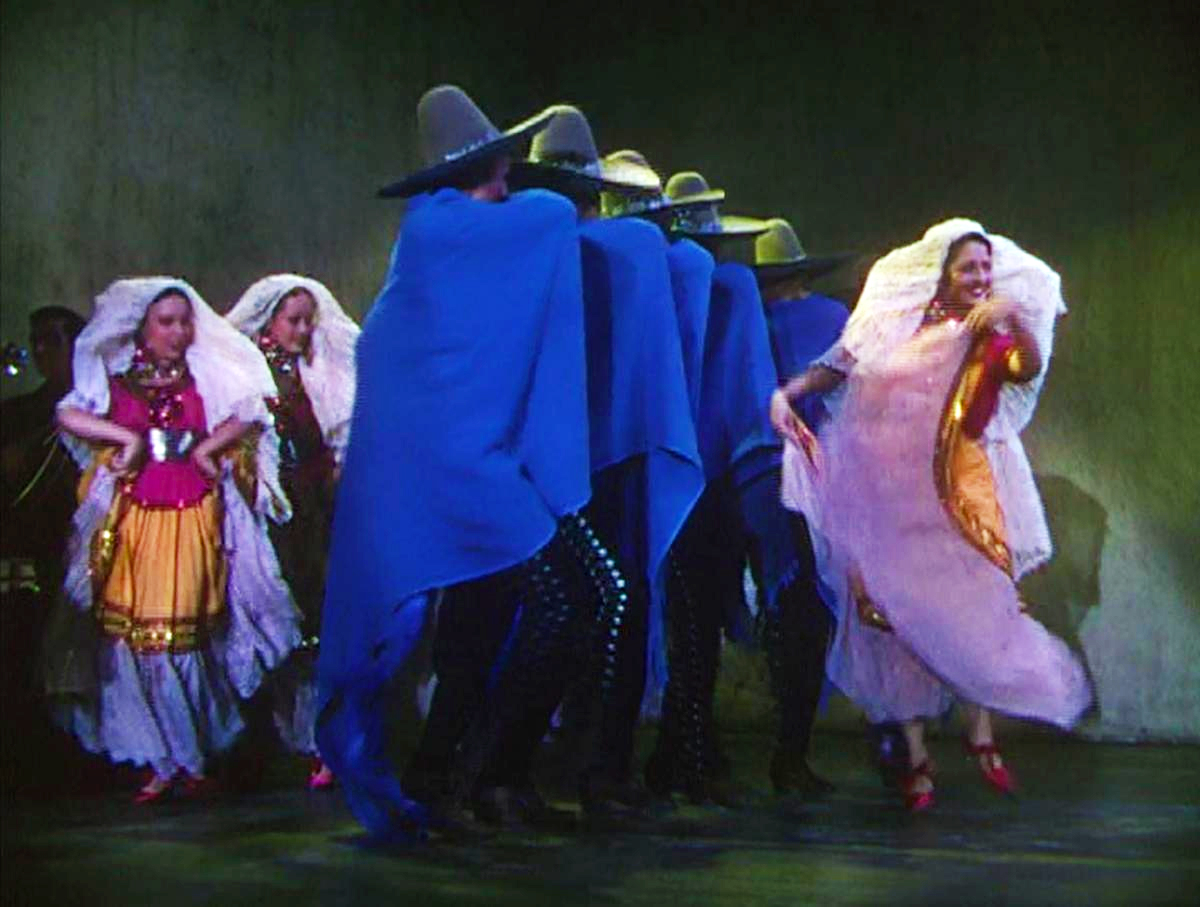 Still, it's the color photography that gives La Cucaracha its real reason for existence. Technicolor was counting on this short subject to make a dazzling first impression on audiences, and on the major studios who might be interested in using the three-strip process in their own films. La Cucaracha lives up to that challenge. Through the combined efforts of designer Robert Edmond Jones and top Technicolor cameraman Ray Rennahan, the film offers a succession of color scenes that form a feast for the eyes. (And the color is used creatively to tell the story. As Porcasi becomes increasingly exasperated, his rising temper culminates in a closeup of his face, glowing a bright crimson!) Strikingly, the entire action of the film takes place in dimly lit settings: the night exteriors outside the cafe, and the subdued lighting inside the cafe itself. The effect is to bring Technicolor's rich gallery of colors under control. Instead of a riot of garish, rampaging colors, we see an orchestrated banquet of hues, doled out in lovely, tantalizing portions. One of the selling points of three-strip Technicolor was that, unlike the earlier two-color processes, it could reproduce a deep, rich blue. Accordingly, Jones and Rennahan contrive to feature areas of blue, subtly but unmistakably, in some of La Cucaracha's color compositions.
            Upon release, La Cucaracha evidently pleased both general audiences and the Hollywood community. As we've noted, it was rewarded with the Academy Award for best short subject of 1934. And, as Technicolor management had hoped, the major studios were further encouraged to undertake the added expense and difficulty of color in their own productions. Three-strip Technicolor was quickly established as the gold standard for color in the movies, a distinction it continues to enjoy to this day.