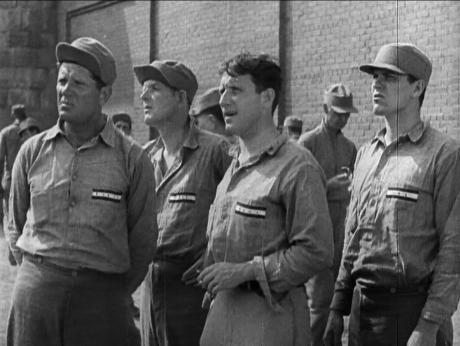 Fox, 1930. Director: John Ford ("staged by" William Collier Jr.). Scenario: Maurine Watkins. Camera: Joseph August. Film editor: Frank E. Hull. Cast: Spencer Tracy, Warren Hymer, Humphrey Bogart, Claire Luce, Joan Lawes, Robert Emmet O'Connor.
 
            Like Charlie Chaplin, who was recently featured in this department, John Ford seems an unlikely candidate for a monthly feature devoted to obscure films. What could be obscure about one of our greatest and best-loved directors? But Ford, unlike Chaplin, was an extremely prolific director. He left such a voluminous body of work that, inevitably, some of his films are better known than others—especially since many of his films are not even known to survive.
            The survival of Up the River is more or less academic. It seems to exist only in a worn, mutilated exhibition print, riddled with splices. Important plot points are muddied by missing footage; passages of dialogue are rendered incomprehensible by a hail of abrupt, jerky splices. I was amazed, years ago when I saw the film for the first time on cable TV, that the programmers would present it in this condition; and still more amazed, years later, when Twentieth Century Fox Home Entertainment included the same print in their huge Ford at Fox DVD collection. But, I hasten to add, this is not a complaint! On the contrary, I'm grateful to all concerned for allowing us access to this rare Ford picture, in any condition. The fragility of the surviving remnant only underscores the privilege of seeing the film at all.
            For half-hidden behind that wall of technical blemishes is a fascinating film. Up the River was produced in 1930, when Ford was still adjusting to the challenges of sound film production, and standing on the threshold of one of the richest periods in his career. Reportedly it had been planned as a grim prison drama, until MGM beat Fox to the mark with The Big House, whereupon Up the River was reworked as a comedy. In later interviews, Ford gave full credit to William Collier Sr. for helping him rewrite the script. The result was a Fordian story of male bonding, in which a pair of convicts, veterans of the penal system, easily break out of prison to aid a friend on the outside who needs their help—then break back in again in time to take part in the big baseball game against a rival prison.
            One notable aspect of this film is its cast. Up the River has been described as Spencer Tracy's first film, although in fact he had appeared on the screen in some earlier Vitaphone shorts. In Up the River, as veteran convict "St. Louis," he displays the relaxed, natural screen presence that would become the hallmark of his career. Even in the patchy print we see today, his performance is impressive. Returned to prison, hailed by the other inmates as a returning celebrity, he is ushered into the warden's office and quickly takes command of the conversation. As the warden fumes, Tracy pleasantly but imperiously demands a cell with southern exposure and other creature comforts. (His parting shot as he leaves the office is a superbly underplayed "See you at supper. Beans again, I suppose?")
            Tracy's cohort in crime is Warren Hymer as "Dannemora Dan." Hymer would spend most of his career in thankless supporting roles; here he has a rare star turn. He plays it as a variation on his standard "dumb" character roles. His Dannemora Dan is the fall guy in this duo, forever losing out, forever the butt of Tracy's schemes. Tracy and Hymer maintain a rough, brawling friendship throughout the picture, somewhat reminiscent of Victor McLaglen and Edmund Lowe's combative "buddy" relationship in another Fox feature, What Price Glory? (1927), and its sequels. In fact, upon the release of Up the River, Fox announced that Tracy and Hymer would continue as a comedy team in a further series of films, perhaps patterned on the McLaglen-Lowe pictures. But after one further Tracy-Hymer teaming, in Goldie (1931), this notion was abandoned.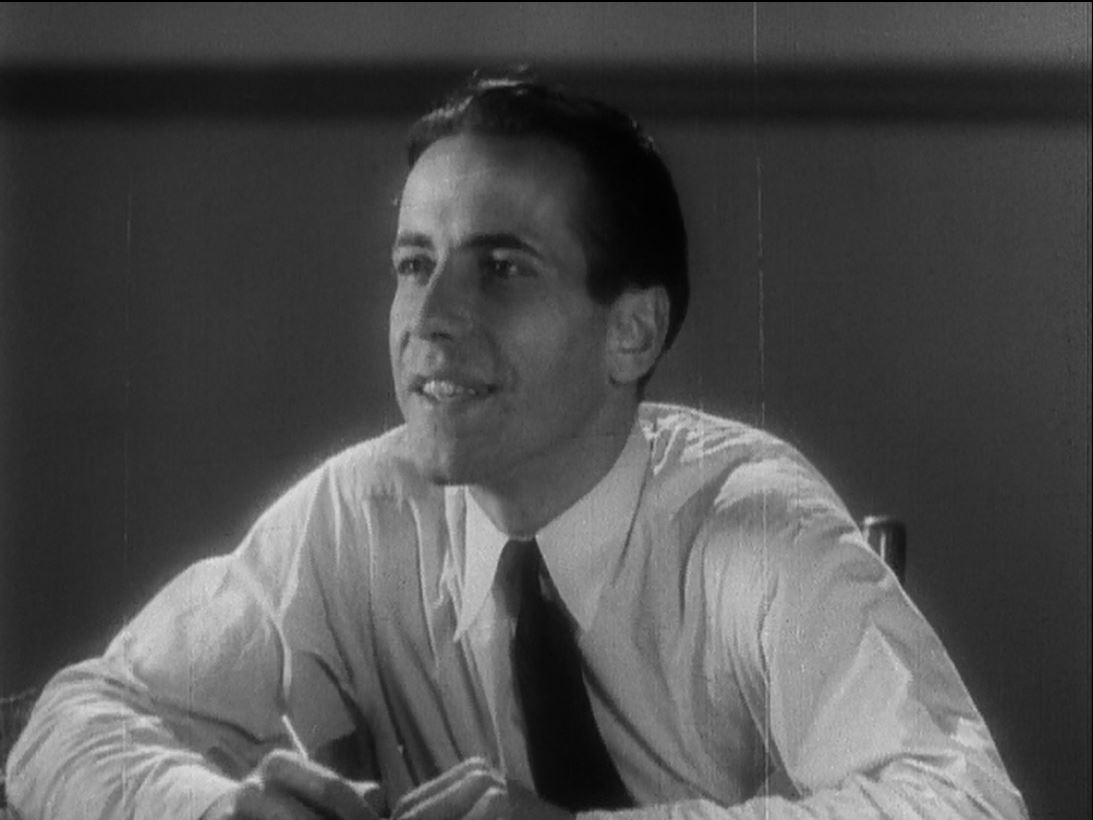 For many of today's viewers, an outstanding feature of this film is an early appearance by Humphrey Bogart. Up the River wasn't Bogart's first film, and it certainly wasn't his last prison picture—but through hindsight, he seems cast against type here. Instead of the hardened tough guy, wise to the ways of the criminal-justice system—a character type reserved for Tracy and Hymer—Bogart appears here as the nice boy from a good family, diverted from a life of crime by a good turn from his older buddies. There's nothing wrong with Bogart's performance, but it remains a curio, a souvenir of his early apprentice years in Hollywood.
            Film historian Scott Simmon has pointed out another notable bit of casting in this picture. Lewis E. Lawes, the warden of Sing Sing, was celebrated at the time for his crusading efforts on behalf of prison reform, and had used the movies as a forum for his cause. (The 1932 Warner Bros. feature 20,000 Years in Sing Sing, starring Spencer Tracy, would be based on his writings.) The cast of Up the River includes Lawes' nine-year-old daughter Joan—as the warden's daughter, playing safely on the prison grounds, and on friendly terms with the inmates—as she reportedly was in real life.
            These are only a few of the points of interest in this fascinating film. The scarred and battered print we see today may put off some viewers, but to devotees of Ford and of cinema in general, it tantalizes with the hope that a pristine version may be found someday. Such a possibility is not out of the question; miracles in film preservation have occurred before. In the meantime, we can be thankful that Up the River survives in any form at all.