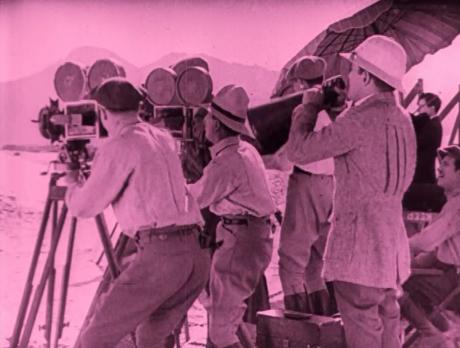 Goldwyn, 1923. Director: Rupert Hughes. Scenario: Rupert Hughes, based on his novel. Camera: John J. Mescall. Cast: Eleanor Boardman, Mae Busch, Barbara La Marr, Richard Dix, Frank Mayo, Lew Cody.
 
            I've made no secret of my fondness for movies about the movies. Classic films are endlessly fascinating anyway, and when they turn the focus on themselves—when they go behind the scenes and offer us glimpses of authentic silent-era studio production—that fascination is compounded.
            Souls for Sale is a film with special distinctions all its own. It was produced by Rupert Hughes, who is little remembered today but was an enormously popular author and playwright in the early twentieth century. Some of his stories were produced as successful films in the 1910s, and Hughes was canny enough to parlay that success into a deeper involvement with the film industry. By the early 1920s he had formed a special relationship with the Goldwyn studio. Here he achieved such stature that he was given free rein to direct films based on his own stories.
            One of the results was Souls for Sale. In the early 1920s Hollywood was rocked by a series of scandals—the drug-related death of Wallace Reid, the murder of William Desmond Taylor, and the notorious Roscoe Arbuckle case—which aroused the ire of the church and other institutions. With the entire film industry under attack as a hotbed of immorality, Rupert Hughes decided to use his own respected standing in the arts to mount a defense of the movies. Souls for Sale, despite its moralistic-sounding title, became his apologia on behalf of Hollywood, his testimony that the majority of those in the film industry were decent, hard-working citizens. Stars, extras, and stagehands alike, Hughes reassured his readers, were far too busy creating the world's entertainment to indulge in riotous behavior. His novel Souls for Sale was published in 1922, and the Goldwyn feature, produced and directed by Hughes, was released early the following year.
            As it turned out, director James Cruze was working on a similar feature, Hollywood, at Paramount at the same time. Both films told fictional stories set against a genuine Hollywood backdrop, and both took advantage of their studio connections to offer generous glimpses of real-life filmmakers at work. And, for years afterward, both were considered lost films. Finally, like so many other films, Souls for Sale was rediscovered in the Czech film archives—battered and worn, but substantially intact. Its original English titles reconstructed, and supplied with a new musical score, it was presented on TCM, complete with its original tinting and toning. It's this version that is available today on DVD from the Warner Archive.
            For 1923 audiences, and for us today, the real joy of Souls for Sale is its liberal serving of scenes showing other filmmakers at work. Among other things, we get a priceless glimpse of Erich von Stroheim directing a test for Greed, authenticated by no less a Stroheim authority than Richard Koszarski. I suspect that the shots of Charlie Chaplin (who would have been working on A Woman of Paris at this time) in the director's chair are staged for Hughes's benefit, but that does nothing to diminish their value. Hughes's connection with the Goldwyn studio clearly gave him special entree to other Goldwyn sets, and behind-the-scenes views of Goldwyn production are displayed with prodigal abandon.
            I first became interested in Souls for Sale as part of my (still ongoing) research into the film career of Blanche Sweet: Blanche was reportedly one of the stars who made cameo appearances in Hughes's picture. (Her starring Goldwyn feature In the Palace of the King was produced later in 1923.) Blanche is nowhere to be seen in this print, but her then husband, director Marshall Neilan, is seen with his stars on the set of The Eternal Three.
            And Souls for Sale has much more to offer, besides this privileged tour of Hollywood. It proved to be a career breakthrough for its star, lovely Eleanor Boardman.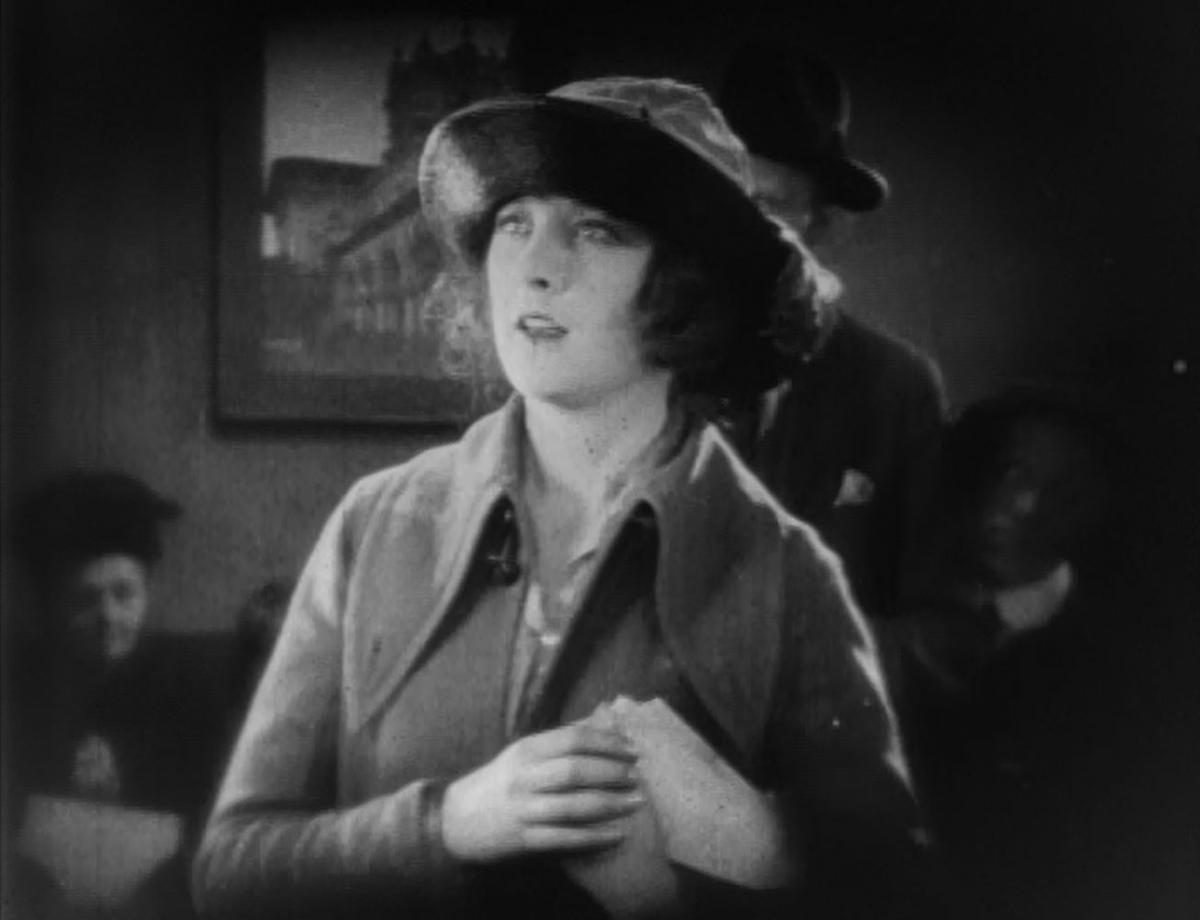 A relative newcomer to the movies, she appeared here in her first major role and shot to stardom far more quickly than her character does in the film. The Variety reviewer was much taken with her, declaring that she "may not mean very much to the average fan or exhibitor, but after this picture the name of Eleanor Boardman is going to mean a whole lot, on the screen and in the box office, for if there ever was a screen find she is one." He was right; her sensitive, intelligent performance struck a chord with audiences everywhere. She went on to continued success in such memorable classics as The Circle, Bardelys the Magnificent, and The Crowd.
            Elsewhere in the cast, it's interesting to see Richard Dix and, especially, William Haines in comparatively minor roles, shortly before they reached top stardom themselves. And of course the cast includes a full complement of beloved character players. (My fellow Disney enthusiasts will be pleased to see Roy Atwell in a small role as a harried casting director. Atwell appeared in several silent films, but was better known as a radio comedian. Today he's remembered as the voice of Doc, the leader of the dwarfs in Snow White and the Seven Dwarfs.)
            As for the plot of the film, it's a colorful, larger-than-life affair, with a subplot involving murder, intrigue, and blackmail. Hughes was never a writer to shy away from excess, and the plot of Souls for Sale is as wildly improbable as those of the movie melodramas it gently caricatures. This may be an unintentional irony, but I like to think it's deliberate. Hughes's film is a tribute that works on more than one level—openly acknowledging the foibles of the movies, while at the same time celebrating their unique strengths and beauty. For those of us who share his affection for silent-era Hollywood, Souls for Sale is a delight.