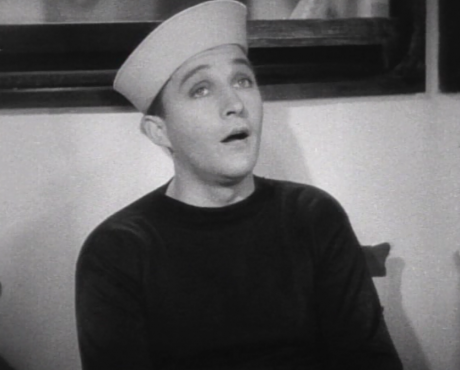 Paramount, 1934. Director: Norman Taurog. Screenplay: Horace Jackson, Francis Martin, and George Marion Jr., based on stories by Walton Hall Smith and Benjamin Glazer. Camera: Charles Lang. Film editor: Stuart Heisler. Cast: Bing Crosby, Carole Lombard, George Burns, Gracie Allen, Ethel Merman, Leon Errol, Ray Milland.
 
            For those of us (and we are legion) who love the early work of Bing Crosby, his movie appearances are a special bonus. Today's general public perception of Crosby is largely based on his mellower, more mature persona of the 1940s and beyond, and of course those years did produce countless Crosby classics. But it's well to remember that the Crosby of the early '30s was a different creature altogether: a sensational new singing star, surrounded by an aura of excitement and a multitude of devoted fans. His success on radio and records soon spread to the motion-picture screen when it was discovered that his smooth, effortless singing style was matched by an easygoing charm before the camera. Paramount Pictures promptly snapped him up and signed him to a movie contract. At the Warner studio, Busby Berkeley was creating ever more spectacular extravaganzas for his musical numbers; RKO was just beginning to pair Fred Astaire with Ginger Rogers, and mounting their numbers in elegant, elaborate settings. Paramount, in producing the Crosby musicals, needed no such expensive trappings. Place the star in front of a camera and a microphone and let him sing, and his fans would be happy.
            And sing he does in We're Not Dressing—a half-dozen numbers by busy Paramount tunesmiths Mack Gordon and Harry Revel, "more songs than in any picture he's made!" as the trailer excitedly announced. The film's premise allowed Crosby plenty of opportunities to vocalize: here he's a singing sailor, part of the crew aboard a yacht belonging to spoiled heiress Carole Lombard. Crosby and Lombard display such an intense dislike of each other that we just know, according to the logic of the movies, they're going to fall in love before the final reel. In the meantime the yacht, lost in a fog, is shipwrecked and runs aground on a supposedly uninhabited island. Now Lombard and her rich friends are helpless at the mercy of the elements, while Crosby, the resourceful, can-do sailor, takes charge of securing shelter and food for himself and, eventually, the yacht party.
            If this plot description causes the reader to think of J.M. Barrie's The Admirable Crichton, it's not a coincidence. Paramount had acquired the movie rights to Crichton nearly two decades earlier, and had produced a silent version, Male and Female, in 1919, directed by Cecil B. DeMille and starring Gloria Swanson and Thomas Meighan. In 1934 they still retained the rights, and Paramount was a studio that did routinely remake its story properties. Oddly enough, the screen credits in this film cite five different writers and never mention Barrie—although Crosby and Lombard, in one dialogue scene, discuss at length The Admirable Crichton and its similarity to their own situation!
            In fairness, little of Barrie's play beyond the basic plot situation survives intact in We're Not Dressing. It's clear that the filmmakers were far more concerned with producing a Bing Crosby vehicle than with Barrie's class-conscious comedy of manners.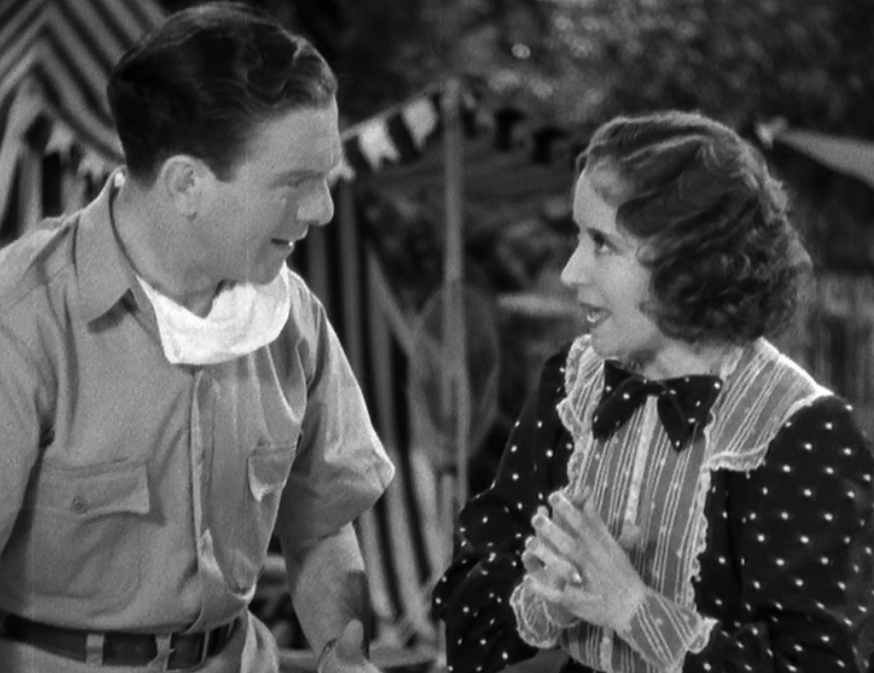 As a secondary concern, this film also functions as one of Paramount's all-star comedy packages, finding sometimes far-fetched excuses to squeeze in a variety of the studio's contract players. It seems safe to assume that Barrie never anticipated George Burns and Gracie Allen as an unlikely pair of naturalists elsewhere on the same island; or Leon Errol as Lombard's alcoholic uncle; or Ethel Merman (who gets a couple of songs of her own) as Errol's halfhearted fiancée. For good measure the filmmakers also toss in such embellishments as the occasional witty, slightly pre-Code line of dialogue, and some slapstick hijinks with a roller-skating trained bear on board the ship. (There's also a contemporary Disney reference, which I will not reveal here!)
            Carole Lombard, Crosby's leading lady, does her best with what is frankly an awkwardly written role. We're Not Dressing was released a scant month before Columbia's Twentieth Century, the film that is often understood as the great turning point in Lombard's career; so perhaps it would be unfair to expect her highest standards—although, as I've written before, I think it's a mistake to write off her earlier performances too casually. In any case, this is Bing Crosby's film all the way—and viewers, and listeners, who relish his early musical career have every reason to enjoy it.