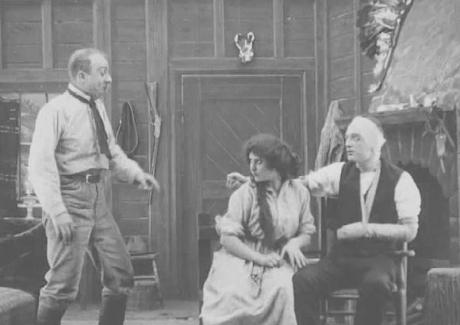 Powers, 1910. Producer: Pat Powers. Director: Joseph A. Golden. Scenario: Acton Davies. Camera: Caldwell. Cast: Pearl White, Stuart Holmes.
 
            It's been a while since I commented in this department on the National Film Preservation Foundation, but their invaluable work remains close to my heart and, I'm sure, to the hearts of other film enthusiasts. In addition to coordinating the efforts of the major U.S. film archives and preservation centers, the NFPF has publicized its efforts—and helped to fund them—with a spectacular series of DVDs, featuring a mouth-watering selection of films that would likely have been lost without the Foundation's work. As if that were not enough, they also maintain a website with a "Screening Room," where one can stream an ever-increasing gallery of even more obscure films. For those of us who love the unexplored nooks and crannies of film history, the "Screening Room" offers an endless store of fascinating rarities.
            The Woman Hater fascinates me in several ways. To begin with, it was produced in 1910 by Pat Powers. My fellow Disney enthusiasts will instantly recognize that name, for Powers played a pivotal, if problematic, role in Walt Disney's fortunes in the late 1920s. Most Disney fans know of Powers's role in the making of Steamboat Willie, and are vaguely aware that he was already a battle-hardened veteran of the film business by that time—but what exactly had he done? Here's part of the answer: he formed Powers Picture Plays in 1909 and produced literally hundreds of one-reel films during the early years of cinema. The Woman Hater was one of those many films. (And, incidentally, also a title that seems to have been popular at the time. The AFI Catalog reports two other films titled The Woman Hater in the months leading up to this one.) Now it has been preserved by George Eastman Museum, with the support of the NFPF, and is available for online viewing.
            The Powers company was located in New York. Not all its films were Westerns, but—like so many other American film companies at the time—Powers did produce "Westerns" on the East Coast, their telltale scenery featuring heavily wooded areas rather than deserts, mountains, or canyons. The Woman Hater qualifies as a comedy-Western. In the opening scene Stuart Holmes (who would go on to a prolific acting career in both silent and sound films) is rejected by his fiancée, throws a small tantrum, and declares himself through with women forever. To get away from them he goes to visit a rancher friend out West.
            But the rancher has another visitor: his niece, played by Pearl White—yes, the Pearl White, who would score a sensational success in The Perils of Pauline in 1914 and would go on to make history as the queen of American serials. In 1910 Pearl's film career was just getting started, and her work with Powers represented her first extended engagement. Here she plays a hardy Western girl who falls in love with Holmes at first sight. Undiscouraged by his aloof attitude, she secretly follows him at a distance—and thus happens to be watching when he has a run-in with a local tribe of Native Americans, and is threatened with burning at the stake. Riding furiously, and eluding one pursuer who has spotted her, Pearl fetches a rescue party and rides back again to save Holmes. In the end he's forced to admit that he doesn't hate all women.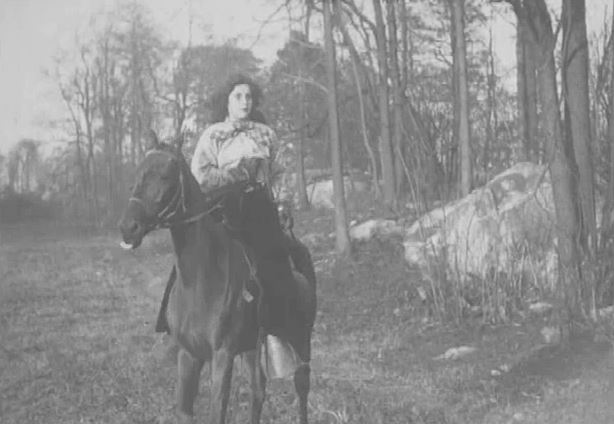 Like so many films of this period, The Woman Hater has more historical interest than entertainment value—but for many of us, that's more than enough. Director Joseph A. Golden is no Griffith, but he does manage to work up a modicum of suspense during Pearl's ride to the rescue. For today's viewer, perhaps the highlight of the film is the opportunity to see Pearl White at the beginning of her career. She's easily the strongest member of the cast (so much so that her instant attraction to Holmes is a little difficult to swallow). She doesn't perform any of the spectacular stunts that would later be seen in her serials, but she's clearly comfortable on horseback, and fully convincing as a plucky Westerner. When she returns with the rescue party to Holmes's aid, her uncle warns her to stay back from the action. Pearl is having none of it, and instantly dismounts, joining the men as they push forward to the fight.
            All in all, The Woman Hater is one of those films that is unlikely to find a prominent showcase on its own merits. But with its multiple connections to the larger world of film—as an example of an early "Eastern Western," and a document of the career beginnings of Pat Powers, Pearl White, and Stuart Holmes—it packs plenty of interest for those who love film. In other words, it's exactly the kind of film for whose preservation and accessibility, against the odds, we can be most thankful.