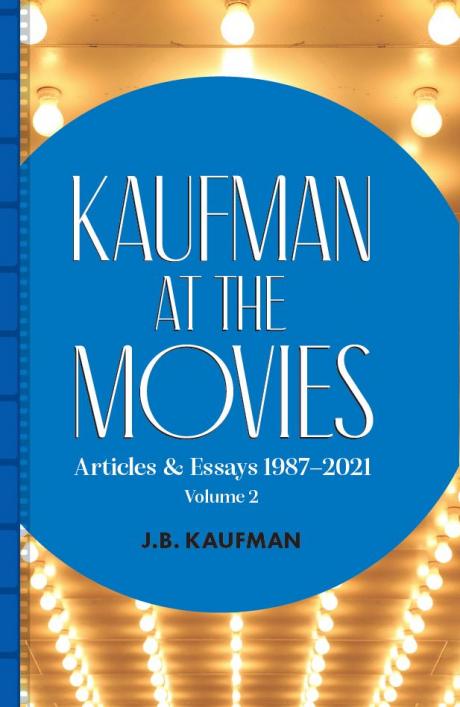 Alongside his full-length books, J.B. Kaufman has been writing articles, essays, festival program notes, and other short-form pieces since 1987. Most of those short pieces are long out of print. Now the best of them, and some new ones, are collected in a two-volume anthology. Volume 1, pending copyright approvals, is currently delayed. Volume 2 is available now on Amazon.
This second volume focuses on stories from the rich and endlessly varied world of American silent and early sound cinema. These articles are based on decades of archival research and interviews with the original filmmakers, and some are substantially updated and expanded from their originally published versions. 
 
Chapters
 
The Unpardonable Sin, an Unmarketable Film
[first published 1989]
The making of a controversial World War I film, The Unpardonable Sin (1918)—completed just as the Armistice was signed—and the producer's efforts to market his war film to what was now a postwar audience.
 
Fascinating Youth: The Story of the Paramount Pictures School
[first published 1990]
The story of the Paramount Pictures School, established in 1925 to recruit young unknowns and teach them to be movie stars. The school lasted only one season, but its graduating class of sixteen students actually did produce two authentic stars, as well as other notable players.
 
Public Opinion and the Waite Murder Case
[first published 1996]
The 1916 film Public Opinion, starring Blanche Sweet, revolved around a fictional murder case. But the film's screenwriter drew heavily on an actual murder case, far more sensational than the one in the film, that was playing out in newspaper headlines during the film's production.
 
"It Was Always Funny Working with Fields":
Producing Sally of the Sawdust and That Royle Girl
[first published 1998]
In 1925 moviegoers saw two films produced by the seemingly unlikely team of director D.W. Griffith and comedian W.C. Fields. Drawing on the daily diary of cameraman Hal Sintzenich and other primary sources, this article chronicles the day-by-day production of Sally of the Sawdust and That Royle Girl.
 
A Lost and Found Romance
[first published 2013]
Classic film enthusiasts were elated in 2007 at the release of the "RKO Lost and Found," six films that had been unavailable for more than half a century. This article explores one of those restored films, the delightful pre-screwball comedy Rafter Romance (1933), with Ginger Rogers in an early starring role.
 
Footloose Widows in Havana:
The Changing Face of Warner Bros. Comedy, 1926–1933
[not previously published]
From the historic rise of the Warner Bros. studio in the 1920s comes an account of three films, all based on the same story but each radically different from the others, with stars ranging from Louise Fazenda and Jacqueline Logan to Joan Blondell and Glenda Farrell.