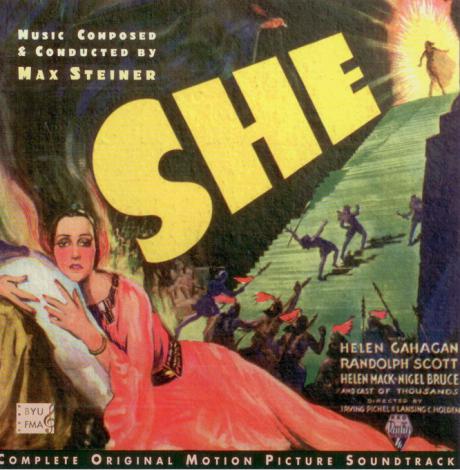 RKO's 1935 production of She, based on the classic story by H. Rider Haggard, reunited some of the top creative personnel that had crafted King Kong two years earlier to produce another adventure story of fantastic proportions. Steiner's score for She even establishes a subliminal musical link between the two films: his stark, descending three-note motif for Kong in the earlier classic is here adapted and extended as the theme for the title character Hash-A-Mo-Tep ("She Who Must Be Obeyed"). His complex, multilayered score, with more than a usual assist from his longtime arranger Bernhard Kaun, presents us with an embarrassment of riches: both BYU
and Tribute have committed it to CD.
So … two different editions of this gem, one brilliantly recreated in a state-of-the-art digital recording, the other painstakingly reconstructed from the precious original elements. So which one should you buy? Obviously, you need them both!