Walter Lantz/Universal, 1944. Director: Shamus Culhane. Story: Ben Hardaway, Milt Schaffer.  Animation: Les Kline, Emery Hawkins, Paul Smith, Pat Matthews, LaVerne Harding. Music: Darrell Calker.
 
            I have an affection for the cartoons of Walter Lantz that I can't entirely explain. Part of it is probably nostalgia, a reflection of the Woody Woodpeckers that I saw, as a child, in rented Castle Films 16mm prints at school functions and so forth. But there's more to it than that. The Lantz cartoons, as a body of work, seem to have a certain endearing quality about them that's almost subliminal, no matter what's happening on the screen at any given moment. I never met Lantz himself, but from all accounts he was an easygoing and extraordinarily nice guy. Perhaps some measure of that personal affability became embedded in the cartoons he produced. In any case, whatever that quality is, it compels me—and the legion of my fellow Lantz admirers—to give his pictures the benefit of the doubt, even when the cartoon itself is, strictly speaking, less than topnotch.
            And then there are the cartoons that need no excuses. Such a cartoon is The Barber of Seville, released early in 1944 and featuring Lantz's best-remembered character, Woody Woodpecker. Woody had made his screen debut just over three years earlier and had quickly made his mark as a loud, zany, frantically energetic cartoon mischief-maker, perfectly in tune with the spirit of the war years. His films were uneven, and Woody himself seemed utterly without malice—lacking the wicked satiric edge of a Daffy Duck or a Bugs Bunny—but he certainly had energy to spare, and his cartoons were always, at the least, noisy, fast-moving, and fun to watch.
            They reached a turning point in 1943, when Jimmie "Shamus" Culhane arrived at the Lantz studio. Culhane came to Lantz as a veteran of most of the other major animation studios, including Disney (he had animated some key scenes in Snow White). Installed as a director, he put his wealth of experience and ideas to work and immediately brought a refreshing new surge of excellence to the Lantz shorts. His first effort with Woody Woodpecker was The Barber of Seville, and the result was, by common consent, one of the all-time classic Hollywood cartoons.
            The basic story situation is simple enough: Woody strolls into a barbershop, finds that the barber has stepped out, and, naturally enough, decides to take over the shop and play barber himself. And having come this far, he takes the perfectly logical next step and begins to sing the "Largo al Factotum" from Rossini's Barber of Seville. It's as simple as that. The cartoon is loaded with gags (some of which would be off limits today), but the comic essence of the picture is that manic little woodpecker, smothering his helpless customer with lather and swinging a razor with wild abandon, all the while singing Rossini, in a sped-up cartoon voice, at the top of his lungs! It's hilarious, and anticipates Chuck Jones's Rabbit of Seville by nearly seven years.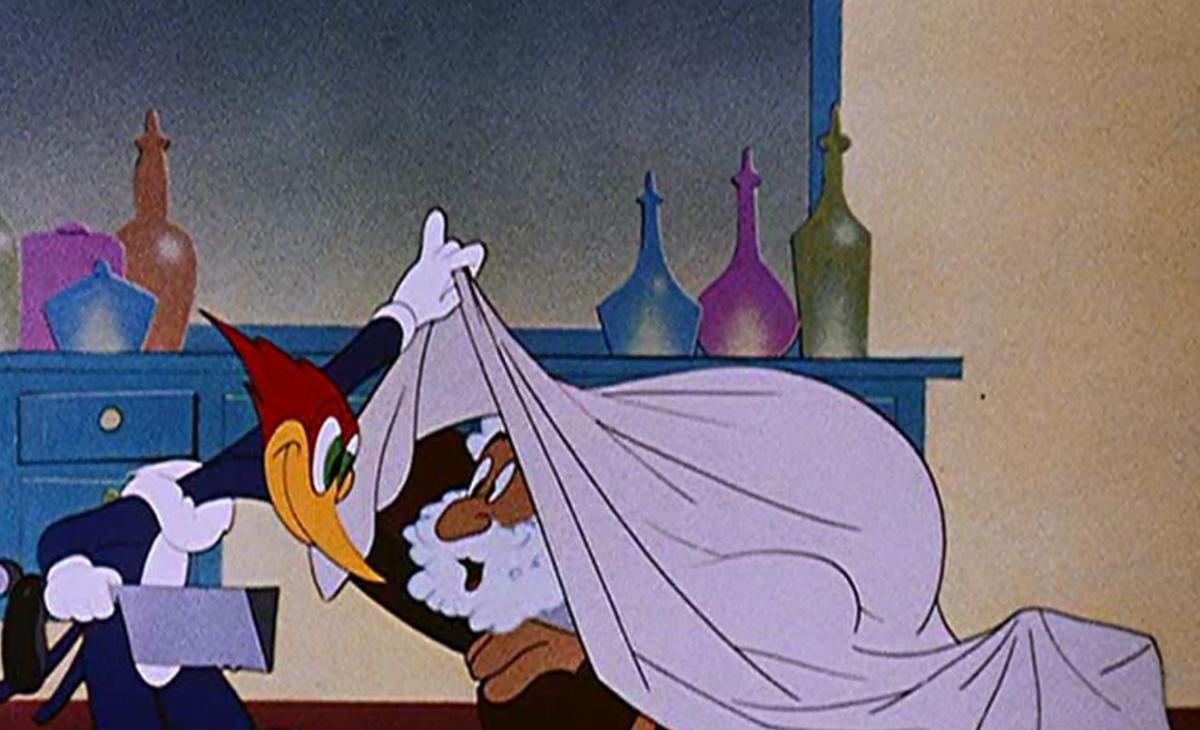 What sets this picture apart from the earlier Woody Woodpeckers is Culhane's masterful sense of timing, building Woody's performance to a frenzied climax of rapid cutting (no pun intended) and lightning gags. Woody himself gets a makeover, too, courtesy of a revamped character redesign that appears on the screen for the first time in this picture. I confess that this last is a mixed blessing for me; the original character's goofily grotesque appearance is one of the things I love about him. But there's no question that the new design is more sophisticated and lends itself more readily to dynamic character animation.
            As a Disney historian, I take a special interest in all the Disney-trained talent that turned up at the Lantz studio during the 1940s. An unusually high proportion of artists, having left the Disney studio for one reason or another, found a safe haven with Lantz. On Barber of Seville, in addition to Culhane, that number includes writer Milt Schaffer, who would return to the Disney story department a couple of years later; layout artist Art Heinemann, who contributed to the aforementioned redesign of Woody; and animator Emery Hawkins. Of course there's also a full complement of Lantz's homegrown talent, notably LaVerne Harding, celebrated today as one of the first, if not the first, female animator at a major Hollywood studio. Happily, animation scholar Devon Baxter has posted a breakdown of animation credits so that we can appreciate these artists' individual contributions to this animated gem. Or we can simply savor it for what it is: a premier achievement of one of Hollywood's most fondly remembered cartoon studios.