FBO, 1929. Director: Eugene J. Forde. Scenario: John Stuart Twist, based on a story by Frank Howard Clark. Camera: Norman DeVol. Film editor: Henry Weber. Cast: Tom Mix, Tony, Kathryn McGuire, Frank Beal, Martha Mattox, Ernest Hilliard, Barney Furey.
 
(Stills courtesy Museum of Modern Art Film Stills)
 
            Regular readers of this column will have noticed that I like to call attention to quality video releases of newly restored, sometimes long-lost, films from the classic era. There's been a proliferation of such releases in recent years, and this month it's a particular pleasure to report an exciting new Blu-Ray from Undercrank Productions, featuring none other than Tom Mix. This is a welcome development in more ways than one. Mix was, of course, one of the two most celebrated cowboy stars of the silent era, the other being William S. Hart. The two were famously dissimilar: Hart was stoic, taciturn, and passionately dedicated to the historic lore of the Old West, while Mix was his polar opposite, a colorful rodeo cowboy who wore flashy outfits and delighted in fast action and daring stunts. Considering the magnitude of his popularity during his own time, a shockingly small percentage of Mix's films have survived today. Happily, however, the survivors include two outstanding features preserved by the Library of Congress—and, now, offered as a double feature on the new Undercrank disc.
            Easily the better-known of the two features is Sky High (1922). Thanks to festival screenings and a 1998 induction to the National Film Registry, Sky High enjoys something of a latter-day reputation for its setting amid the ruggedly spectacular scenery of the Grand Canyon. It was hardly the first film to be shot there, but a title at the opening proudly announces that this is the first film to feature aerial cinematography of the Canyon. In any case, this is a visually stunning film, the beauty of the scenery enhanced by the film's original tinting and toning, painstakingly recreated for this disc. And Mix takes full advantage of his magnificent setting, galloping over rough rock formations, scaling craggy canyon walls, and, in a climactic scene, commandeering a small airplane to pursue the bad guys (hence the film's title).
            In every way, then, Sky High earns its repute among today's film enthusiasts, and its featured place on the Undercrank disc. Here, however, in keeping with the usual practice of this column, I'm focusing on the second and lesser-known feature on the program, a marvelous film in its own right. The Big Diamond Robbery was produced seven years after Sky High, and would become Tom Mix's last silent film. In 1929 the silent era was nearly at an end, and Mix believed (as documented in Bob Birchard's excellent book on his career) that this would be his last motion picture. Today we know that he simply shifted course for a few years, making live appearances in vaudeville and circuses, before returning to the screen in sound films. At the time, however, The Big Diamond Robbery represented the last picture under his 1928–29 contract with FBO, and Mix believed it would be his last one ever.
            But this is no lazy filler, carelessly tossed off to fulfill a contract obligation. On the contrary, Mix, evidently believing that this is his farewell to the screen, is at pains to give his fans a double dose of patented Mix action—in effect, two films rolled into one (albeit packed into a tight seven reels). In the opening scenes, visiting the city to confer with the owner of the ranch where he works, Mix takes on an entire gang of big-city crooks. Here he demonstrates that his roping and athletic skills are fully adaptable to an urban setting, and the episode involves an extended chase through city streets and alleys, up and down floors of an apartment building, and across rooftops.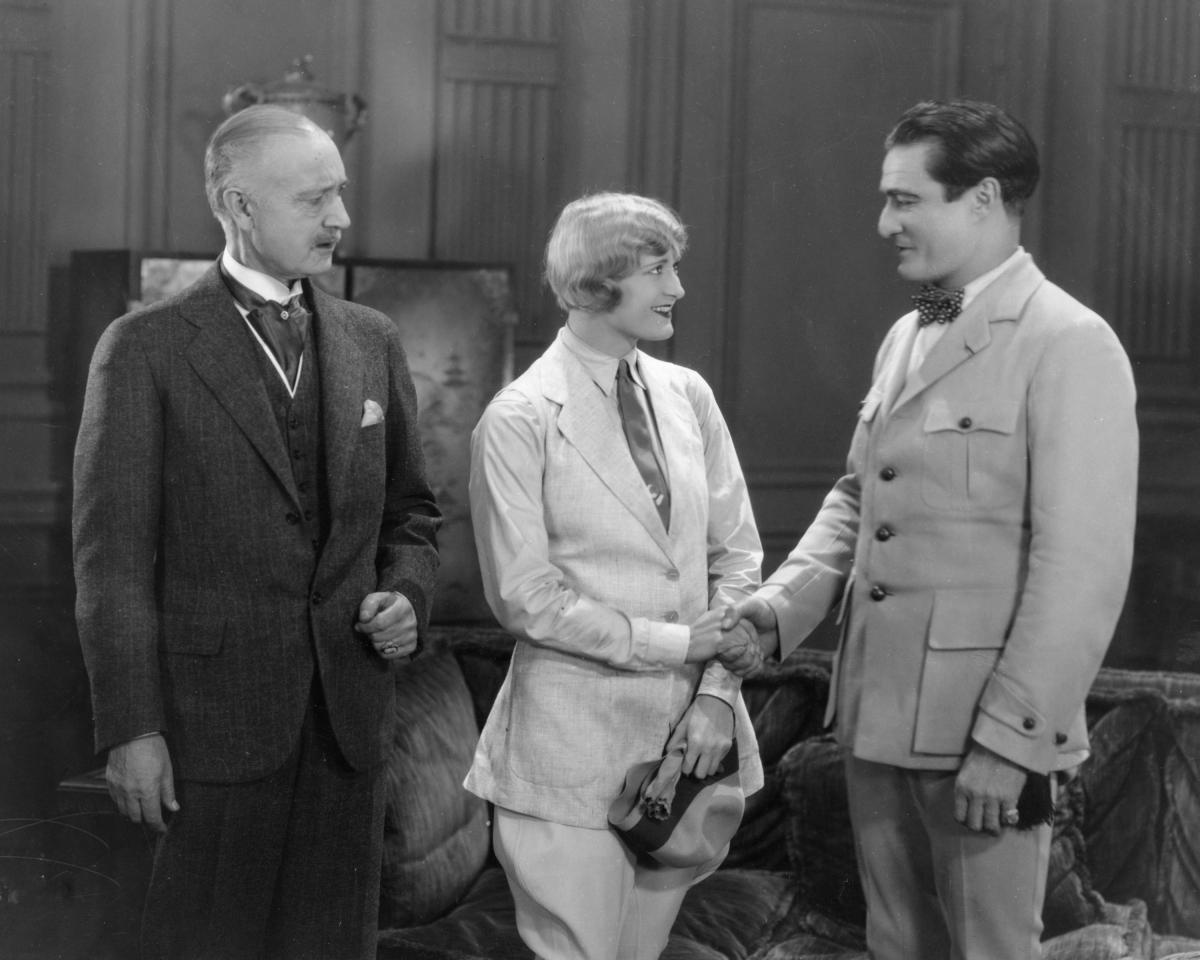 Having temporarily prevailed over the gang, Mix returns to his familiar Western environs—now with the ranch owner's headstrong daughter in tow—only to be pursued out West by the gang, their sights set on a fabulous diamond necklace the ranch owner has lavished on his daughter. Now, if anything, the pace escalates still further, and Mix climaxes the picture with an exciting display of his riding, roping, and shooting skills, undiminished after nearly two decades in the movies.
            As in most of his films, Mix is the whole show in The Big Diamond Robbery, but he is supported by an excellent cast. His leading lady, Kathryn McGuire, will be familiar to film enthusiasts from her many earlier appearances in the silent era, not least opposite Buster Keaton in The Navigator and Sherlock Jr. And it's no exaggeration to cite Mix's beloved horse, Tony, as a prominent member of the cast. To many fans Tony was nearly as well known as the star himself, and in this film he shines in the Western scenes—and is given no less than second billing in the screen credits. Both films on this disc are brought to life with rousing musical scores by Ben Model (piano in Sky High, organ in Diamond Robbery), and both are presented in sparkling 2K transfers, lovingly restored by Katie Pratt to their full original pictorial quality
            The Western films of Tom Mix fulfill one of the most basic rules of cinema: these are movies that move. For those unfamiliar with them, this Blu-Ray double feature will make a delightful introduction.