Essanay, 1911. Director: G.M. Anderson. Camera: Jess Robbins. Cast: G.M. Anderson, Arthur Mackley, Edna Fisher, Julia Mackley, Willis Elder, Brinsley Shaw, Victor Potel, Augustus Carney.
 
            I've been an admirer of the EYE Filmmuseum in Amsterdam for decades. When Russell Merritt and I were working on Walt in Wonderland in the early 1990s, we discovered that the EYE museum—then known as the Nederlands Filmmuseum—had in its collection a substantial number of Walt Disney's silent Alice Comedies that didn't seem to survive anywhere else, all beautifully preserved in 35mm. This was no fluke; it soon developed that the Filmmuseum had, and still has, one of the world's great film-preservation programs. A vast selection of treasures from the world of international silent cinema is maintained there in state-of-the-art condition.
            Regular readers of this column have already seen samples of EYE's collaborations with our own National Film Preservation Foundation, made available for viewing through the "Screening Room" section of the NFPF's website. Now the Filmmuseum has an online streaming resource of its own, the Eye Film Player, where the film enthusiast can catch a glimpse of its holdings. For those of us who love the silents, this site offers a wide-ranging, eclectic mix of titles, albeit a tiny fraction of the Filmmuseum's overall collection. Among the many rarities is an offbeat Christmas film: Broncho Billy's Christmas Dinner, produced in 1911 by the Essanay company.
            Today's film enthusiast knows Essanay primarily through the series of comedies that Chaplin produced there in 1915–16. As great and as historically important as those comedies are, they represented only a small part of Essanay's total output. The foundation and the backbone of Essanay's catalog was a series of one- and two-reel Westerns featuring "Broncho Billy," the first real cowboy hero of the movies, played by G.M. Anderson, one of the company's founders. Beginning in 1910, Anderson directed and starred in more than 140 Broncho Billy adventures in the space of seven years (interspersed with a like number of other films not featuring the Broncho Billy character). Despite that staggering output, Broncho Billy is relatively little-known today. Only a small percentage of those films are known to survive, and in the meantime Broncho Billy would be eclipsed by Tom Mix and William S. Hart. Soon enough Hart and Mix would come to define the silent Western, and would themselves be joined by a legion of other movie cowboys. In that stampede of Western action, Broncho Billy's little adventures were overshadowed and quietly forgotten.
            Which is a shame, because Anderson and his films were modestly engaging. Anderson himself was an unlikely cowboy hero: not exactly athletic, and certainly no horseman. His appeal was more that of an Everyman placed in a Western setting. For whatever reason, his persona clicked with his earliest audiences, and Broncho Billy became a popular commodity for several years. The one-reel format of his films allowed him a certain universal plasticity, somewhat akin to that of Chaplin's Tramp character. Chaplin's character was always Charlie, but appeared in a variety of settings and situations. Similarly, Broncho Billy was always Broncho Billy, but might turn up in a different location and a different role in society in each new film. He might be killed, or married, at the end of the reel, then turn up a week later, very much alive and unattached, in a new adventure. He might be a lawman in one film, and a notorious outlaw in the next.
            He's a notorious outlaw in Broncho Billy's Christmas Dinner, a wanted desperado who holds up stagecoaches. Arthur Mackley, the sheriff of a small Western town, receives word that this outlaw is on the loose, and readies himself to capture Broncho Billy and claim the reward. At the same time the sheriff's daughter, played by Essanay leading lady Edna Fisher, is on her way home from college to visit her parents for Christmas. She travels by stagecoach, but during a rest stop the horses are spooked and run away with the coach. Just down the road, Broncho Billy lies in wait—but suddenly realizes that the stage he had intended to rob is now a runaway vehicle with a terrified young lady aboard.
            I'll stop there, but it seems safe to reveal that this little one-reel drama is, in miniature, the kind of story beloved in literature and film, of ordinary people whose worst impulses are transformed, and directed to happy outcomes, during the Christmas season. It's also an excellent piece of filmmaking. Broncho Billy's Christmas Dinner is one of the earliest titles in the Broncho Billy series, but as Essanay historian David Kiehn has written, it is "among the best of Anderson's surviving work." In 1911 D.W. Griffith was still pioneering the principles of staging and editing action scenes on the screen, and in the one real action sequence of this film, Anderson demonstrates instinctive skill in applying those principles in his own work.
            Viewers who seek out this film on the Eye Film Player will find it as a component of "Winter Wonderland," a nearly hour-long compilation of miscellaneous seasonal shorts.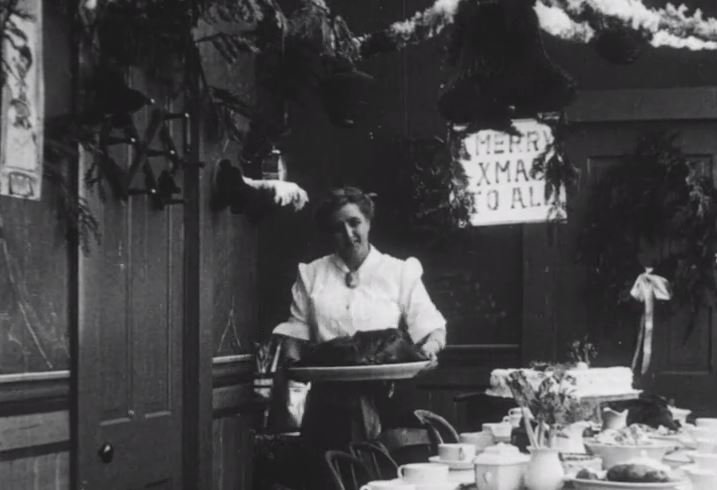 (Many viewers will want to take time to enjoy the entire compilation. Animation enthusiasts in particular will note that the offerings include a short Christmas film by the great stop-motion animator Ladislas Starewitch.) American viewers are advised that these films, preserved from the Dutch release prints, retain Dutch titles and inserts—but the language barrier is no obstacle to enjoyment of these silents, which tell their stories quite clearly through the visuals alone.
            In 1911, Essanay released Broncho Billy's Christmas Dinner two days before Christmas, a contribution to the warm sentiment of the season. Today, more than a century later, the EYE Filmmuseum offers the preserved film as a gift to the international silent-film community. It may be a small gift, but it's a precious one at that.