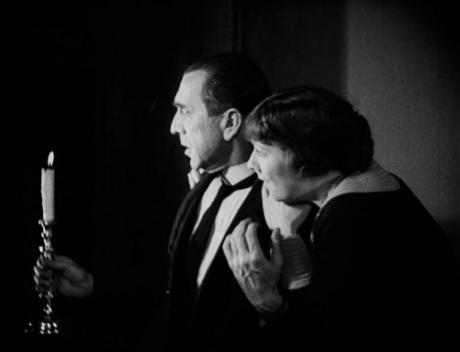 Erda-Film (Berlin), 1929. Director: Richard Oswald. Scenario: Herbert Juttke and Georg C. Klaren, based on The Hound of the Baskervilles by Sir Arthur Conan Doyle. Camera: Frederik Fuglsang. Cast: Carlyle Blackwell, George Serov, Fritz Rasp, Alexander Murski, Livio Pavanelli, Betty Bird, Jaro Fürth, Valy Arnheim, Alma Taylor, Carla Bartheel.
 
            Last month the world lost a brilliant film historian, and I lost a dear friend. Russell Merritt's influence on the worldwide classic film community cannot be overstated. His passion and the depth of his insight were so profound that film scholars everywhere are still trying to absorb the full impact of his body of work. Among the lucky ones who knew him personally—of whom, I'm proud to say, I am one—his loss is even more acutely felt. I've never offered a repeat post in this column before, but I'm breaking that pattern this month. In honor of my friend, I'm repeating an installment from four years ago. It appears here almost exactly as it did then, the language altered only slightly to reflect the passage of time. I'm reposting it because it celebrates the recovery and preservation of an important film that would have been lost without Russell's efforts. It's only a tiny fraction of his legacy—but it's not a bad place to start.
***
            The San Francisco Silent Film Festival is one of the annual highlights of the film lover's calendar. It's been a hugely enjoyable festival from the beginning, but in recent years it has further elevated its own standard by not only exhibiting a broad range of silents (in world-class presentations), but also taking an active hand in restoring key silent films that had previously been thought lost. A particularly remarkable case was the resurrection, a few years ago, of Sherlock Holmes, the long-lost 1916 feature starring the legendary William Gillette in his career-defining role, and his only starring role in the movies. I'm going to do a little bragging here: the team that restored this film was led by my friend and sometime coauthor, Russell Merritt. Russell is not only one of the most brilliant film historians in the world, he's also a Sherlockian—a devotee of the lore surrounding the great fictional detective—and was therefore an ideal choice to lead that restoration effort. Along with the San Francisco festival's esteemed Rob Byrne and some colleagues at the Cinémathèque Française, where the print was discovered, he brought Gillette's Holmes to light. Their efforts revealed it to be a precious and essential film, one now preserved for posterity.
            But that wasn't the end.  Remarkably, in 2009 a second key Holmes silent had surfaced in Poland's Filmoteka Narodowa. This was Der Hund von Baskerville, produced in Germany in 1929. Based on the best known of the Sherlock Holmes novels, this was (as Russell points out in his notes) the last major silent film featuring the great detective. It was never shown in the U.S., and went underappreciated in other countries, because by 1929 the talking-picture revolution was in full swing—and talkies, even mediocre ones, were absorbing the attention of critics and moviegoers. Among aficionados, however, Der Hund developed a reputation as an important milestone in the Holmes screen canon. The discovery of a surviving print, eighty years later, was cause for excitement.

            The film's restoration was far more difficult than that of the 1916 Sherlock Holmes, partly because of the complicated international legal negotiations involved, partly because of the physical condition of the surviving elements. The print in the Polish archives was an original 35mm nitrate release print, sharp and clear but suffering projection wear—and missing parts of two reels. Happily, the restorers also had access to a 9.5mm print, prepared for the European collector's market, which filled in some of the missing scenes. Thanks to Rob Byrne's technical wizardry, these two elements were combined, and supplemented with titles and original scene stills to cover the remaining continuity gaps, producing the most seamless possible version of the original film. The restoration was shown at the 2018 San Francisco and Pordenone festivals, and has now been made available on both DVD and Blu-Ray by Flicker Alley.
            Thus restored to view, Der Hund von Baskerville emerges as a powerful, riveting film, one that fully justifies the effort expended in its rescue. Richard Oswald may not be as well remembered today as other German directors of the silent era, but he was enormously prolific and a skilled craftsman. By 1929, of course, German Expressionism had been flourishing for a full decade, dominating much of German film production and heavily influencing the rest of world cinema, including Hollywood. Richard Oswald was thoroughly grounded in this style, and his production of Der Hund is an Expressionist field day, all brooding atmosphere, moving camera, radical angles, threatening shadows—Sherlock Holmes meets The Cat and the Canary. This might be a less-than-ideal way to frame some of Arthur Conan Doyle's stories, but The Hound of the Baskervilles is a notably atmospheric novel in its own right, combining Holmesian deduction with vivid elements of horror and suspense. As a result, the film is a marvelously suitable complement. Like all the best novel-to-film adaptations, Der Hund alters some details of plot and incident (as it should) but preserves the spirit of the original.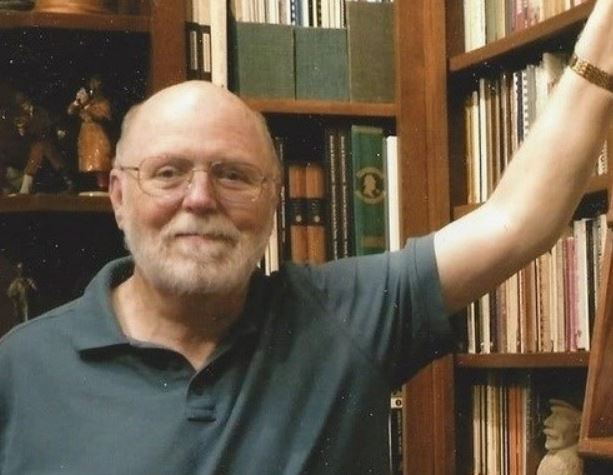 Among the members of the international cast, we might note that Holmes himself is played by the American actor Carlyle Blackwell, who had enjoyed a busy screen career in the U.S. during the 1910s before relocating to Europe. Here, like William Gillette, he upends our preconceptions about Sherlock Holmes: he can project the requisite intensity when the scene calls for it, but is otherwise pleasant, laid-back, almost jovial. Also notable in the cast is Fritz Rasp, familiar from his colorful roles in Metropolis and Diary of a Lost Girl, in an equally colorful role as an eccentric neighbor of Baskerville Hall. But all the cast members, and all the other components of this film, are subordinate to the film itself. Its return from oblivion is a stellar event for anyone who cares for classic motion pictures.