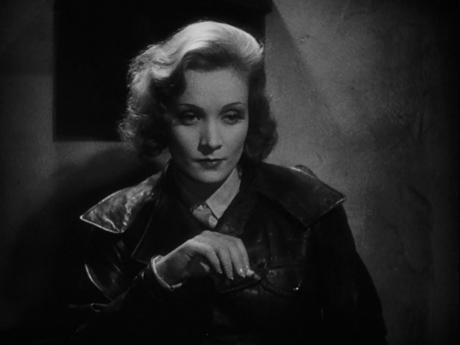 Paramount, 1931. Director: Josef von Sternberg. Screenplay: Daniel N. Rubin, based on a story by Sternberg. Camera: Lee Garmes. Cast: Marlene Dietrich, Victor McLaglen, Gustav von Seyffertitz, Warner Oland, Lew Cody, Barry Norton.
 
            The cinematic collaborations of director Josef von Sternberg and star Marlene Dietrich in 1930–35 are, collectively, a unique phenomenon in film history. Sternberg had long since established himself in the 1920s as one of the great pictorialist directors. In such silent classics as Underworld and Docks of New York, he had displayed a dazzling mastery of visual artistry, with moody, atmospheric chiaroscuro lighting and brilliant composition. Now, in the early 1930s, he channeled his consummate talent into a series of sound films that formed a glamorous composite portrait of Marlene Dietrich. Hypnotic, lushly mounted and photographed, these films transformed Dietrich into an icon of feminine allure. The stories were often downright preposterous, but these films are not about the story; they're about the immersive cinematic experience. They defy sense, but they ravish the senses.
            In this body of work, Dishonored is often overlooked. Lacking the colorful, sometimes bizarre set-pieces of Blonde Venus or Shanghai Express, it is sometimes forgotten in the shadows. But if we pull it out of those shadows and look at it on its own merits—the overriding theme of this column—we find a brooding, quietly intriguing little film well worth revisiting. The relative lack of flamboyant plot incident here is a good thing; it allows us to focus on Sternberg's craftsmanship without distraction.
            Dishonored is a spy story. In 1930, Paramount Pictures had reportedly considered producing a film based on the story of the notorious World War I spy Mata Hari, but after consulting the Hays Office decided to abandon the project. Subsequently Metro-Goldwyn-Mayer did take up the story, and MGM's Mata Hari, starring Greta Garbo, was released at the end of 1931. Meanwhile, back at Paramount, Sternberg tackled his own fictional spy story. The resulting Paramount film, Dishonored, beat MGM to the box office by a good nine months. Here Dietrich is seen as a Viennese streetwalker recruited to the Austrian secret service. Intensely loyal to her country, she employs her feminine wiles and proves an extraordinarily effective agent, leaving a trail of male victims in her wake. She meets her match in Victor McLaglen, cast against type as a Russian colonel who is fascinated by her charms but too wily to succumb to them. Each attracted to the other, but each wary of betrayal and capture, Dietrich and McLaglen engage in a friendly, amorous, but deadly game of cat and mouse. It's less than believable—but, again, believability is not a notable feature of the Sternberg-Dietrich films.
            And, in fact, that very lack of believability is an ingredient in the dreamlike world Sternberg concocts on the screen.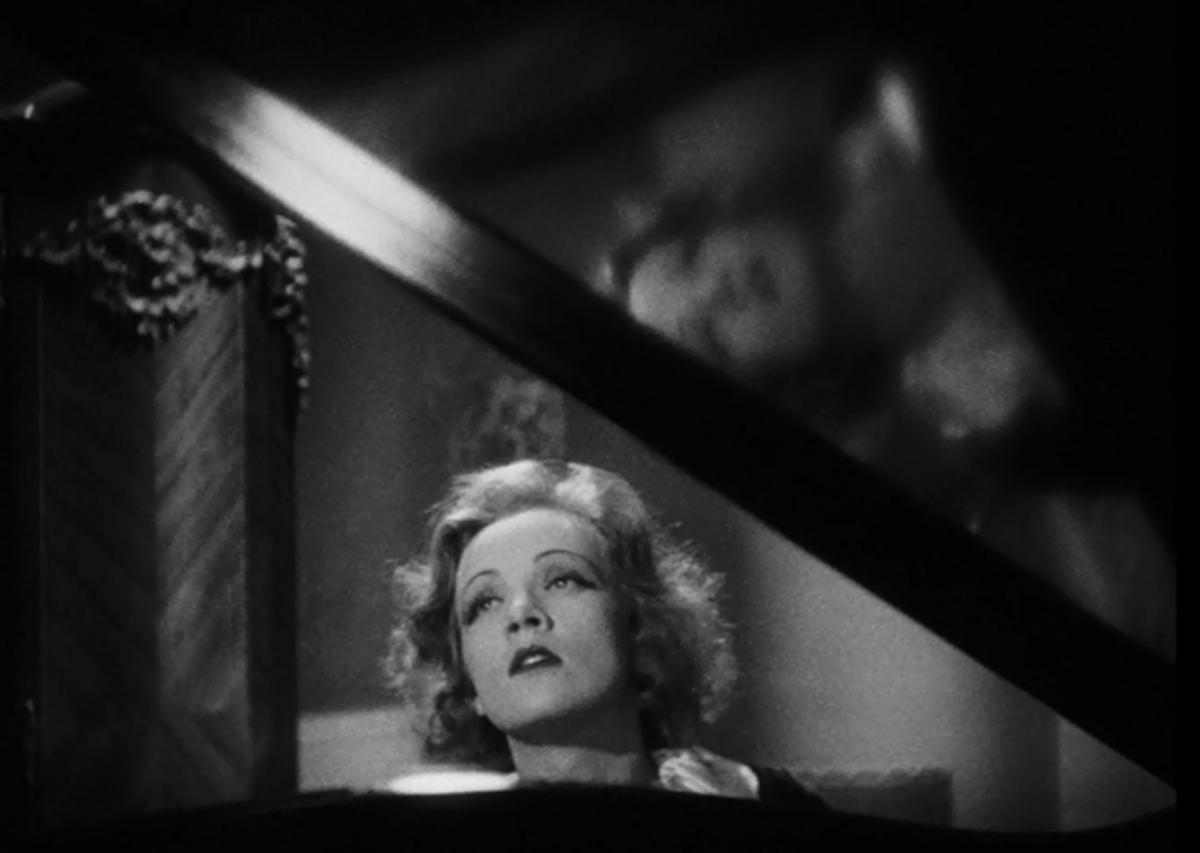 As Dietrich commits her depredations, she drifts through a series of dark, atmospheric spaces fashioned by an artist's hand. Visually, Dishonored has something in common with film noir: virtually the entire film takes place at night, much of it against a backdrop of rain. And while our attention is drawn to Sternberg's craftsmanship, it would be remiss to overlook Dietrich's performance. Late in her career she attracted the praise of critics for stepping outside her standard role as a femme fatale and embracing roles that demonstrated real acting ability. It's worth pointing out that she does the same thing here in 1931. One of her espionage assignments involves masquerading as a housemaid, simple-minded, awkward, and decidedly unglamorous. It's an unexpected turn, especially this early in her career, and Dietrich plunges into it with gusto, turning in a performance that contrasts vividly with her usual image.
            But for most of its running time, Dishonored gives us the Marlene Dietrich we remember: mysterious, lazily seductive, lovingly caressed by the camera. She maintains her aplomb to the end, as the spy, having allowed McLaglen to escape, is sentenced to execution. The commander of the firing squad, a young lieutenant who has adored Dietrich since the first reel, despairs of his task, throws down his sword, and pleads for mercy; Dietrich herself coolly applies lipstick and adjusts her hose. The execution takes place on schedule—but the image etched by Dietrich and Sternberg remains indelible.