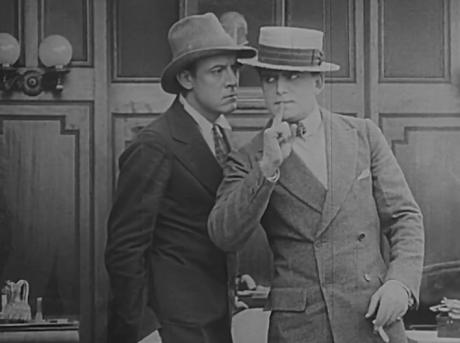 Fine Arts/Triangle, 1915. Director: Christy Cabanne. Scenario: Cabanne, based on the novel by Herbert Quick. Titles (uncredited): Anita Loos. Camera: William Fildew. Cast: Douglas Fairbanks, Richard Cummings, Olga Grey, Margery Wilson, Gladys Brockwell, Monroe Salisbury, W.E. Lowery, Tom Kennedy, Kate Toncray, Lillian Langdon.
 
            One of the most exciting recent developments in the classic-film community is the emergence of Film Preservation Society, an independent nonprofit dedicated to preserving precious silents that might otherwise be lost. This group's goals are strikingly ambitious: over the last several years they have begun carefully, methodically producing state-of-the-art restorations of all the Biograph films of D.W. Griffith—a crucial chapter in film history, and one that numbers nearly 500 short films! As if that heroic effort were not enough, FPS has also taken on additional rare silents, restored them to their original visual excellence, and started issuing them in elegant Blu-Ray editions. This spring brings us a rich abundance of these gems: no fewer than three of the early feature films of Douglas Fairbanks.
            This is an apt project for FPS, seeing as Tracey Goessel, one of the principals behind the group, is the leading authority on Fairbanks' life and career and has written his definitive biography. The FPS Blu-Ray salvo of Fairbanksiana begins with The Three Musketeers (1921), one of the star's earliest swashbucklers, previously available in lackluster video editions but now restored to its full visual splendor. Needless to say, that disc is highly recommended. You won't see it in this column, only because I tend to focus on relatively obscure films, and Douglas Fairbanks in The Three Musketeers is not my idea of an obscure film! But close on the heels of that disc is a second, offering a delightful double feature of Fairbanks' early, pre-swashbuckler efforts—much more rarely shown than his spectacular features of the 1920s—and we're going to look at each of them separately.
            The first is Double Trouble, produced in 1915 by Griffith's Fine Arts company for release by Triangle. Fine Arts specialized in recruiting stars from the Broadway stage and importing them to the movies, a policy that sometimes resulted in tedious, stagebound program pictures. Douglas Fairbanks was the exception. Stage experience notwithstanding, his boundless energy and athleticism were made for the movies. Fairbanks burst onto the screen in 1915 in The Lamb, a film custom-designed for his ebullient, nonstop antics. Double Trouble, his second film, takes the Fairbanks franchise a step further. It introduces a plot situation that would become one of the star's favorite devices: the dual role. Here he's seen as Florian Amidon, a timid, mild-mannered young man who shrinks from human contact and seems positively terrified of women—and who inhabits the same body as his alternate personality, Eugene Brassfield, a tough, relentless go-getter who is all ruthless ambition, no scruples.
            This premise is clearly rich in comic possibilities, and Double Trouble takes full advantage of them. The set-pieces include a long, hilarious drunk scene for the Brassfield character—in the midst of which he reverts to Florian, who has never been intoxicated in his life. The silent-film enthusiast, reading this description, may be reminded of the similar contrast between foppish Don Diego and dashing Zorro in the later Fairbanks classic The Mark of Zorro (1920). The difference here, at the beginning of Fairbanks' film career, is that we see this device in its raw, unrefined state. His Brassfield persona is no dashing hero like Zorro; on the contrary, he's a reckless, almost cold-blooded, opportunist who takes whatever he wants and lets nothing stand in his way. Not satisfied with his ill-gotten gains in the business world, he invades the world of local politics and leaves a trail of corruption behind him.
            (I've written about this film elsewhere—nearly twenty years ago, I'm amazed to realize—and commented at the time about the character's careless obliteration of political norms. At the time, of course, I had no idea of the political upheavals the next twenty years would bring in real life. It's a tribute to the vigor of Fairbanks' performance that, even in the aftermath of those developments, his performance as Brassfield still seems mildly outrageous!)
            Like other films produced by Griffith's Fine Arts company, Double Trouble draws heavily on the pool of talent familiar in Griffith's world.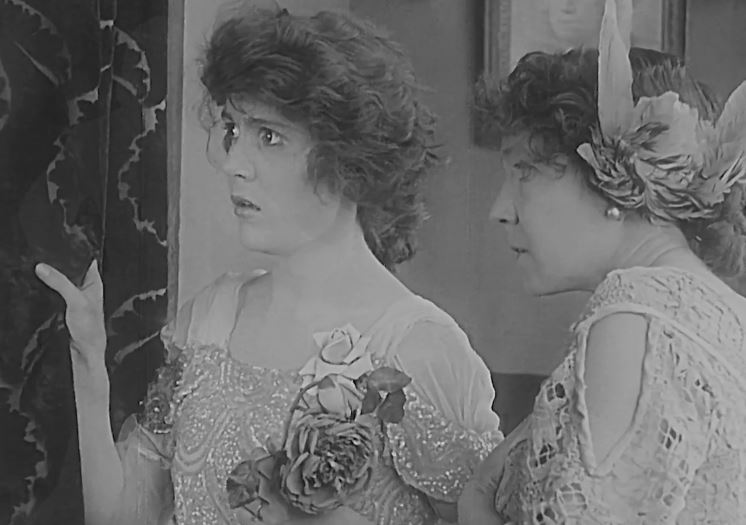 The film's director, Christy Cabanne, had been a regular member of Griffith's "stock company" at Biograph before switching to direction. The long-suffering leading lady is played by Margery Wilson, who was concurrently playing a leading role in the French Story in Intolerance, and who would continue her prolific acting career throughout the 1910s before becoming a director herself. And Anita Loos, the writer of the film's titles, was uncredited here but was already displaying the witty touch that would propel her into a distinguished career. (When Florian attends a genteel church social, a title sardonically observes: "The pace that kills." Later, Brassfield's tough henchmen are introduced as "The modest little violets who were managing Brassfield's campaign for Mayor.")
            Both as a priceless historical artifact and simply as an entertaining movie, Double Trouble is a valuable addition to our silent-film libraries. We can be grateful to FPS for making it available to us before it vanished into obscurity. At that, they were almost too late. The restoration on the Blu-Ray is reconstructed from two incomplete sources, but principally from a 35mm print at the Library of Congress which was already beginning to succumb to nitrate deterioration. FPS is doubly to be commended, both for the courage to capture this film before it was lost altogether, and for the digital wizardry to reduce that nitrate damage to a minimum in the version we see on our screens. Moreover, on this disc Double Trouble is programmed with a second early-Fairbanks feature, equally rare, equally delightful, and without any distracting nitrate damage. We'll take a close look at that second feature next month.