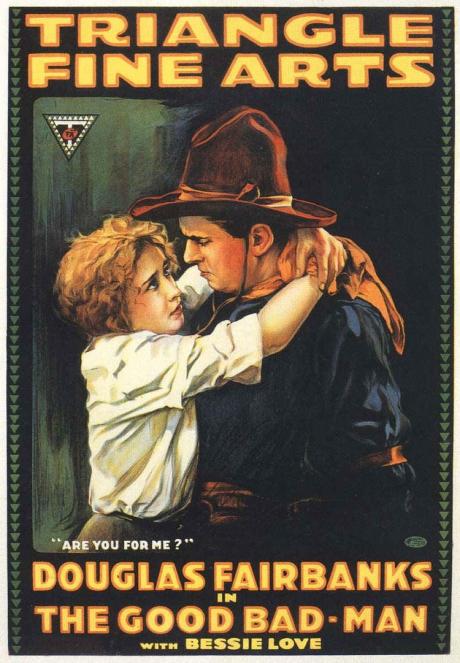 Fine Arts/Triangle, 1916. Director: Allan Dwan. Scenario: Douglas Fairbanks. Camera: Victor Fleming. Cast: Douglas Fairbanks, Sam De Grasse, Doc Cannon, Joseph Singleton, Bessie Love, Mary Alden.
 
            We keep hearing, these days, that DVDs and Blu-Rays are extinct. I'm so glad that's not true! Streaming video is an adequate medium for some forms of entertainment—but for those who love classic films, nothing can take the place of those specially prepared discs, loaded with commentary tracks and other bonus features, that allow the viewer to immerse in a favorite film, exploring it in all its facets. A notable case in point is a recent Kino release offering a Douglas Fairbanks double feature. Both the films in question are program features produced in 1916, and both are lovingly mounted here with sterling piano scores by Donald Sosin. They also benefit from lively, informative commentary tracks by Rob Byrne, who supervised the restoration of both films, and Tracey Goessel, author of The First King of Hollywood, the definitive Fairbanks biography. Of the two films, The Half-Breed is the featured title and has received the lion's share of the attention to date. For this column I'm focusing on the other film in the set: The Good Bad Man.
            The early films of Douglas Fairbanks—i.e. the relatively modest features in which he starred between 1915 and 1921, predating the big-budget swashbucklers of the 1920s for which he is best remembered—have long been a staple of the silent-film enthusiast's diet. It's easy enough to generalize about these earlier films, lumping them all together as breezy, fast-paced comedies featuring Fairbanks as an irrepressible American go-getter—and, to be sure, more than a few of them do fit that description. The Good Bad Man is different. This is not a Western spoof but an actual, bona fide Western. Fairbanks, in the leading role, does exhibit his characteristic cheerful, energetic persona, but the film itself is not played for laughs. Instead it's a solid, fast-paced Western, filmed in authentic desert locations, tautly directed by Allan Dwan, and featuring a full complement of traditional hard-riding action in its closing reels.
            The story, written by Fairbanks himself, features the star as an unconventional outlaw known as "Passin' Through"—a sort of Robin Hood figure with a specialized twist: when he holds up a train or a saloon, his ill-gotten gains are always diverted to the benefit of fatherless children. We soon learn the reason: "Passin' Through" is haunted by the specter of his own dubious parentage, no small matter for a movie hero in 1916—and, as Tracey Goessel points out, privately a sensitive subject for Fairbanks himself. Writing and starring in The Good Bad Man must have provided a measure of cathartic relief, for "Passin' Through" ultimately clears his name, exacts frontier justice on the real bad guy, and wins the girl, after a tightly packed five reels of chases, showdowns, and shootouts.
            The Good Bad Man is only the fifth of the Fairbanks films produced by the Fine Arts studio, one of the three production companies that made up the Triangle Film Corporation. Fine Arts produced a regular slate of program pictures nominally supervised by D.W. Griffith, but in fact Griffith served mainly as a corporate figurehead while focusing most of his creative energy on the production of his epic Intolerance. Some of the Fine Arts pictures did receive the benefit of Griffith's personal involvement, but he famously had little to do with Fairbanks or his films. The Griffith connection is felt most strongly in this film by way of its cast, featuring several key members of Griffith's stock company. The versatile Mary Alden was actually the same age as Fairbanks, but appears in flashback, suitably "aged," in the role of his mother. Sam De Grasse, himself a versatile player—his previous roles had ranged from the aristocratic Charles Sumner in The Birth of a Nation to the folksy "Silent Smith" in Martyrs of the Alamo—is on hand here as a steely, underplayed arch-villain. So effective was his performance that Fairbanks, as he began to assume greater control over his own career, sought out De Grasse for similar roles on numerous later occasions.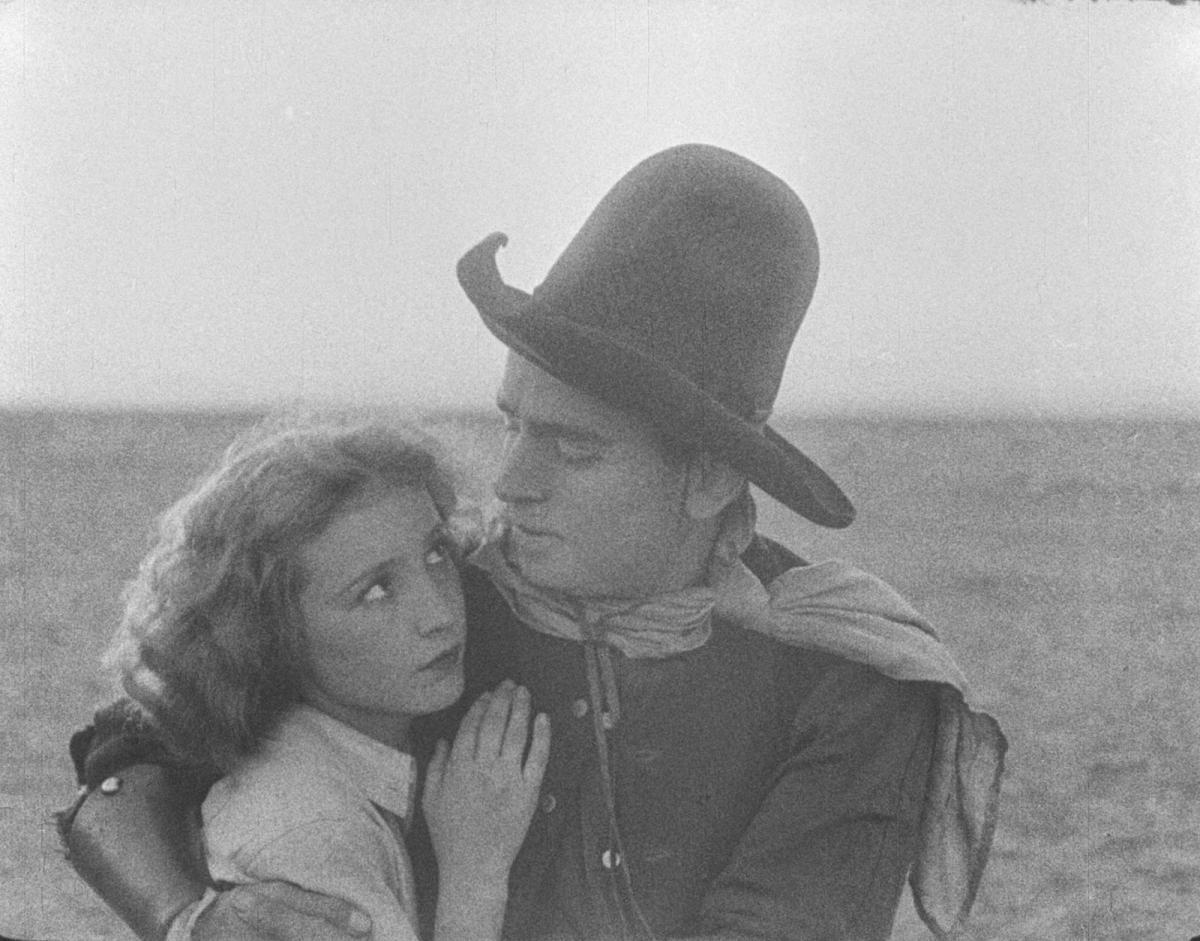 And of course it's a particular delight to see Bessie Love, early in her career, as Fairbanks's leading lady here. Visitors to this website probably need no introduction to Miss Love's long, prolific career in both silent and sound films. Suffice it to say that in this film, virtually at the dawn of that long career, she's as luminous and charming, and her performance as subtle, as ever.
            The Good Bad Man was technically never a lost film, but for decades it was virtually impossible for most viewers to see. The print used for this disc comes courtesy of the Cinémathèque française, in whose vaults it had been hidden for the better part of a century. It's derived from the 1923 reissue by Tri-Stone Pictures, which—consistent with that company's standard practice—took the liberty of slightly reediting some scenes, changing character names in the intertitles, and (one speculates) removing a scene or two. On the plus side, the print itself was evidently in good shape, a sparkling, razor-sharp 35mm release print, its visuals well represented in this video release (especially the Blu-Ray edition). Further, it has been lovingly fine-tuned by Rob Byrne in this restoration, even to the extent of recreating the font of the 1923 intertitles in order to reconstruct them as authentically as possible. All in all, this is very good news for the classic film enthusiast. Yet another long-unseen gem from the silent era—two of them—have been rescued from limbo and returned to us in near-mint condition. They are decidedly worth the wait.