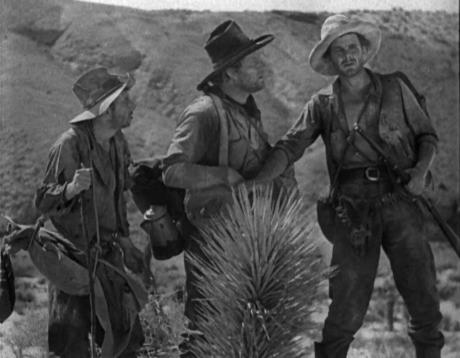 Universal, 1929. Director: William Wyler. Scenario: Tom Reed, based on The Three Godfathers by Peter B. Kyne. Camera: George Robinson. Film editors: William Boyce and Earl Neville (silent version), Harry Marker (sound version). Cast: Charles Bickford, Raymond Hatton, Fred Kohler, Fritzi Ridgeway, Maria Alba, José De La Cruz, Buck Connors, Walter James.
 
            Once again the month of October brings us a highlight of the film enthusiast's year: Le Giornate del Cinema Muto, the incomparable annual silent film festival in Pordenone, Italy. And, as always, the program of titles for this year's festival offers a wealth of familiar highlights, as well as a generous assortment of fascinating lesser-known films. One standout (for me) that bridges the gap between these two categories is Hell's Heroes. Its showing this year marks a welcome reprise: the Giornate showed Hell's Heroes in an unusually memorable presentation in 1994. Now, after nearly three decades, the film returns to work its peculiar magic as part of the festival's "Canon Revisited" series.
            Rarely shown though it is, Hell's Heroes qualifies for the "familiar" category by virtue of its story: it's based on the Western classic The Three Godfathers by Peter B. Kyne. First published in 1912, Kyne's tale tells of three outlaws who rob a bank in a small western town, then gallop away into the desert. There they find a seemingly abandoned covered wagon with only two occupants: a dying pioneer woman and her newborn baby. With her last breath the woman charges the three outlaws, the least godly of men, to become the baby's godfathers. This unexpected incident diverts the trio onto a path of sacrifice, redemption, and an unlikely Christmas story against the setting of the harsh Southwestern desert.
            This tale has provided rich fodder for the movies: no fewer than five "official" film versions were produced in the decades between 1916 and 1948. And that's not counting the many other films adapted from, inspired by, or related to the story, nor an offbeat "precursor" directed by D.W. Griffith in 1913. (We'll visit that one, too, in a future edition of this column, and I've already commented on two of the story's other cinematic cousins in earlier editions.) Not all these adaptations are known to survive today, but the extant versions afford a fascinating range of comparisons. Hell's Heroes, produced late in 1929 and not generally released until early 1930, is of special interest because it was produced in both silent and sound editions. Needless to say, the silent version will be on display in Pordenone. The sound version, fitted with lengthy dialogue scenes, avoids the static, monotonous look of so many early talkies by interpolating action scenes contemporaneously filmed for the silent.
            Another point of special interest: Hell's Heroes was directed by a young William Wyler, one of the breakout films that foretold the distinguished career ahead of him. Wyler was no stranger to Westerns in 1929, having cut his directorial teeth on a series of low-budget cowboy pictures for Universal, but this was something different—one of the films (along with The Shakedown, considered in an earlier edition of this column) that announced a major new filmmaking talent. Comparisons are subjective, of course, but some critics have called Hell's Heroes easily the best of the surviving film versions of this story. Certainly it's the harshest, most uncompromising version. Congenial story elements that appear in the other versions—extended pre-robbery byplay with the citizens of the town, passages of comedy—are nowhere to be seen here. Instead we have a stark portrait of the southwest American desert and its inhabitants, brutal and unforgiving. When the three outlaws find the woman in the wagon, their first instinct is rape. These men are not movie stars, but rough, dirty, merciless outlaws; and of course this makes their ultimate redemption that much more powerful and affecting.
            In reality, of course, they are movie stars—or, at any rate, well-known players with long screen careers.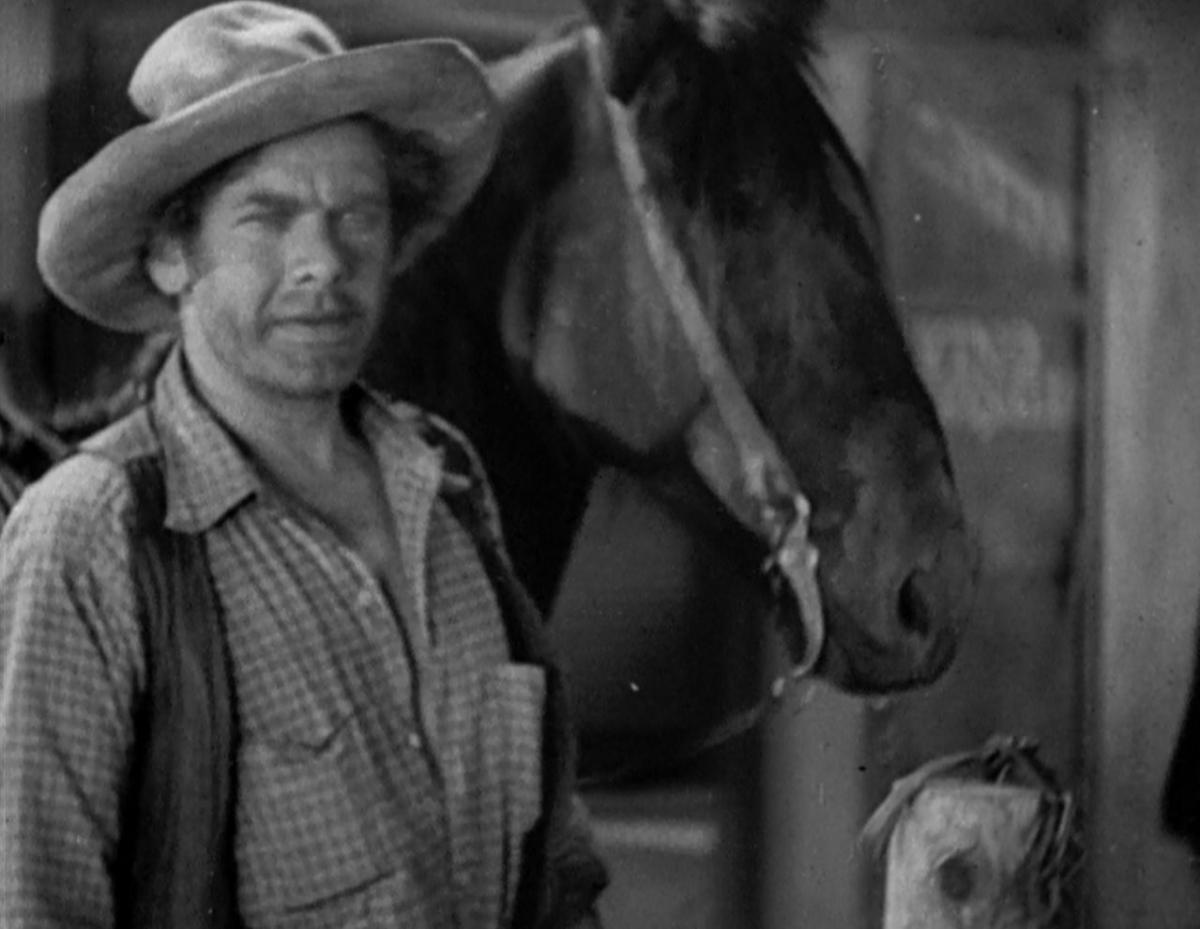 Charles Bickford, as the gang leader, was relatively new to the movies in 1929, having started his career on the stage. But he quickly established himself in roles like this one—the tough guy with a flicker of intelligence behind his eyes that makes him doubly dangerous—in this and other contemporary films, perhaps most famously opposite Garbo in the sound remake of Anna Christie. He would go on to a decades-long career in the movies. His accomplice in this film, Fred Kohler, was a contrasting type: not a criminal schemer but simply a crude, mean-spirited brute. William K. Everson once described Kohler as "the best western badman of all … crafty, ugly, brawny, happier with the simple villainies of robbing stagecoaches or rustling cattle, and not one to have others do his dirty work for him." He had essayed this kind of role in dozens of films during the 1920s, from prestige productions (Ford's The Iron Horse, Sternberg's Underworld) to numerous low-budget Westerns, and was a natural fit for Hell's Heroes. The third member of the trio, Raymond Hatton, was likewise a character player of long standing, equally at home in dramas and in comedies. Here, as a sort of half-baked desert philosopher and the one member of the group with any religious convictions, he adds an offbeat, quirky note to the proceedings.
            This is the trio of bad men who ride into an unexpected destiny in the desert in Hell's Heroes. And the film, making its return to the big screen in Pordenone after an extended absence, is a fresh reminder of the many gems that lie hidden behind the more famous milestones in our cinematic heritage.