Paramount, 1926. Director: Victor Fleming. Scenario: Adelaide Heilbron and Ethel Doherty, based on the novel by Sinclair Lewis. Titles: George Marion Jr. Camera: James Wong Howe. Cast: Clara Bow, Ernest Torrence, Percy Marmont, Eugene Pallette, Tom Kennedy, Josephine Crowell, William Orlamond, Charles Stevens.
 
            It's been a while since I used this space to highlight the work of the National Film Preservation Foundation. High time we rectified that neglect, for the NFPF's activities—in support of film preservation, and in making the preserved films available to the widest possible audience—are a seemingly endless bounty of blessings for anyone who loves classic film. The Foundation tends to conduct its business quietly, without self-aggrandizing fanfare, so the film enthusiast is encouraged to visit its website on a regular basis to learn about, and savor, the latest cinematic treasures that have been saved from extinction. Many of these can be seen, in the form of streaming video, in the site's "Screening Room" section. Even more invaluable are the DVD collections in the Foundation's "Treasures from American Film Archives" series. These lavishly produced packages are a film lover's delight, so packed with cinematic riches that some true gems may be overlooked in the crowd.
            One film that's definitely worth a revisit is Mantrap, preserved by the Library of Congress with the NFPF's support. The story is based on a novel of the same name by the celebrated American author Sinclair Lewis. In the early 1920s Lewis had attracted international attention with his novels Main Street and Babbitt, both of which had been brought to the screen soon after publication. Mantrap, published in 1926, is somewhat forgotten today—deservedly so, as Scott Simmon observes in his characteristically incisive program notes—but, as adapted by Paramount Pictures, serves as the basis for a witty and unconventional film.
            The story begins in New York, with Percy Marmont as a divorce attorney who is fed up with the constant whining and demands of his clients—specifically, his female clients. His displeasure has a decidedly misogynist tone: he blames all his troubles on women, and longs to get away from the city and relax in the wilderness, far away from women. Meanwhile, along the fictional Mantrap River in the wilds of Canada, trader Ernest Torrence has the opposite problem: he's been away from human society for so long that his greatest desire is to return to civilization, and particularly feminine civilization. As the film unfolds, the plot will bring these two malcontents together, but neither will get exactly what he bargained for. Instead, both will find themselves at the mercy of a force of nature played by Clara Bow.
            By 1926 Clara Bow had appeared in more than two dozen films, but Mantrap would prove to be her breakout vehicle, and it's not hard to see why. In this story she has a tailor-made role as the young flapper who turns her attentions on any and every male in sight, leaving a trail of broken hearts and relationships in her wake. Nor is hers a one-dimensional performance; as the story continues she reveals unsuspected layers of strength and shrewdness. At film's end, as the plot approaches its offbeat resolution, she's hardly the chastened wrongdoer who has learned the error of her ways. On the contrary, she's as incorrigible as ever, and clearly enjoys the filmmakers' sympathies.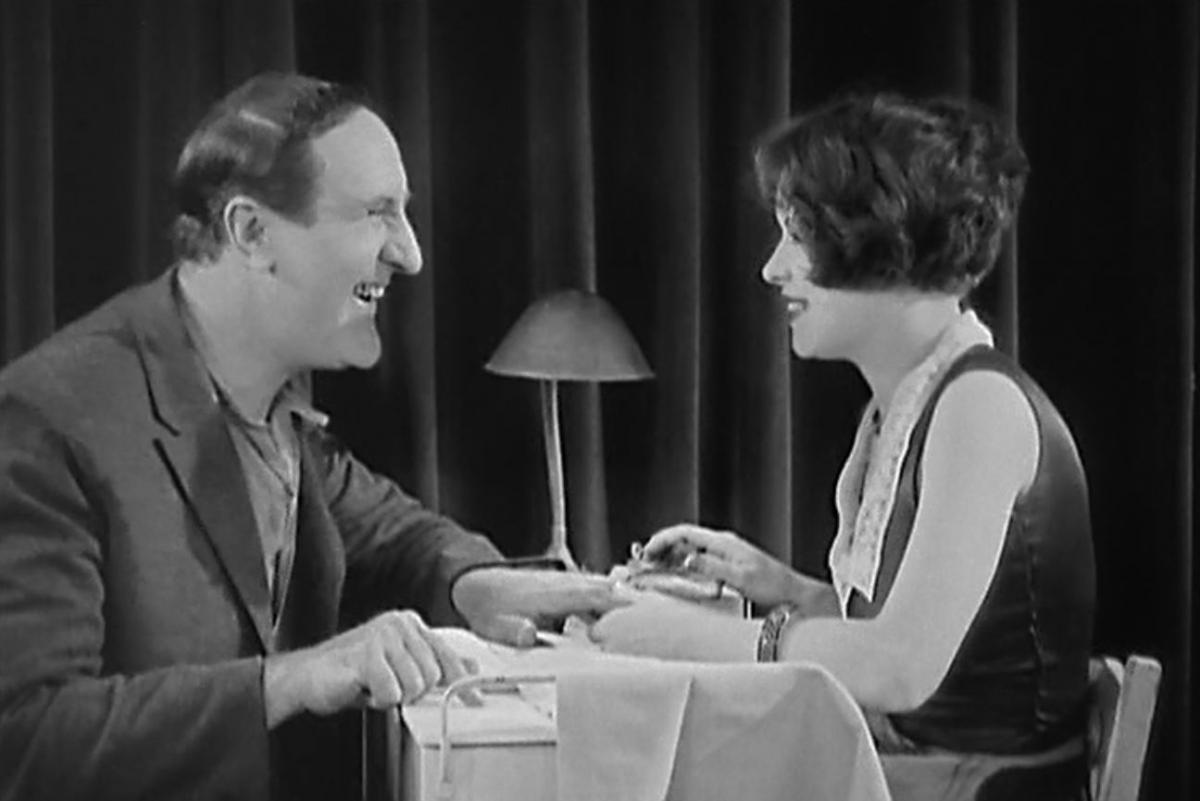 And Mantrap offers other notable performances as well. Lanky, hulking Ernest Torrence is familiar to all enthusiasts of 1920s cinema as one of Hollywood's most beloved character players, but he's usually restricted to supporting roles. Here, cast in a leading role, he offers an extended performance, revealing facets of depth and subtlety that often remain hidden in his other films. In some scenes he evinces a surprising vulnerability that is actually rather touching. And the cast is rounded out by others from the ranks of favorite character players: Josephine Crowell, Eugene Pallette, Tom Kennedy. Pallette, as always, is a delight; for those familiar with his distinctive gravelly voice in the talkies, it seems almost audible even in this silent film.
            All this is wrapped up in an entertaining package with Paramount's usual polished presentation, directed with a light but vigorous touch by Victor Fleming, and punctuated by the occasional witty dialogue title ("He's a divorce lawyer, so he's met all the best people"). Cameraman James Wong Howe, less than a decade into his stellar career, provides a strong performance of his own, with smooth, unobtrusive tracking shots, crisp lighting, and a trick shot or two. All in all, Mantrap is both an excellent example of film craftsmanship and an entertaining evening at the movies. It's one more reason to be thankful for the heroes who are still working every day to preserve our cinematic heritage.