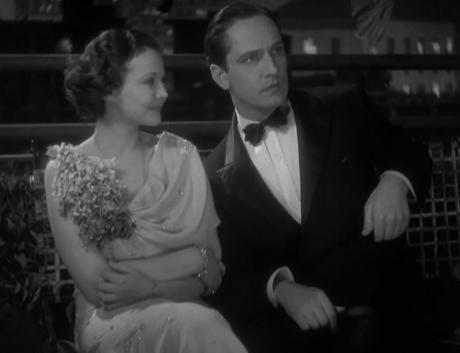 Paramount, 1932. Director: Dorothy Arzner. Screenplay: Edwin Justus Mayer, based on a story by Cleo Lucas. Camera: David Abel. Cast: Sylvia Sidney, Fredric March, Adrianne Allen, Skeets Gallagher, George Irving, Esther Howard, Florence Britton, Charles Coleman, Cary Grant.
 
            April brings this year's TCM Classic Film Festival in Hollywood, which offers its usual exciting array of film fare: familiar classics side-by-side with unknowns and rarities. I won't be attending this year's festival, but if I were, I'd be seeking out the rarities. One particularly interesting example on this year's program is Merrily We Go to Hell, a Paramount program picture of 1932, to be introduced by Cari Beauchamp. TCM frequently makes a point of including pre-Code gems in its lineup, and this one has the added distinction of having been directed by Dorothy Arzner. One of the many female directors who flourished in Hollywood during the silent era, Arzner was unusual in that she survived the transition to sound, and continued to direct features well into the 1930s. Merrily is not one of her better-remembered efforts, but it's a well-crafted picture that shows her directorial skills still operating at full strength in the sound era.
            Not that she gets much help from the script. On the contrary, Merrily We Go to Hell is a striking illustration of how good a movie can be in spite of its script. It starts off well enough, with Fredric March as a perpetually drunk newspaper reporter who meets and falls in love with unspoiled young heiress Sylvia Sidney. They marry, and March, inspired by love, sobers up and becomes a model husband. He finishes the play he had always aspired to write, and a producer agrees to stage it—with a leading lady who turns out to be March's old flame. Faced with multiple temptations, March begins to drift back into his old ways and away from Sylvia. It's a familiar story, and it becomes more familiar and more predictable as it goes along, until the writers finally surrender to an orgy of turgid soap-opera conventions during the last two reels.
            But what is remarkable here is how fresh and compelling this raw material can be in the hands of a topnotch director and cast. In scene after scene, Arzner's direction reveals a cinematic savvy and a sensitivity to subtle detail. The early scenes, in particular, are marked by the kind of delightful, seemingly improvised vignettes of comedy that we associate with Frank Capra's films. In fact, this film has more than a few similarities to Capra's Platinum Blonde, which had been released the previous year (and which I've written about in an earlier installment of this column). But below the surface similarities, Arzner has a different story to tell and brings it to life with a tone distinctly her own.
            One of her key assets is the film's cast. Sylvia Sidney, then enjoying a vogue of popularity, invests her stock character in this film with a winning charm and makes many of her emotional moments genuinely touching. I've always felt that Fredric March was one of the underappreciated actors of Hollywood's Golden Age, and he sustains that impression here with his portrayal of a weak but basically decent man, forever wavering on the edge of alcoholism. Even when the script makes impossible demands on him, March delivers a solid, credible performance that looks forward to his role in the great original version of A Star is Born a few years later.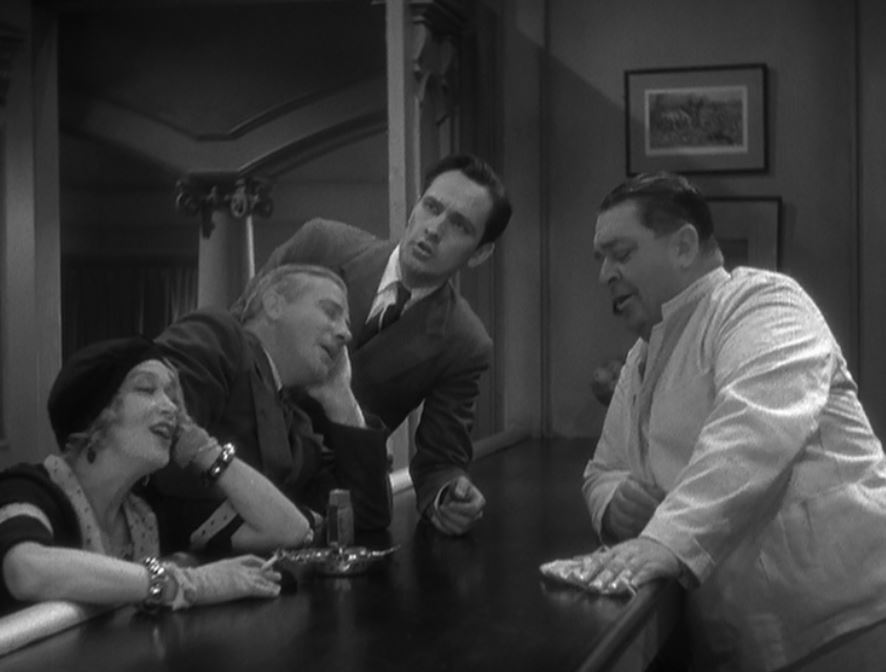 And, like so many films of the 1930s, this one benefits from its supporting cast, including comic-relief player Skeets Gallagher and the often-overlooked Charles Coleman as one of March's fellow reporters. One notable supporting player here is Cary Grant, still on the threshold of his career and ninth-billed in the cast.
            One unbilled player in the cast warrants an historical footnote of his own. The wedding scene—on which Arzner dwells at length—features a clergyman who was, in fact, a real clergyman off the screen. Reverend Neal Dodd was an Episcopalian priest who officiated at St. Mary of the Angels Episcopal Church, which he had founded in Hollywood in the late 1910s. Unlike many of his contemporary brothers in the faith, Father Dodd was friendly with the Hollywood community and not only welcomed moviemakers to his church, but made a sideline of playing ministers or priests in Hollywood films. His list of movie credits, in addition to this film, was a long one and included such classics as It Happened One Night.
            With so many points of interest going for it, Merrily We Go to Hell is a noteworthy feature (one among many) of TCM's lineup this year. Festivalgoers who take a chance on an unfamiliar title will find this one a fascinating and often delightful cinematic treat.