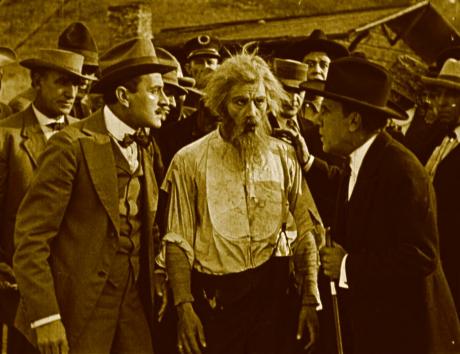 Bluebird/Universal, 1917. Director: Joseph De Grasse. Scenario: William Parker, based on the novel by Richard Harding Davis. Camera: King D. Gray. Cast: Franklyn Farnum, Al Filson, Lon Chaney, Edith Johnson, Sam De Grasse, Howard Crampton, William Lloyd.
 
            One of the most distinctive talents of the silent era was Lon Chaney. Today's film enthusiast knows Chaney's reputation as "The Man of a Thousand Faces," a reference to his uncanny ability to transform his physical appearance through makeup and other devices. The two most spectacular examples are the horrific title creatures he played in The Hunchback of Notre Dame (1923) and The Phantom of the Opera (1925)—two creatures utterly dissimilar from one another, and easily the two best-known roles of Chaney's career. Unfortunately, the fame of those two films, well deserved as it is, has a downside: in the minds of some casual fans it has "typed" Chaney as a master of nightmarish makeup and nothing more.
            In fact, of course, Chaney's facility with makeup was only one facet of a prodigious acting talent. Any viewer of Hunchback or Phantom can attest to the powerful presence behind those fearsome guises—a presence that was amply borne out in the more than 100 other films Chaney made in the course of his career. For some years now, a group of dedicated preservationists has worked to bring more of those other Chaney films to light. I've written about one of those forgotten films in an earlier edition of this column, but there are scores of others, many of them hidden, lost, or nearly lost.
            This month, classic film enthusiasts have cause to rejoice as a new two-disc Blu-Ray set—the second in a series—brings us a wealth of long-unseen pictures from the early years of Chaney's film career. Thanks to the combined efforts of the Library of Congress, historian and musician Jon Mirsalis, and our friends at Undercrank Productions, a wide-ranging selection of early Chaneyana from the years between 1914 and 1917 has been captured in one generous package. Some of these five films have survived in incomplete or even fragmentary form, but the producers have wisely opted to include them anyway. My fellow attendees at Pordenone and other festivals, who eagerly crowd in to see partial restorations of long-lost films, will be happy to see these resurrected servings of early Chaney, complete or not.
            The hallmark of Chaney's performance style, a fierce, brooding intensity, is on full display in these early offerings. That idiosyncratic quality made him difficult to cast in traditional leading-man roles, and he was frequently seen in villain or character roles instead. The range of his repertoire is illustrated here in such films as By the Sun's Rays, a one-reel Western; The Oubliette, the first of what was announced as an extended series of featurettes on the life of François Villon; and Triumph, a likably lurid backstage melodrama in which Chaney actually has a more or less romantic-lead role. (Two of these films, coincidentally, also offer an introduction to Murdock MacQuarrie, a player who is virtually forgotten today but was a featured Universal star in the 1910s.)
            But the centerpiece of the collection, and the film that likely will linger in the viewer's memory, is The Scarlet Car. Released in 1917, The Scarlet Car is based on the novel of the same name by Richard Harding Davis, a well-known journalist, war correspondent, and author of adventure stories during the early twentieth century. Chaney doesn't play the lead in this fast-moving yarn; that role belongs to Franklyn Farnum as a small-town wastrel whose escapades nearly bring his father to ruin. Galvanized by an attack of conscience, Farnum braces up, resolves to change his ways, becomes a high-energy go-getter, restores the family fortunes, and brings the local white-collar criminals to justice.
            But if Chaney is not the protagonist here, his is easily the most colorful role in this generally colorful picture.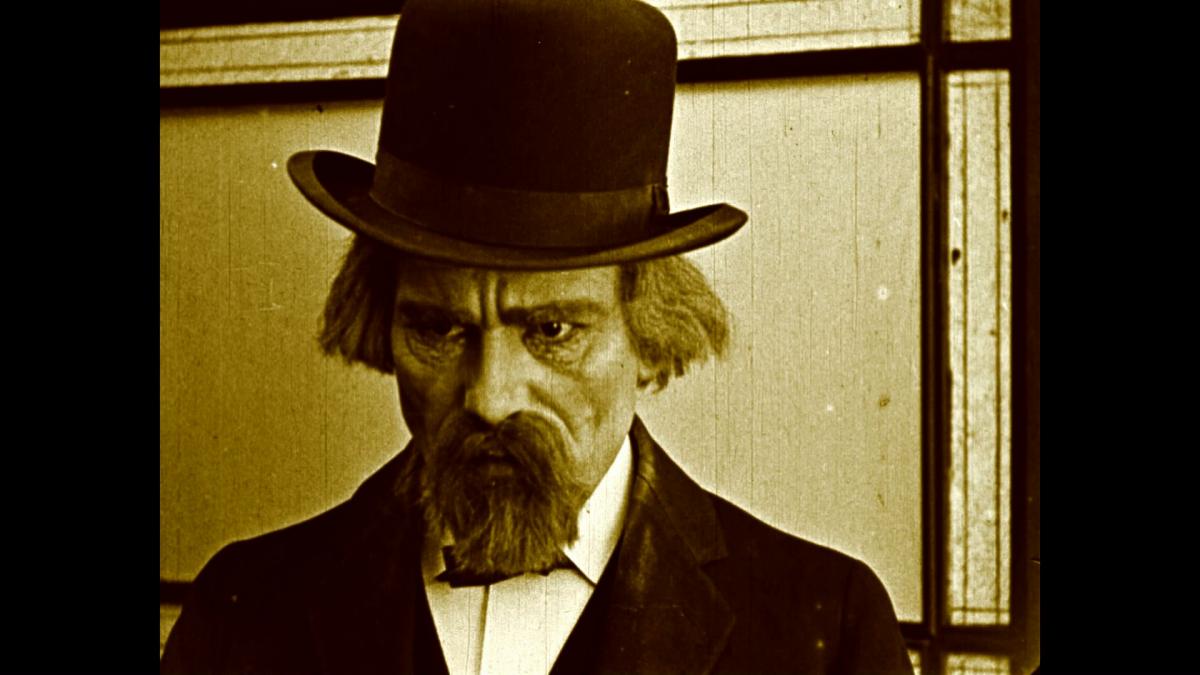 He's seen in the sympathetic character part of a bank cashier who takes immoderate pride in his ancestral connection to Paul Revere, and who stumbles onto evidence of larceny by the bank president and his son. Unwisely confronting the culprits with his knowledge of their crimes, he sets the plot in motion. I'll stop there in the interest of avoiding spoilers; suffice it to say that the proceedings lead to a rip-roaring action climax, and that Chaney, prominently featured in a melodramatic scene at the finale, delivers the goods without descending into hammy overacting.
            The film itself, like the others in this collection, is a fresh reminder of the miracles performed on our behalf by today's film-preservation community. The primary source for the restoration was a tinted 35mm nitrate print, but it was a print that had endured considerable wear. Painstaking care was required to rescue it from the ravages of time and deliver the film, virtually complete, to audiences. Once again, this and other precious fragments of our film history, that might have been lost forever, have been preserved for us and for future generations.