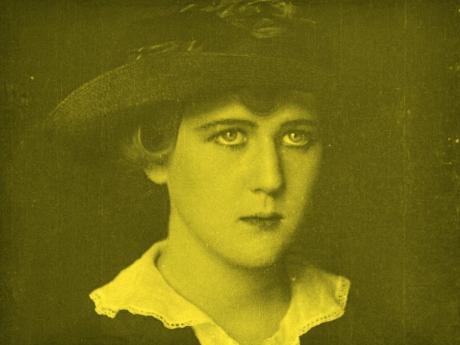 Bluebird/Universal, 1916. Director: Lois Weber. Scenario: Lois Weber, based on a story by Stella Wynne Herron. Camera: Stephen Norton, King Gray, Al Siegler. Cast: Mary MacLaren, Harry Griffith, Mrs. Witting, Jessie Arnold, William V. Mong, Lina Basquette.
 
            It's always an event in the film world when an apparently "lost" film is discovered and restored—particularly when it's the work of a major filmmaker. This month we have added cause for celebration: not one, but two films directed by the great Lois Weber have been rescued from oblivion, have been restored, and are now available on DVD/Blu-Ray from Milestone. Of the many women who directed films during the silent era, Lois Weber is possibly the best-known today, remembered for her socially progressive films, but inadequately represented by her surviving body of work. The two new discoveries, which will help to alleviate that problem, were both produced in 1916. One is The Dumb Girl of Portici, starring the legendary dancer Anna Pavlowa. The other is Shoes.
            Shoes is based on a gritty short story written in the spirit of the Progressive movement, and itself inspired by the writings of Jane Addams—in other words, an ideal subject for Lois Weber. Mary MacLaren, a newly-discovered talent in her first starring role, appears as a poor teenage girl whose meager income from her dime-store job is the sole support of her family. Five years later Weber would direct the classic The Blot, still celebrated today for its sensitive portrayal of genteel poverty. In Shoes there's nothing genteel about it: Mary and her family live in utter, unrelieved squalor, aggravated by the father's refusal to look for work.
            Mary's misery is focused on her feet: her shoes are literally falling apart, and she desperately needs a new pair. Longingly she eyes a pair of shoes in a shop window, but with her paltry earnings barely adequate for her family's subsistence, the three-dollar price of the new shoes is always beyond her means. Some viewers may be reminded of Mary Pickford's yearning for a new hat in Griffith's The New York Hat (1912). The effect here is very different; Weber has a full five reels to tell her story, and her focus is on the bitter, crushing effect of poverty on her characters. As in other films, she makes use of authentic locations—notably the Los Angeles park now known as Pershing Square—and inventive cinematic technique. In one brief scene MacLaren's anxiety brings on a nightmare, with bizarre composite imagery created entirely in the camera. And the film's ending, which I will not reveal here, is unexpected and quietly moving.

            Shoes owes much of its power to the restrained performance of Mary MacLaren, who shows a sensitivity far beyond her years. She went on to appear in other films for Lois Weber, then for other producers in a film career that lasted, off and on, long into the sound era. William V. Mong, seen here as the lecherous "Cabaret Charlie" who is only too willing to help her with her problems, likewise found a ready market for his talents and had an even more prolific film career. And it's worth noting that Lina Basquette, who later had a colorful film career of her own, claimed to have played one of MacLaren's younger sisters in this film.
            To me, one of the most fascinating aspects of a restored film like this is the restoration itself. I'm very much in awe of the dedicated professionals who work in the major film archives, and fascinated by their techniques. In the case of Shoes, the wizards at EYE Filmmuseum in Amsterdam (and their partnering institutions, including the U.S. Library of Congress) started with two incomplete tinted nitrate prints—and another element from a surprising source. In 1932, sixteen years after the feature's release, Universal edited it down into a one-reel short, mocking and ridiculing the original film. This "burlesque" was released as The Unshod Maiden, overlaid with a wisecracking voice-over soundtrack—a practice that was, unfortunately, all too common in the early years of sound. As disappointing as it is to know that the studios committed such vandalism against their own precious silent libraries, we can be thankful for this particular instance. Quite by chance it preserved some footage that did not survive in other prints, and the restorers were able to use it in reconstructing the original feature!
            The actual restoration work took three years, and was completed several years ago. In 2016 it was further fine-tuned with the discovery of the film's 1916 shooting script, which allowed slight reediting and reconstruction of the English intertitles, more closely approximating the form of the original film. This is the version on the new disc, given a loving presentation by the folks at Milestone—complete with accompaniment by Donald Sosin, one of our finest silent-film musicians, and violinist Mimi Rabson. There's also a wealth of bonus features (including The Unshod Maiden, in case you really want to see it). All in all, it's a highly enjoyable way to celebrate the recovery of one more "lost" chapter in silent-film history.