Hunt Stromberg/Producers Distributing Corp., 1925. Director: Lloyd Ingraham. Scenario: Hunt Stromberg and Harvey Gates, based on a story by Harry Carey. Camera: Sol Polito. Film editor: Harry L. Decker. Cast: Harry Carey, Lillian Rich, Paul Weigel, Francis Ford, Stanton Heck, Harriet Hammond, Sojin.
 
            Leave it to our friends at the National Film Preservation Foundation to start the new year with a wonderful and unexpected new cinematic treat. Soft Shoes was considered a lost film for years, until a tinted 35mm print, with Czech titles, was discovered at the Národní filmový archiv in Prague. The San Francisco Silent Film Festival, which has been amassing an impressive track record in the world of film restoration, partnered with the Archiv to restore the image and reconstruct the English intertitles. The resulting restoration was shown at the Festival last summer, and now the NFPF, which provided a grant to fund the project, has made the film available via streaming video in the "Screening Room" department of its website. It's a lively, delightful little gem of a film, and the NFPF presentation offers the bonus of a sparkling piano score by no less than Donald Sosin.
            The star of Soft Shoes is Harry Carey, an actor who probably needs no introduction for anyone visiting this website. I've always liked Carey (and not just because he shares a birthday with me this month), an immensely engaging player who blurs the line between character actor and leading man. By 1925, Carey was well established in the movie business. He had been a regular member of D.W. Griffith's stock company at Biograph in 1912–13, but had really won his spurs (so to speak) in the late 1910s as the star of a series of low-budget Westerns directed by John Ford—the films that established both Ford and Carey in the front ranks of Western filmmakers. By the 1920s, audiences expected to see Carey in cowboy roles, and Soft Shoes obligingly starts off with a reel of fast-paced Western action. But then the story takes an abrupt turn. Carey finds himself in contemporary San Francisco, tangling with gangsters, a jealous husband, and charming young Lillian Rich, whose romantic involvement with Carey begins with her attempt to burgle his hotel room! From there, the plot (written by Carey himself) takes the viewer on a wild series of twists and turns before the final fadeout.
            One notable cast member is Francis Ford, John's older brother, who had been a prominent film director and actor himself. For me, Ford's performance alone is worth the price of admission. Many of us have seen him as an heroic leading man in the early 1910s (notably in The Invaders [1912], likewise made available by the NFPF), and in character roles as a comic drunk in John Ford's sound films of the 1930s. Here, midway between, he turns in a solid performance as a tough, imposing gang leader in the city.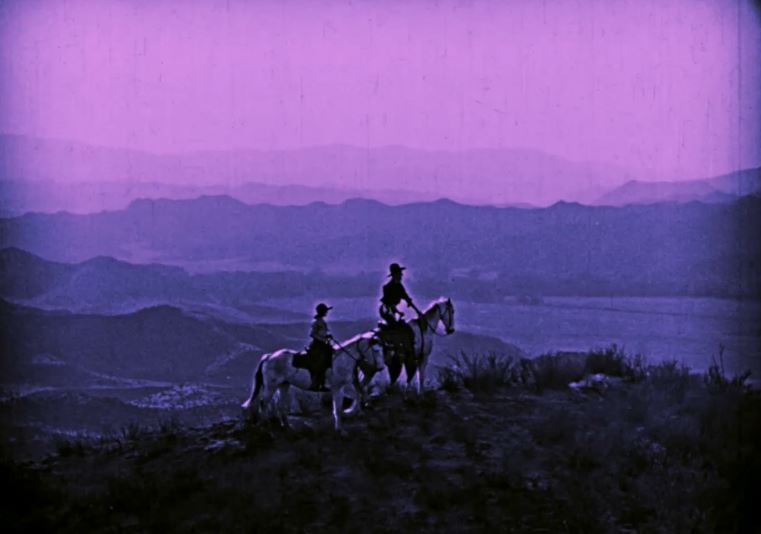 A word about the restoration. Like many recently-restored films, this one appears so polished that we may fail to appreciate the effort behind it. In fact, no reconstructive project like this is ever easy. We're told that the Czech archivists discovered this film just on the verge of nitrate decomposition, but the restoration team has now produced a rescued version with no visible signs of damage, running a tight 46 minutes with no apparent continuity gaps. Because no script or cutting continuity was known to survive, the restorers were obliged to reconstruct the English intertitles from translations of the Czech titles in the existing print—usually a less-than-satisfactory tactic, but pulled off here with convincing 1920s American vernacular (and with the original character names, which had been changed for the Czech release). The restorers have also taken care to preserve the tinting scheme of the original print, even to reproducing a sequence that was both tinted and toned—a lovely color effect that was seemingly unique to the silent era, and rarely survives in modern presentations of  the silents. For today's film enthusiast, this all adds up to an exhilarating treat, a sure cure for the post-holiday blues and a refreshing start to the new year.