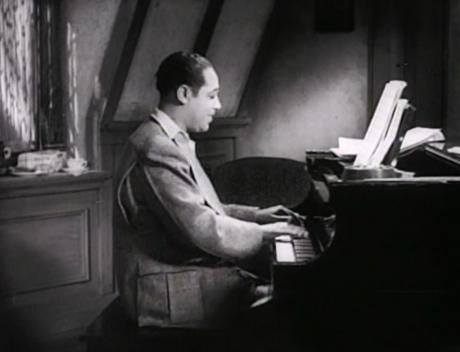 Paramount, 1935. Director: Fred Waller. Music: Duke Ellington. Continuity: Milton Hocky, Fred Rath. Camera: William Steiner Jr. Cast: Duke Ellington and his Orchestra, Billie Holiday.
 
            The recent re-broadcast of Ken Burns's multi-part Jazz documentary was, among other things, a fresh reminder of the grace, elegance, and sophistication that Duke Ellington exemplified throughout his career. Today, of course, Ellington is remembered as one of the giants of twentieth-century American music, his recordings collected and treasured by jazz aficionados. What is less celebrated is the presence of Ellington and other jazz pioneers on film. Ellington made far more records than films, but the film appearances he did make are precious historical documents today. I can't think of a better example than Symphony in Black, a one-reel short produced in 1935. This short is essentially a cinematic concert piece, sensitively adapted to the Ellington composition of the same title. And, as a bonus, it includes a brief unbilled vocal performance by Billie Holiday.
            Symphony in Black is one of the many musical shorts produced at Paramount's Astoria studio on Long Island—a location conveniently close to the heart of the American music business in New York, where the studio could recruit some of the top musical performers for screen appearances. Ellington's symphony, subtitled "A Rhapsody of Negro Life," is divided into four movements. The film presents them in a manner that is fittingly cinematic, but never intrudes on the music. As the Symphony proceeds uninterrupted on the soundtrack, the camera shifts quietly between Ellington, in a set representing his studio, supposedly putting the finishing touches on the music; Ellington and his orchestra in full dress, performing the piece in a concert setting; and dramatically staged and lighted vignettes, visually illustrating the themes of each section.
            The first movement, "The Laborers," is a somber melody highlighted by stark symbolic images of manual labor. The second, "A Triangle," offers a miniature narrative of a romantic triangle, itself divided into three subsections. This is where Billie Holiday, as a spurned lover, performs her vocal turn. It's very brief and clearly lip-synced, but none the less precious for Holiday enthusiasts.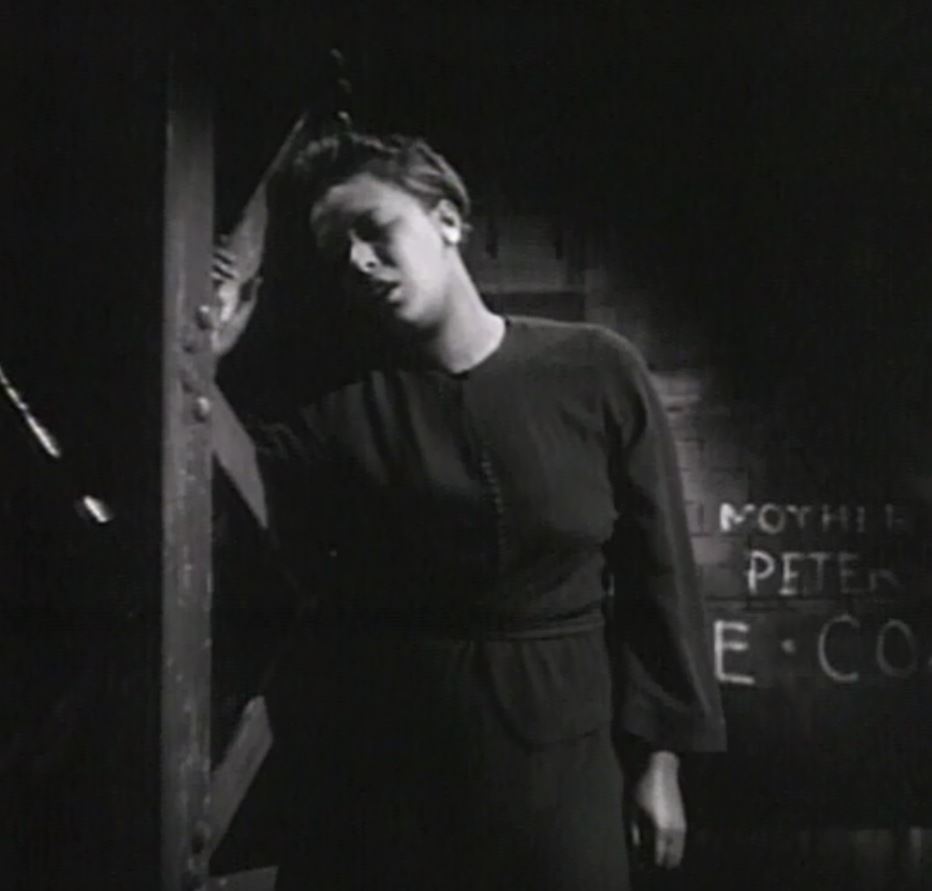 This section also features short solos by several members of the orchestra (including a clarinet solo that momentarily echoes the opening of Gershwin's "Rhapsody in Blue"—perhaps prompting Ellington's title for this piece?). Ellington himself never performs a full-blown solo, but priceless glimpses of his piano playing are seen and heard throughout the short.
            The third movement, "A Hymn of Sorrow," is a haunting funeral dirge, possibly inspired by the death of Ellington's mother earlier in 1935. The last, "Harlem Rhythm," ends the piece with an up-tempo dance finale. The entire composition runs approximately nine minutes and is a tight fit for a one-reel short; the "End" title seems to break in upon the scene even before the last movement has finished. But the overall effect is that of a mature, thoughtful work, presented with uncompromising honesty, but also with the grace and dignity that had long since become Ellington's trademark.
            Ellington did appear in other films, also definitely worth seeking out. One that has attracted some attention in later years is Black and Tan, a two-reel short produced by RKO in 1929. This ambitious short, directed by Dudley Murphy, is an obvious candidate for cult status today: featuring Ellington's performances of several of his compositions; a dark, moody framing story; dynamic, imaginative visuals; and a surprisingly touching performance by Fredi Washington. With so much going for it, Black and Tan certainly deserves its latter-day reputation. But although Symphony in Black is less well known, the film, jazz, and Ellington enthusiast is encouraged to experience it as well. Along with the historic appearance by Billie Holiday, it offers an intriguing subtlety and—concentrated upon a single composition—is arguably more cohesive than the earlier film. Musically it is, in Ellington's own phrase, "beyond category" and rewards repeated listening. Like the man himself, it projects a quiet sophistication that lingers in the memory long after the film ends.