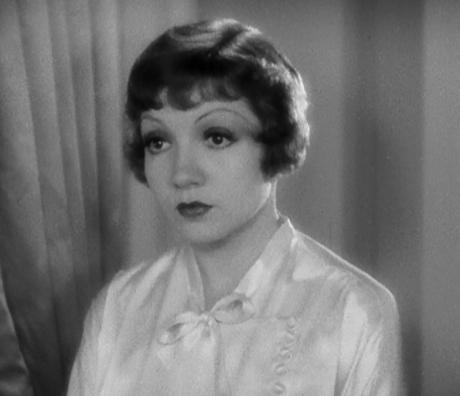 Paramount, 1933. Director: Elliott Nugent. Screenplay: S.K. Lauren and Ray Harris, based on the play by Gertrude Tonkonogy. Camera: Leon Shamroy. Film editor: Jane Loring. Cast: Claudette Colbert, Richard Arlen, Mary Boland, Lyda Roberti, Wallace Ford, Tom Brown, William Bakewell, Hardie Albright, Joan Marsh, Sam Hardy.
 
            Of all the great stars of the Golden Age of Hollywood, few are more fondly remembered than Claudette Colbert—and that's as it should be. It sometimes seems to me, though, that her reputation is based almost entirely on one film: Frank Capra's 1934 classic, It Happened One Night. I admire It Happened One Night as much as anyone, but Colbert's performance in it is no fluke. Her Hollywood career spanned more than three decades and scores of films, and produced an impressive body of work, including Torch Singer, De Mille's Cleopatra, Lubitsch's Bluebeard's Eighth Wife, Ford's Drums Along the Mohawk, and other notable titles. Even routine program pictures benefited from Colbert's presence; an actress of charm and understated wit, she exuded a quiet intelligence that often outweighed that of her scripts, making her material seem better than it was.
            One Colbert feature that is almost always overlooked is Three-Cornered Moon, produced at Paramount (where she was a contract star) in 1933. Based on a play of the same title, Three-Cornered Moon is a film of subtle qualities, perhaps overshadowed by more spectacular contemporary productions. But—a recurring theme in this column—if we disregard comparisons and look at this film on its own terms, we find a thoroughly appealing, well-crafted piece of work. The story concerns an eccentric family, formerly well-to-do, suddenly confronted by the hard realities of the Depression. This premise may well sound familiar: later films like My Man Godfrey and You Can't Take It With You earned their own place in film history with similar plot situations.
            But if Three-Cornered Moon takes a starting point similar to those of the later films, it takes its quirky fictional family in a markedly different direction. Produced at the very depth of the Depression years, it offers its own share of comedy—but in place of the zany screwball antics of those better-known films, it addresses the economic hard times soberly and thoughtfully. As William K. Everson once wrote: "Its happy but by no means hopeful ending is a far cry from the almost insulting Cinderella solution proffered in My Man Godfrey."
            The slender plot is set in motion simply: the widowed mother of the family, ignorant of the ways of the stock market, unwisely invests the family fortune. Her four grown children are not told of this decision, and learn of it only when the money is gone. The family consists of Mary Boland, essaying her patented scatterbrained-matron characterization as the mother; William Bakewell as a would-be actor, forever parading around the house reciting grand theatrical dialogue; Wallace Ford, one of the most likable character players in Hollywood, as a distinctly unlikable law clerk, selfish, disagreeable, and constantly arguing with his flighty, golddigging girlfriend (Joan Marsh); and Tom Brown, the eager younger brother, frequently carried away by the enthusiasm of the moment.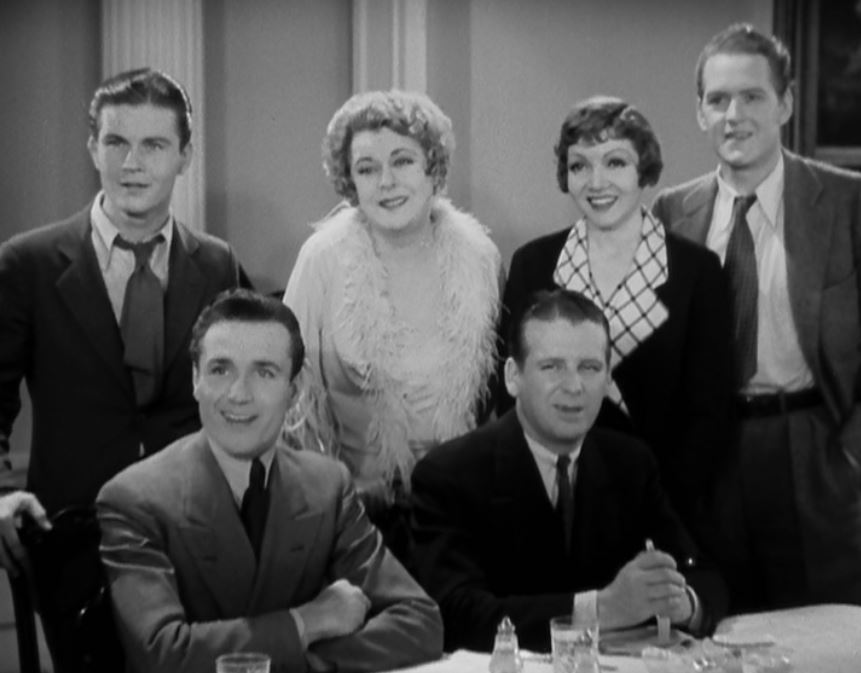 As for Claudette, she's a romantic dreamer—but when the crisis strikes, she spontaneously takes charge, the only member of the family practical and level-headed enough to grasp the situation and deal with it. She takes over the family finances and helps to organize a job search for her brothers, and she doesn't hesitate to roll up her own sleeves and take a menial job in a shoe factory. Paradoxically, she's also the only member of the household who doesn't see through her boyfriend (Hardie Albright), a pretentious lightweight consumed with writing a novel—but more particularly with playing the role of a sensitive, misunderstood artist. As the story progresses, Claudette continues to support him and make excuses for him, and (for a time) fails to notice Richard Arlen, the handsome, mature, down-to-earth doctor who loves her quietly from afar.
            Three-Cornered Moon is, essentially, a series of vignettes picturing the interactions of this engaging ensemble of characters. As this thumbnail synopsis (and the story's theatrical source) might suggest, the film is dialogue-heavy—but it's good dialogue, and the story is opened up sufficiently that it never seems particularly stagebound. For an added cinematic touch, there's a brief montage encapsulating the search for a job, a reminder of what a vital concern such a search was for millions of Americans in 1933 (and underlining, once again, the film's basic honesty). All in all, for today's viewer, this film is a fresh reminder of the unexpected treasures that film history still holds for us—even within the career of a beloved star—if we look closely enough.