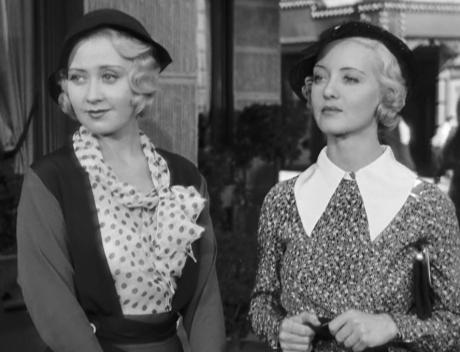 First National/Warner Bros., 1932. Director: Mervyn LeRoy. Screenplay: Lucien Hubbard, based on a story by Kubec Glasmon and John Bright. Camera: Sol Polito. Film editor: Ray Curtiss. Cast: Joan Blondell, Ann Dvorak, Bette Davis, Warren William, Lyle Talbot, Humphrey Bogart, Allen Jenkins, Edward Arnold.
 
            I like to start the new year with a Warner Bros. pre-Code film, and they don't get much more pre-Code than Three on a Match. This powerful film tells the story of three women, childhood acquaintances whose paths continue to cross as they mature into adulthood. One, pegged in childhood as a "bad girl" for her knack for constantly getting into trouble, does indeed land in reform school—but then, sobered by adversity, turns her life around and matures into a responsible, level-headed young woman. Meanwhile the "good girl," born into privilege and seemingly blessed with every possible advantage, throws over a devoted husband and a well-to-do existence to pursue a more exciting life with a shady small-time grifter, and finds herself in a sordid world of desperation from which there is no escape. There's only a smattering of sex in this story, but it compensates with other Production Code bugaboos, in particular a seamy atmosphere of alcohol (Prohibition was still in effect in 1932), drugs, and crime—and the film culminates in a nightmarish climactic episode that must be seen to be believed.
            This lurid plot was made to order for Warner Bros., the rough-and-tumble, blue-collar studio of the early 1930s. The original story was the work of Kubec Glasmon and John Bright, who had recently written the gangster classic Public Enemy. The film's director, Mervyn LeRoy, was one of the strongest directors in the Warners stable; he had already produced such potent pictures as Five Star Final and Little Caesar, and immediately after this film he would go on to the searing I Am a Fugitive from a Chain Gang. Three on a Match is hardly as well known as those landmark titles—one reason for featuring it in this column—but it packs a punch of its own, and doesn't shy away from tough, uncompromising subject matter. Some of its subject matter was too raw for some state and local censor boards: a child-kidnapping subplot, harrowing enough in itself, seemed particularly provocative in light of national outrage over the recent Lindbergh kidnapping. In the end, however, the film was shown with this subplot intact.
            Much of the film's power derives from its cast, a strong ensemble drawn from the ranks of the Warners "stock company." Joan Blondell, a familiar face in the studio's pre-Code output, is perfect as the reformed delinquent, seasoned by experience and simultaneously tough and tender. Ann Dvorak is relatively little-remembered today, but she was a busy player in the early '30s and is memorable here as the good-girl-gone-bad. She's utterly convincing in her descent from refined society matron to helpless, bleary-eyed dissolute, and unforgettable in the film's hair-raising climactic episode. (The third member of the trio is no lightweight, either; she's played by none other than Bette Davis! But Davis' career was only getting underway in 1932, and her role here remains a minor one.) Warren William, another fixture in Warner films of this period, appears here in a purely sympathetic role—something of a novelty for him—while Lyle Talbot strikes just the right note as the seducer, turning on the charm on his first meeting with Dvorak, but revealing his innate weakness at the first sign of misfortune.
            And that's just the leading players. Most of us love to celebrate the unsung supporting players in classic films, and Warners retained a full complement of these character actors under contract. The dramatic weight of Three on a Match owes much to the frightening performance of Edward Arnold as a vicious crime boss, and to the assorted members of his gang: Jack LaRue, Allen Jenkins—as able a swarthy tough guy in gangster films as he was a bumbling halfwit in comedies and musicals—and, of particular note, Humphrey Bogart.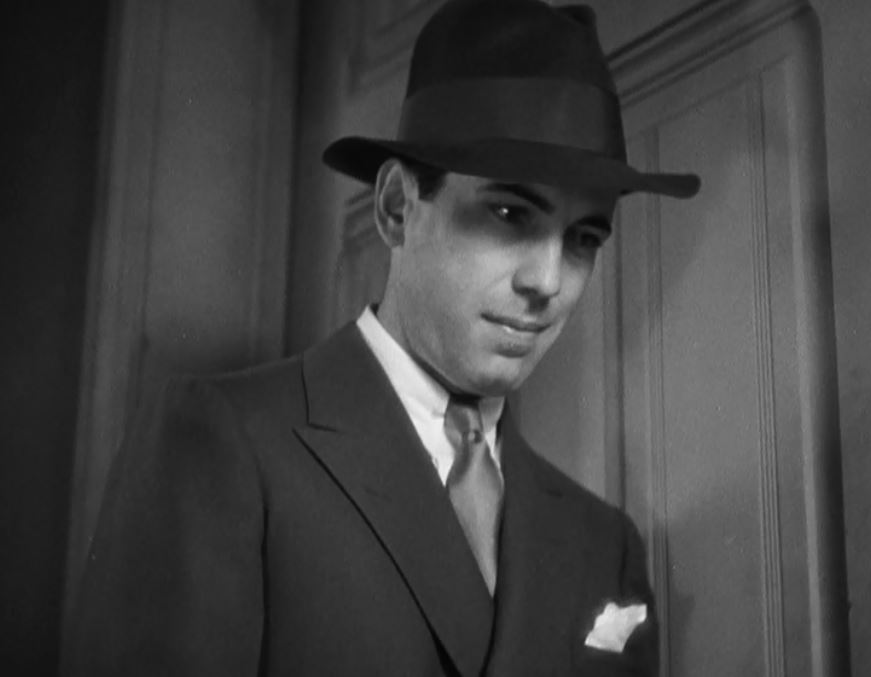 Like many film enthusiasts, I'm at a loss to understand why it took as long as it did for Bogart to become a major movie star. Here, a good nine years before he achieved top stardom, he's riveting in a cameo role as Arnold's lieutenant: tough, no-nonsense, and possessed of an undeniable screen presence. And since he's not a leading character, he's under no obligation to be a nice guy.
            Like most of Warners' program features of the early '30s, Three on a Match packs its action into a tight seven reels. Even so, it manages to devote its opening scenes to a generous prologue showing the three female protagonists as schoolgirls. And here, as I've written elsewhere, it showcases two more supporting players who will be of special interest to my fellow Disney enthusiasts: two of the child actresses who had played "Alice" in Disney's silent Alice Comedies during the 1920s. Virginia Davis, who had starred in the first year of the Alice series, subsequently went on to other child roles, including her appearance here as the wild young free spirit who will grow up to be Joan Blondell. And a precocious youngster known at the time as "Dawn O'Day"—later familiar as Anne Shirley—turns up alongside her as the girl who later becomes the hapless Ann Dvorak character. A screening of Three on a Match would get the new year off to an invigorating start in any case, but with the added bonus of this Disney/Alice connection, it's a must!