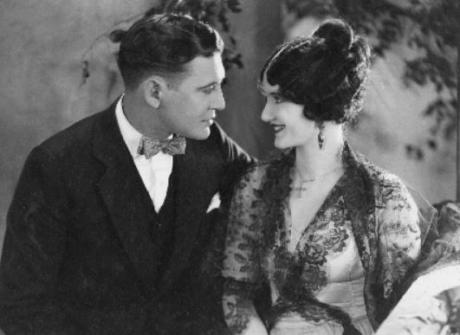 Paramount, 1925. Director: Paul Sloane. Scenario: Gerald Duffy, based on a story by John Monk Saunders. Camera: Hal Rosson. Cast: Richard Dix, Frances Howard, William Powell, Frank Currier, Joseph Burke, Albert Tavernier, Harpo Marx.
 
            In previous years, I've devoted my December "Movie of the Month" to films with some kind of Christmas theme. This time, the theme is Christmas shopping. Anyone shopping for a classic-film enthusiast, on any gift-giving occasion, knows that one can't go wrong with a beautifully produced Blu-Ray of a long-lost, newly rediscovered and restored classic film. The year 2020, for all its faults, has produced such a disc, and it's a beauty. The film in question is Too Many Kisses, produced by Paramount in 1925 and hidden from view for the better part of a century. Now the Film Preservation Society, a relatively new organization, has not only restored this film to view but has mounted a beautifully polished presentation on Blu-Ray for all to see. For anyone who loves classic Hollywood, this is a happy occasion.
            Technically, Too Many Kisses hasn't actually been "lost" all this time. The source for this new presentation is a 16mm reduction print, made from the 35mm camera negative, rediscovered as long ago as 1971 by the late Bob Birchard. The new video version has been a long time coming, but it's worth the wait; FPS (note the acronym!) has collaborated with the Library of Congress to produce a sparkling transfer with a beautifully restored image, complete with tinting. The film itself is a light comedy about the scion of an industrial family, an exasperation to his father because of his endless appetite for romance. Fed up with writing huge checks to settle breach-of-promise lawsuits, the old tycoon sends his son to a semi-mythical European country to get him away from women altogether so that he can concentrate on business. The strategy doesn't quite go according to plan—and thereby hangs the tale.
            What gives this slight yarn its interest is the film's casting. The prodigal son is played by Richard Dix, enjoying the peak of his popularity in 1925. For those who know him only from adventure stories like Cimarron, it's a pleasure to report that Dix has a real knack for light comedy and carries this story effortlessly with grace and good humor. Frances Howard's performance is notable for its rarity; Too Many Kisses is one of the few films she made before marrying Samuel Goldwyn and retiring from the screen. William Powell's performance is particularly fascinating. During the 1920s Powell was a busy character actor, playing shady, usually villainous roles utterly unlike the charming, witty sophisticate that we recognize from The Thin Man and his other sound films. He definitely has the villain's role here, and plays it with relish.
            But the real news in Too Many Kisses, and the reason it has been eagerly sought for so long, is an appearance by Harpo Marx—essaying a small role, four years before the Marx Brothers made their official movie debut in The Cocoanuts. FPS has made much of Harpo's appearance in this film, and given that Robert Bader, one of the principals behind the group, is an acknowledged authority on the Marx Brothers, that's hardly surprising. In this film Harpo is seen as the village idiot, or, as the credit title has it, "the village Peter Pan." Popular legend, and Harpo's memory, had always asserted that his appearance was so brief that he could easily be missed if the viewer wasn't paying attention.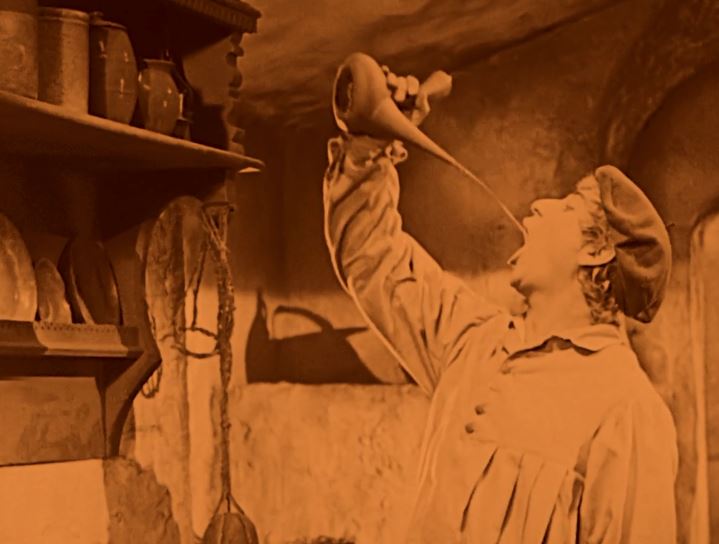 Actually, Harpo turns up in one scene after another, but is usually just milling around in a crowd of extras. His role is gratuitous, clearly inserted just to take advantage of his presence in the studio. But once or twice he does get a closeup, and a moment of the distinctive clowning that he would make so familiar a few years later. Through hindsight, these are electric moments, a quick preview of classic comedy to come. And, in a nicely appropriate crowning touch, the film's piano accompaniment on this disc is provided by Bill Marx, Harpo's son.
            As if Too Many Kisses were not an exciting enough find in its own right, FPS has generously included two bonus films on the same disc. One is the legendary The House that Shadows Built, produced by Paramount Pictures in 1931 to celebrate the company's twentieth anniversary, and shown internally to Paramount exhibitors to promote the upcoming 1931–32 season. This is a wonderful featurette-length pastiche of clips from Paramount films past and (in 1931) present. Again, it was clearly chosen for this disc because of its Marx Brothers content: a wacky skit by the Marxes, designed to promote the forthcoming release of Monkey Business. This is undeniably a treat. But we all have our own priorities, and I might point out that the opening montage of Paramount silents also includes quick glimpses of Blanche Sweet in The Captive and Marguerite Clark in Snow White!
            The other bonus film here is the one-reel A Child's Impulse, directed by D.W. Griffith in 1910, and starring Mary Pickford, Charles West, and Vivian Prescott. In some ways this is the most exciting film on the disc, for it offers us a peek at the work FPS has been quietly carrying on behind the scenes for several years. This is nothing less than a project to restore virtually every one of the hundreds of films directed by Griffith for the Biograph company between 1908 and 1913. This is an heroic undertaking. It's widely recognized that Griffith established the foundation of cinematic art during those historic five years, but because of the staggering quantity of the films, and the poor image quality of most surviving prints, no one has previously attempted to fully restore that essential body of work. Now FPS has stepped up to the plate to do just that, working with the Library of Congress to bring the Griffith Biographs back to their original image quality, one film at a time. A Child's Impulse is dazzling proof of their success to date: razor-sharp, rock-steady cinematography, the artifacts of age carefully removed, so that we can finally appreciate the subtleties of the players' performances and Griffith's direction. In this gift-giving season, it's a pleasant reminder that a few dedicated individuals—the folks at Film Preservation Society prominent among them—are working to give us all a priceless cinematic gift for all time.