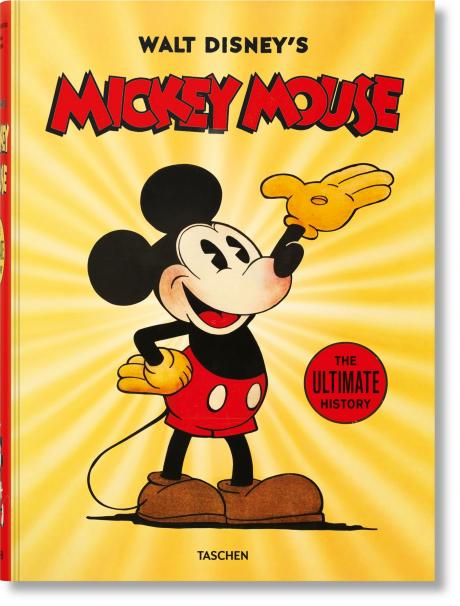 by David Gerstein and J.B. Kaufman, edited by Daniel Kothenschulte
Taschen, the distinguished European publisher long renowned for luxurious art books, has already embarked on a series of outstanding volumes on Disney history. The latest in the series, Walt Disney's Mickey Mouse, is a sumptuous, lavishly mounted pictorial history of the world's preeminent Mouse, from his scrappy beginnings in 1928 to the present day. Overflowing with a cornucopia of exciting, rare, and gorgeously reproduced images, the book also includes a wealth of new historical research by Disney scholars J.B. Kaufman and David Gerstein.
Chapters
1. A Mouse is Born (1928–1932)
Conceived and brought to the screen in humble circumstances, Mickey Mouse quickly catches the attention of audiences everywhere and becomes a national, then an international, favorite. Walt Disney and his artists capitalize on this early success with a continuing series of new cartoons, marked by wit and charm.
 
2. Mickey Comes to the Comics (1930–1931)
From the motion-picture screen to the funny papers. The Disney studio launches a Mickey Mouse comic strip in daily newspapers, and Mickey finds continued success in a new arena.
 
3. Mickey Mouse the Movie Star (1932–1935)
By 1932 the Mouse has achieved an unprecedented level of popularity for a cartoon character, and the Disney studio signs a new distribution agreement. The resulting 31 black-and-white cartoons constitute an extraordinary body of work in themselves, a milestone in the art of animation. Mickey also becomes a key figure in the world of licensed merchandise, embodied in toys, popular music, and other product lines.
 
4. Technicolor Extravaganzas: From The Band Concert to Fantasia (1935–1940)
Mickey makes the transition to Technicolor in 1935 and begins a distinguished new chapter in his career, culminating in The Sorcerer's Apprentice, which in turn becomes the cornerstone of the classic Fantasia. In the meantime, licensed Mickey merchandise continues to proliferate, embracing a wide range of storybook adaptations.
 
5. The Comic Adventurer (1931–1940s)
The popularity of Mickey's daily comic strip continues to build, and a color Sunday comic page first appears in 1932. New artists are brought into the U.S. comics operation, and in the meantime other countries launch their own Mickey comics. Mickey Mouse Magazine, introduced in the mid-1930s, evolves into comic-book form by the end of the decade.
 
6. Unfinished Rhapsodies (1930s–40s)
Along with the classic Mickey Mouse stories that are brought to the screen, many other stories are proposed, developed, then abandoned. This chapter displays a range of fascinating and rare art from these unproduced stories.
 
7. Mickey on the Air (1932–1940s)
By the 1930s, the medium of radio has become a pop-culture phenomenon that rivals even the movies. Inevitably, Mickey is brought to the airwaves in a variety of settings, including a short-lived network series of his own, The Mickey Mouse Theatre of the Air, in 1938.
 
8. Password: Mickey Mouse (1941–1945)
With the onset of World War II, Mickey's career takes a turn. His peace-loving screen persona having been established by this time, he "retires" from the screen for the duration—but maintains a strong presence in public-service art, military insignia, and the comics.
 
9. Mickey in the World of Features (1931–1947)
A native of one-reel cartoons, Mickey invades the world of feature films as well, starting with guest appearances in major-studio features during the 1930s. From this he goes on to star in two features produced by the Disney studio: Fantasia, in which he enacts the story of "The Sorcerer's Apprentice," and Fun and Fancy Free, playing a key role in "Mickey and the Beanstalk."
 
10. The Simple Things: The Mid-Century Shorts (1945–1953)
With the end of the war, Mickey returns to the screen in new cartoons. His postwar and midcentury films reveal him as a changed Mouse, leaving behind his barnyard origins and settling into the role of a comfortable suburban homeowner. His big-screen career comes to a close in 1953 with The Simple Things.
 
11. Modernizing Mickey (1950–1960)
The world of Mickey Mouse comic books, originally an offshoot of newspaper comic strips, grows into a separate empire in its own right. By the 1950s a new international hierarchy of Disney artists has been established, creating new and distinctive adventures for the Mouse.
 
12. A Small Screen and a Great Kingdom (1955–1959)
The 1950s bring about two exciting new frontiers for the Disney studio. Walt's dream of a uniquely Disney-themed park becomes a reality in 1955 with the opening of Disneyland, and of course Mickey plays a key role there. Meanwhile, the studio plunges into the new medium of television with a variety of programming, some of it—notably the daily Mickey Mouse Club—explicitly centered around Mickey.
 
13. Pop and Nostalgia (1960–1990)
By the 1960s, the Pop artists have discovered Mickey. The Disney studio turns a corner in 1966 when the unthinkable happens: Walt Disney dies. But soon Mickey is swept up in the nostalgia boom of the 1970s, and the studio responds by bringing him back to the screen in new productions.
 
14. Cosmopolitan Mickey (1970–present)
The world of Mickey Mouse comic strips and comic books continues to evolve along its own lines. New artists take their place in that world, not only in the U.S. but on the international stage, exploring fresh story possibilities for Mickey and adding new characters to his universe.
 
15. 21st Century Mouse (2000–present)
With the dawn of a new century, the Disney studio embraces innovative technologies and brings Mickey to contemporary audiences. Mickey enters the world of video games, expands his television presence to cable and online channels—and appears in new cartoon shorts, explicitly designed to reconnect with his 1928 origins. Already at the center of a rich cultural legacy, Mickey faces the future with zest.
Reviews
Leonard Maltin, LeonardMaltin.com:
This gigantic tome is hard to lift but easy to love. The authors set out to document all facets of Mickey Mouse's 90-year career, from 1928 to the age of video games and streaming services. Being perfectionists, they have done a masterful job. There is a film-by-film entry for every one of Mickey's 122 theatrical shorts accompanied by startlingly rare illustrations: story scripts, thumbnails, layouts, concept art, advertising and publicity campaigns and much, much more. Separate chapters deal with Mickey as king of merchandising, his foray into comic strips and then comic books, all around the globe. The sheer size (11.4×15.6") and reproduction quality, on heavy coated paper, puts this in a class of its own among other books on MM. We are already indebted to Kaufman and Gerstein for their scholarship, but this may well be their magnum opus. Yes, at $200 it's quite expensive, but Taschen books offer superior quality to justify that price tag.
 
Jerry Beck, CartoonResearch.com:
            First things first: Taschen's mega-book devoted to Walt Disney's Mickey Mouse is a feast for the eyes – but more importantly, it's a major reference work devoted to the world's most iconic cartoon and comic star.
            The book itself is so physically huge it's the equivalent of reading 15 books in one – and I'm incredibly impressed by the hard work clearly done by J.B. Kaufman and David Gerstein on this mammoth volume. They are, of course, the perfect duo to tackle this project (being true experts on the title subject).
            There is so much to say about it, I don't know where to begin, but five words described my initial reaction upon a first view: Immense. Gorgeous. Groundbreaking. Vital. Fun.
            Immense. In case you haven't seen it – the book is 496 pages, oversized (11.4 x 15.6 inches), and sold in a large cardboard box – with a handle. The size immerses the reader in the subject – and in the art. With the Disney Archive and ARL providing most of the images (much otherwise unseen publicly before), aided by an army of private collectors and their collections – as well as Getty Images and Heritage Auctions – this material not only celebrates its subject, but each piece meticulously helps tell the story of the character himself, and of his role in the overall career of Walt Disney.
            Gorgeous. The large size (and crisp, crystal clear printing) allow the reader to enjoy each photograph, painting, poster, storyboard and animation drawing as if the original were on display in front of you. Several double page spreads made me audibly gasp – The original art for the Columbia Pictures Mickey Mouse main title; storyboard panels from The Sorcerer's Apprentice – to name but two. Much here to study and linger upon – and drool over!
            Groundbreaking. There have been books devoted to Mickey Mouse before. There are many large oversized coffee table picture books devoted to analysis of Disney animation. But this one breaks new ground by the sheer amount of fresh reference, new research and massive detail brought to its primary subject. The text is every bit as valuable as the images and distinguishes this project through its critical length and depth.
            The story of Mickey is told, film by film, every one from Plane Crazy to The Simple Things (and beyond to the House of Mouse and even the new Paul Rudish cartoons) – with detail about each, illustrated with its poster (or advertising visuals) and various storyboard/cel/background/misc art. The special productions (The Band Concert, The Brave Little Tailor, The Sorcerer's Apprentice, Mickey and the Beanstalk, etc.) get a bit more attention – as you'd expect. We learn how Walt really never lost sight of Mickey over the years – more so than I knew before. During the forties, Walt pursued another feature berth for the Mouse, and pre-War shorts like The Little Whirlwind represented a deliberate new direction never fully revealed until now. In the fifties when it looked like Mickey was finished in theatrical shorts, Walt fortified his continued fame making him the frontman for Disneyland – as well as the star of a daily television program – The Mickey Mouse Club.
            Vital. Each chapter takes the deepest of dives into Mickey's history, covering subjects that, on their own, could be released as separate book length studies. Chapter 6, "Unfinished Rhapsodies," covers 45 unmade golden age Mickey Mouse cartoons, from Tanglefoot to Mickey's Elopement, which were developed to an extent – filling this chapter with tantalizing model sheets, storyboards and plot synopses. Chapter 7 covers "Mickey on The Air" about the Mouse's short-lived 1938 radio show – and his previous and subsequent broadcast appearances. Mickey Mouse during the War, Mickey Mouse in Features, on Television, his frequent redesigns – and a plethora of merchandising and publishing.
            The writers recount how Mickey was more than animated shorts in the early 1930s — Mickey was a worldwide fad! This led to the birth of the tremendous money machine that was merchandising and licensing – much of which is pictured. I love the rare photo of Disney signing his King Features contract with Ward Greene (years before Greene was involved with Lady and The Tramp) – the book is filled to the brim with such rarities.
            Several healthy chapters on Mickey Mouse's comic strip and comic book career recount the many artists (Gottfredson, Murry, Haughton, Scarpa) and the vast variety of pen-and-ink adaptations, often portraying Mickey as a gung-ho adventurer. A story-by-story recounting of each newspaper comic strip continuity, Mickey Mouse Big Little Books, Mickey Mouse Magazine, vintage English, German, French and Italian Mickey publications – are all covered.
            Fun. It's just a pleasure to browse. To dip in. To review. But more importantly, I came away smarter about Mickey and Walt – and smarter about the Mouse's place in popular culture and Hollywood history, in American culture, and to the culture of the world in the 20th Century. The book is not only eye candy – but 'brain candy' as well.
            Everything is here – and more. It's a feast. A must-own. For animation information, it's a Disney-Archive-on-Demand for your book shelf. Bravo to Taschen (and David and J.B.) for producing this epic publication. Nothing less than perfect – and I think that's just the way Walt would've wanted it.